Beautycounter for Target is here!!! I am so excited that the beauty brand I love and believe in is going to be getting national attention in a big way. You guys know I'm obsessed with Target, so this is pretty much a match made in heaven. Read on for more details and make sure to scroll to the end of this post for special promos I'm offering to celebrate the collaboration.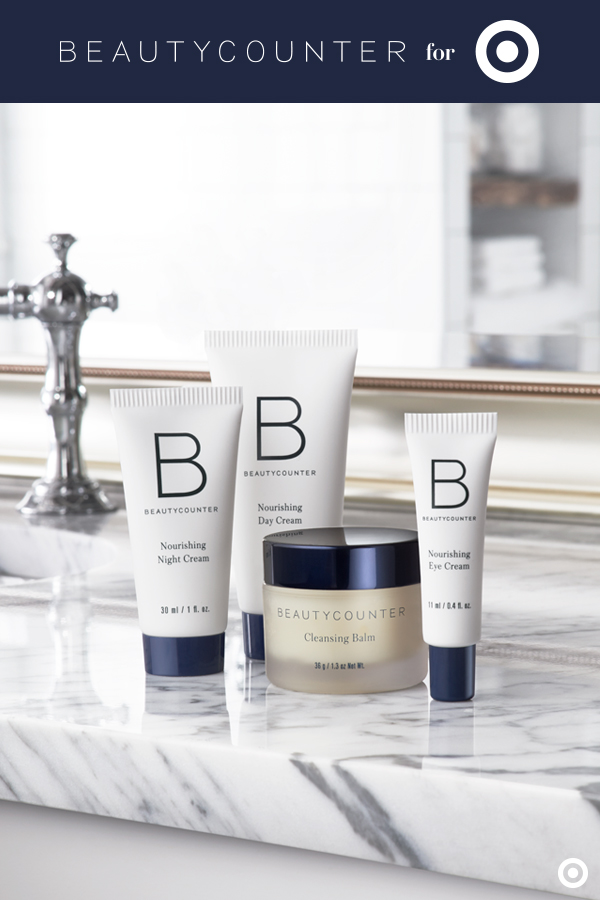 Beautycounter for Target
Okay, first off, what is Beautycounter?
If you want the full story check out my post on becoming a Beautycounter consultant.
The short version:
Here in the US we have not passed a Federal Law regulating the ingredients in our beauty products in over 75 years. 80% of the ingredients in our beauty products have never been tested for safety. This is in stark contrast to the European Union, which has tested and banned over 1,300 ingredients found to be harmful in beauty products. That is pretty scary stuff.
Beautycounter is committed to changing the skincare industry. It's truly a movement to educate women about the ingredients that they are putting on their faces and bodies every day. The company has a never list of over 1,500 questionable or straight up dangerous ingredients that they vow to never use in any of their products. Best of all, the products still actually work.  I love that Beautycounter is made safe with ingredients good for you inside and out.
Beautycounter has decided that instead of selling their products traditionally in stores and online, they are going to sell via word of mouth from customers and network marketing. Basically what this means is that instead of using a large part of their budget to market the product to customers and adding additional layers of cost for each retailer that sells the product along the way, Beautycounter is going to instead have their customers sell their products and pay those customers to do so. Anyone can sign up to become a Beautycounter consultant, which is what I did after I fell in love with the products.
What is the deal with this collaboration then?
For a limited time only, a curated collection of Beautycounter products will be available online and in stores at Target! The founder of Beautycounter outlines the partnership in this video for Target. I truly believe Beautycounter is much more than a brand. Their mission is to get safe skincare and beauty products into the hands of everyone. And this collaboration is an amazing opportunity for Beautycounter to spread awareness about their mission and get their incredible products into the hands of women all across America.  The partnership with Target offers Beautycounter's best-selling products in trial sizes. They are smaller bottles, but the same products and ingredient line. You can shop the Target collection now!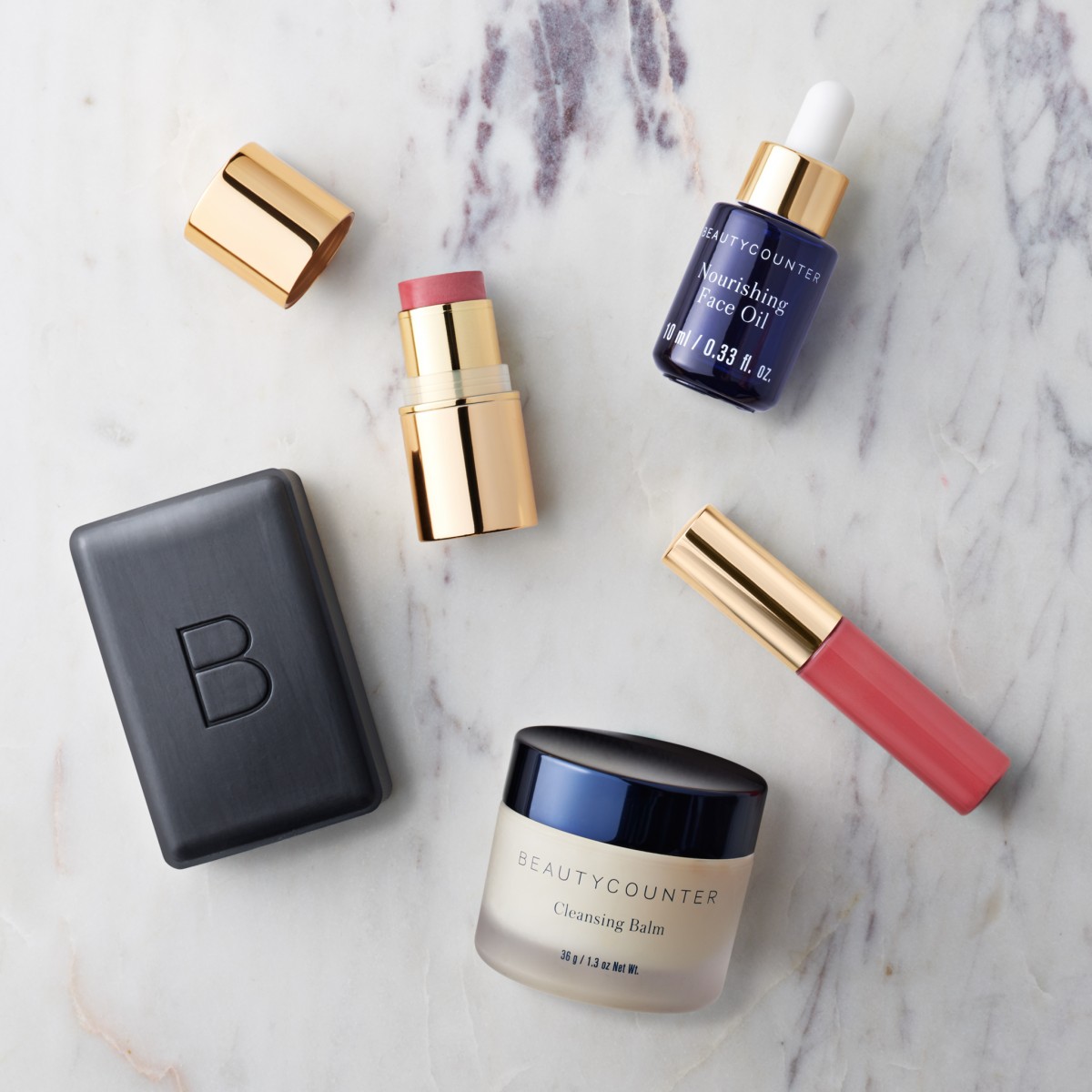 What are my favorite Beautycounter products?
Oh man I seriously love so many of them. And the best thing is hearing from friends and customers that they're now obsessed with Beautycounter products too! Here are a few of my favorites:
Nourishing Skincare Line– I use this line every morning and night to keep my skin clean, soft, and moisturized. Step One. Step Two. Step Three. Bonus! It's a great line for sensitive skin and works to sooth, even skin tone and keep acne at bay.
Purifying Charcoal Mask– My once a week at-home spa treatment to go deep into pores and get to work removing excess oil, impurities, and blackheads.
Nourishing Rosewater Mist– The secret second step to my once a week at-home spa treatment. Ask me how it works!
Balancing Face Oil– I use a few drops of this at night mixed into my moisturizer to help balance out the oily and dry spots on my skin. I'm obsessed.
Tint Skin Foundation– Just enough coverage to hide things like redness and blemishes, without making it look cakey or like I'm wearing a mask.
Touchup Skin Concealer Pen– A must have. This thing is a godsend for my tired under eye area.
Color Sweep Blush Duo– My blush and bronzer in one!
Lengthening Mascara– An Allure Best of Beauty 2016 winner!
Lip Sheer– If you're looking for a creamy everyday lipstick get this in Twig. You will not regret it.
PROMOS to celebrate the Target Beautycounter launch:
1. Shop the Beautycounter for Target Collection. Text "Beauty" to 827438 to receive a $5 off coupon for Target online orders. (Plus, if you have a Target RED Card you're going to save an additional 5% off your purchase!)
2. For anyone who shops with me via the Beautycounter website from today until next Monday, September 19th (my birthday!), you will receive:
– A $5 Target gift card with any product order above $50
– A $10 Target gift card with any product order above $75
– A $20 Target gift card with any product order above $100
3. BEST DEAL: For any product order above $150, you will get to pick a free Beautycounter product from me! (Up to a $32 value) Shop my Beautycounter website now!

(Limit one promotion per customer)
Other Beautycounter news:
– If you want to learn about the business of Beautycounter, just let me know! I would love to discuss money-making opportunities and how you can join my team! It is ridiculously fun to get paid to play with makeup and be a part of a larger mission and cause for change.
– Reach out if you want to earn free Beautycounter products by hosting a makeup party for your friends or an online Facebook social! It's so fun and seriously easy!
– If you have any other questions, just lemme know! I love hearing from you guys and really want to know what you think of Beautycounter. 🙂

Questions of the Day: Have you tried Beautycounter products before? Do you shop at Target for skincare and makeup products? What Beautycounter product do you most want to try? Does the mission of Beautycounter and safe skincare products resonate with you?