This past Labor Day Josh and I were in Kansas City for a long weekend getaway. It's only a two and a half hour drive from Omaha and is a hot spot for events, restaurants, and nightlife. Before moving to the Midwest I had no idea the city scene here. For perspective, Omaha has a million people in the greater metropolitan area. Kansas City is double that with two million people. There are a ridiculous amount of cool neighborhoods and fun things to do. I thought it would be fun to share a recap of our weekend broken up by event and/or neighborhood. Hopefully this helps you plan fun things to do on your next trip to Kansas City!
Three quick notes:
The Kansas City food scene is incredible. There is so much more to eat there than BBQ. That said, if you like BBQ Kansas City has some of the best so  you should definitely check it out.
Westport, Westside, West Bottoms. There's a lot of west neighborhoods but they're all different and far apart from each other. Kansas City is big and if you want to be able to see multiple areas in one trip I'd recommend a car.
Kansas City is actually in Missouri! I didn't know this until I moved to the Midwest. While there is a Kansas City, Kansas, the actual city people think of as Kansas City is in Kansas City, Missouri. They're right next to each other and it's super easy to cross back and forth.
First Friday at the Crossroads Art District
Kansas City knows how to do First Friday right. The first Friday of every month picture packed art galleries, DJs and live bands, dancing in the street, and food trucks galore. This was Josh's first time in Kansas City and I think starting our weekend out at First Friday was the perfect introduction to all the fun things to come.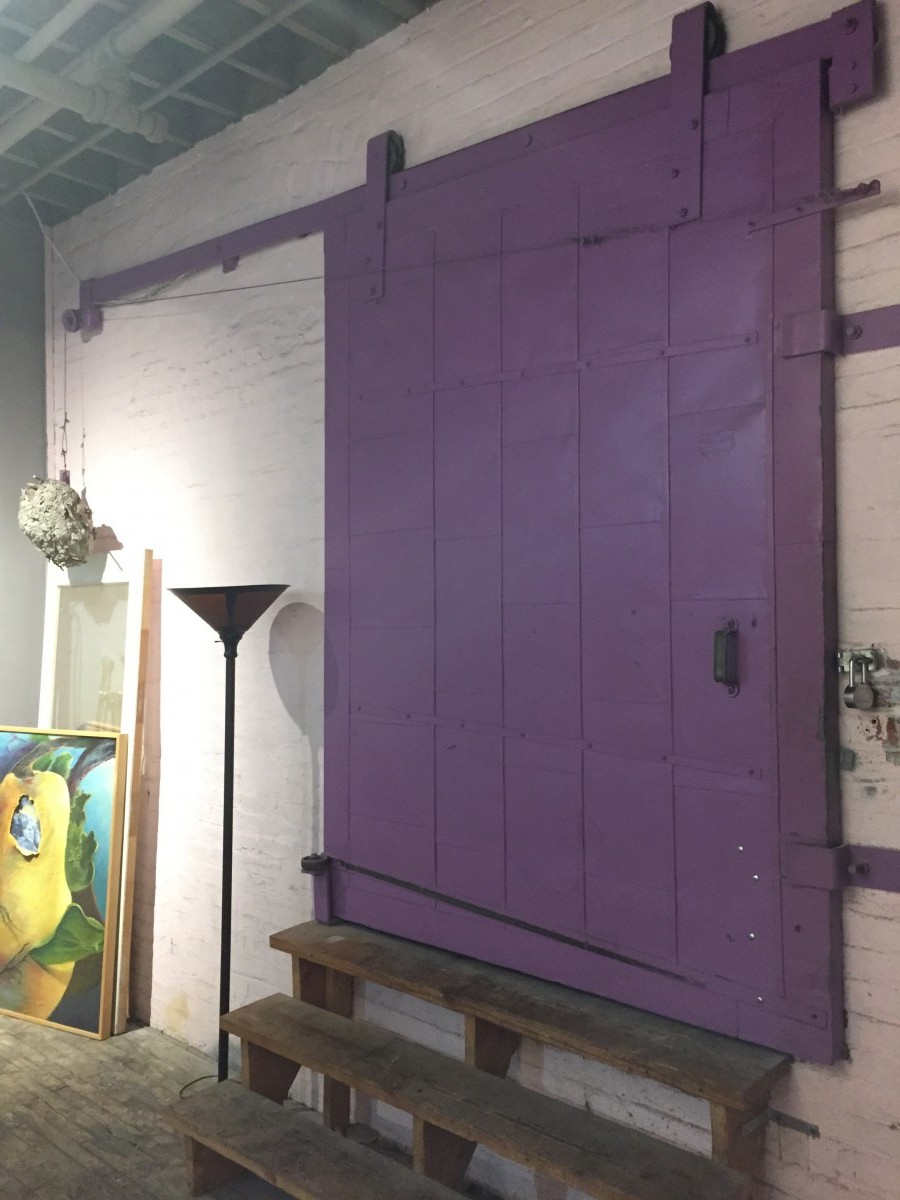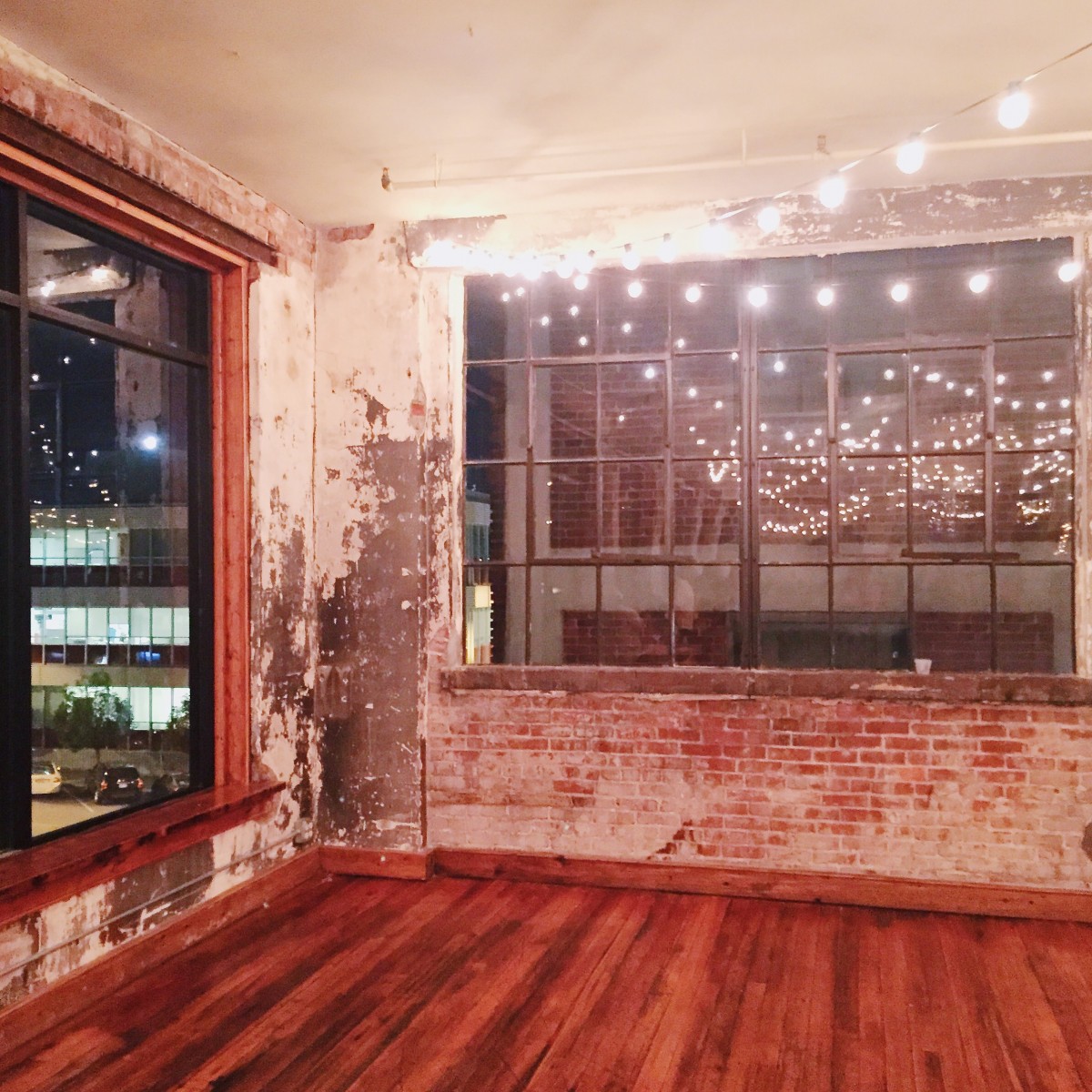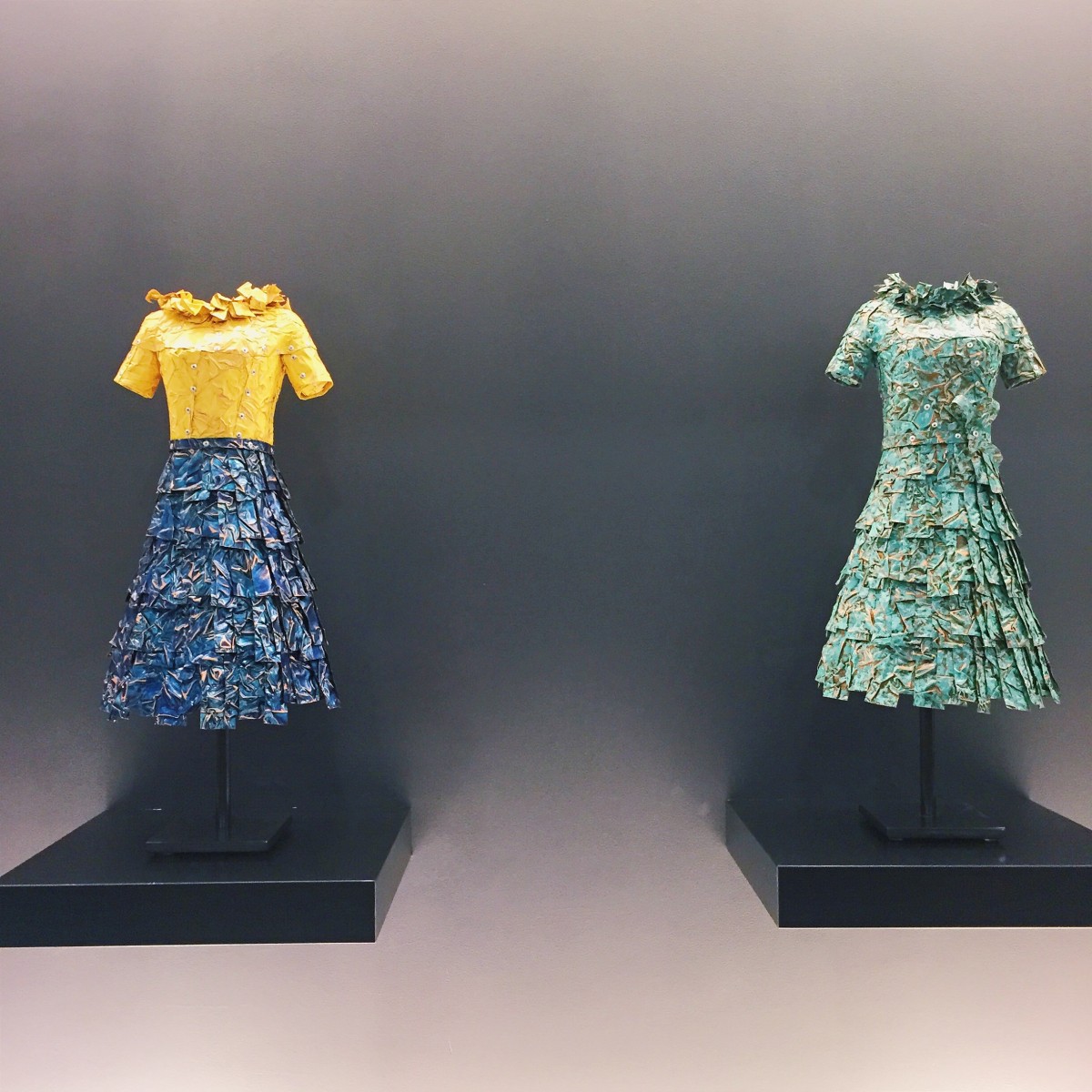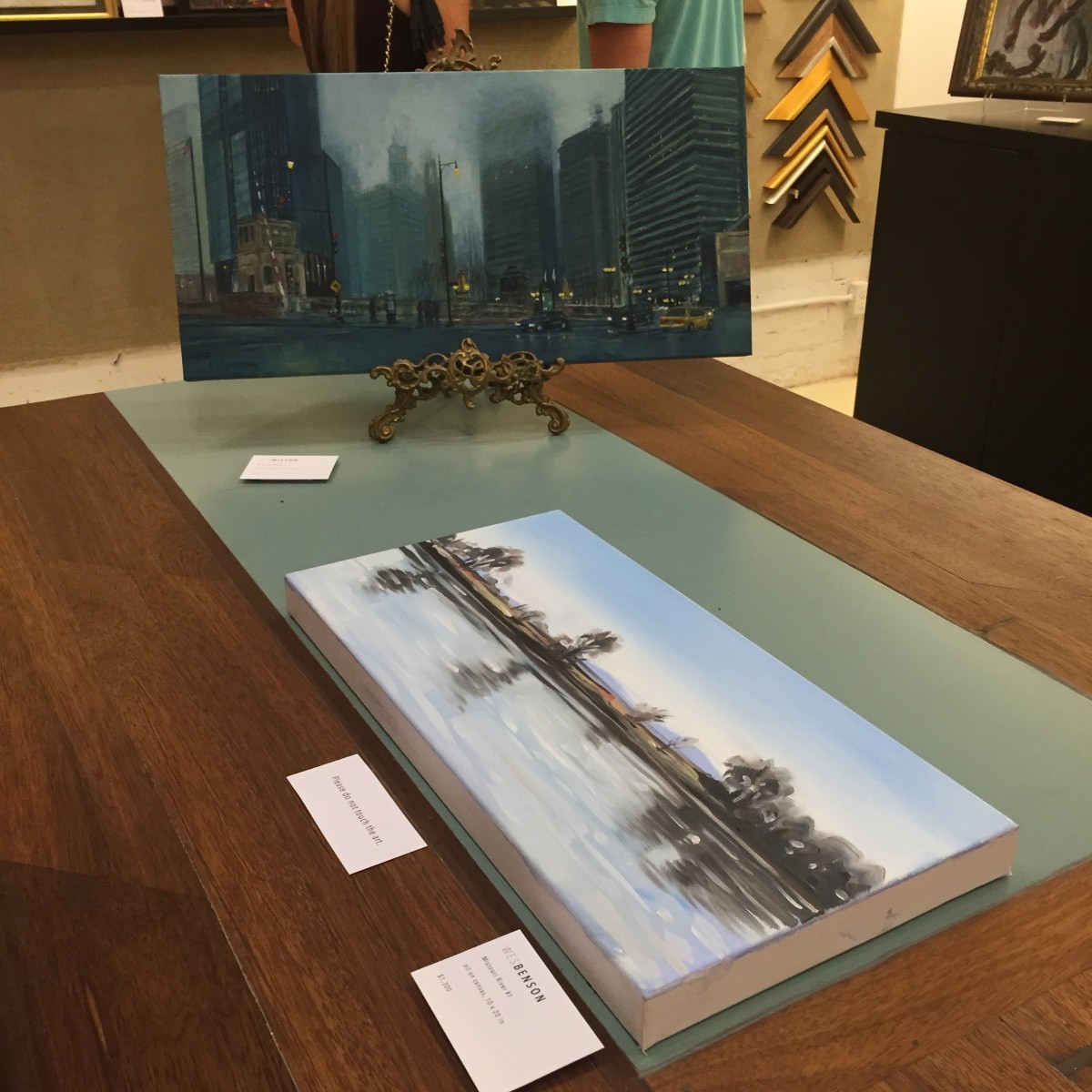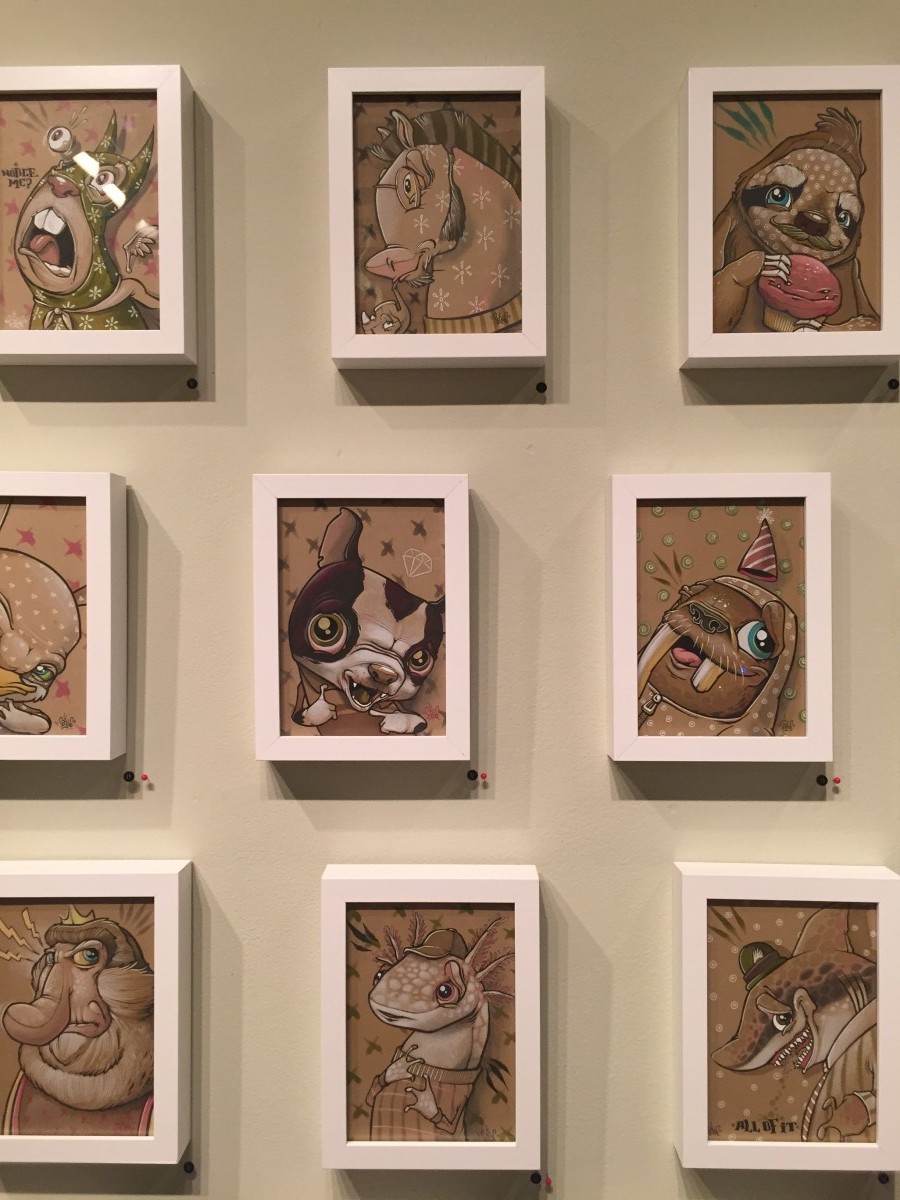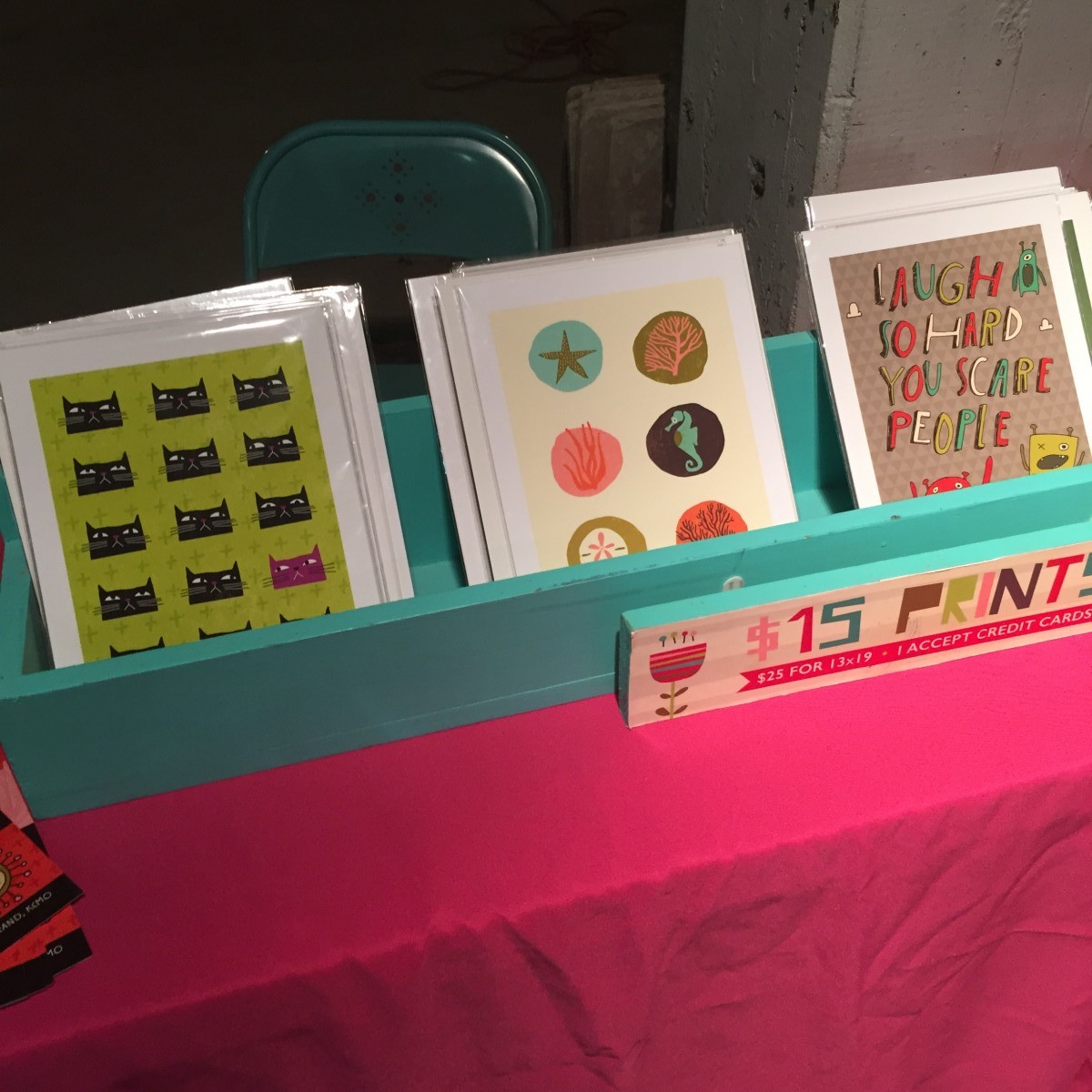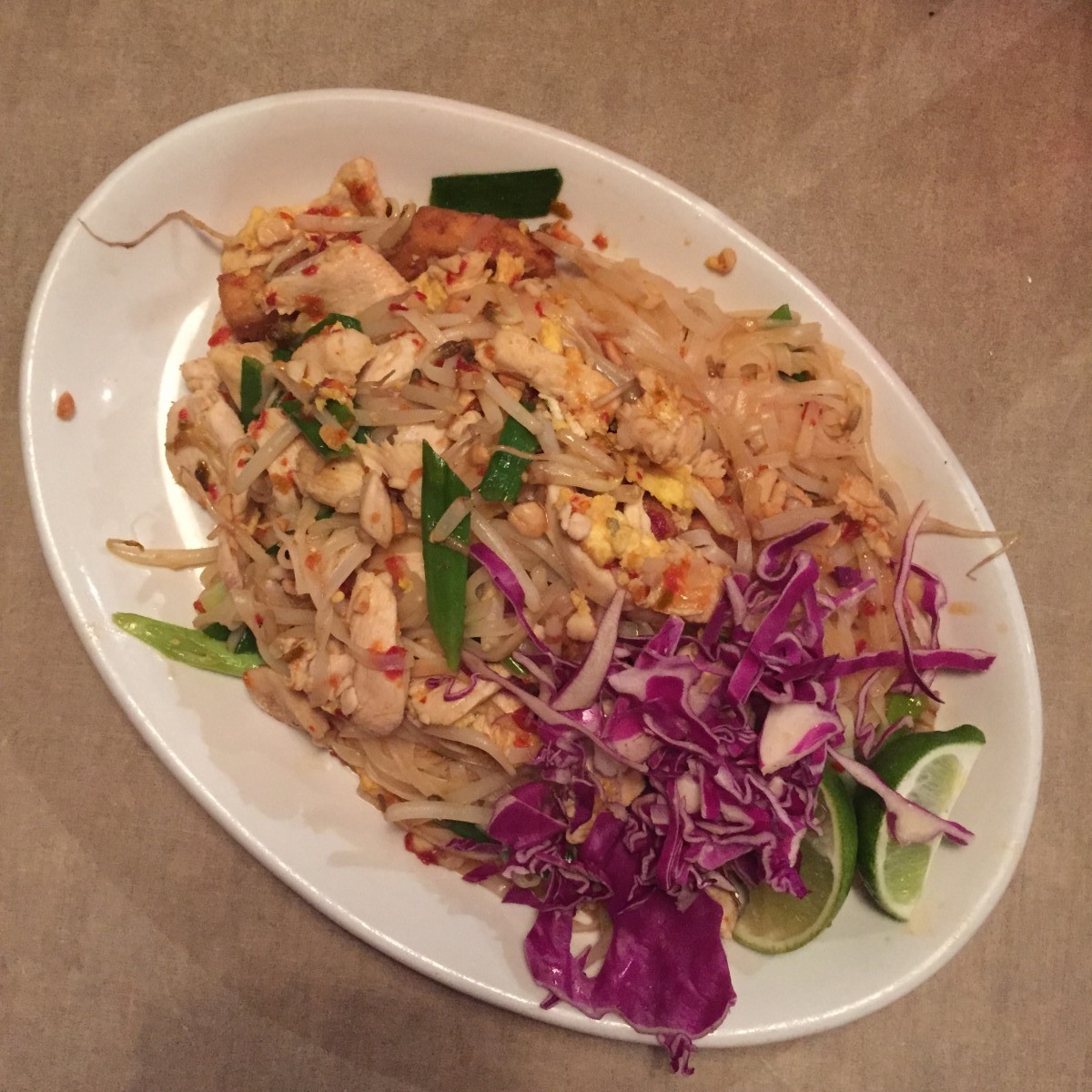 Dinner was at Lulu's Thai Noodle Shop. All their noodles are handmade. Josh and I lucked out and somehow stopped by right when they didn't have a line and were seated immediately. The food was so flavorful and so good!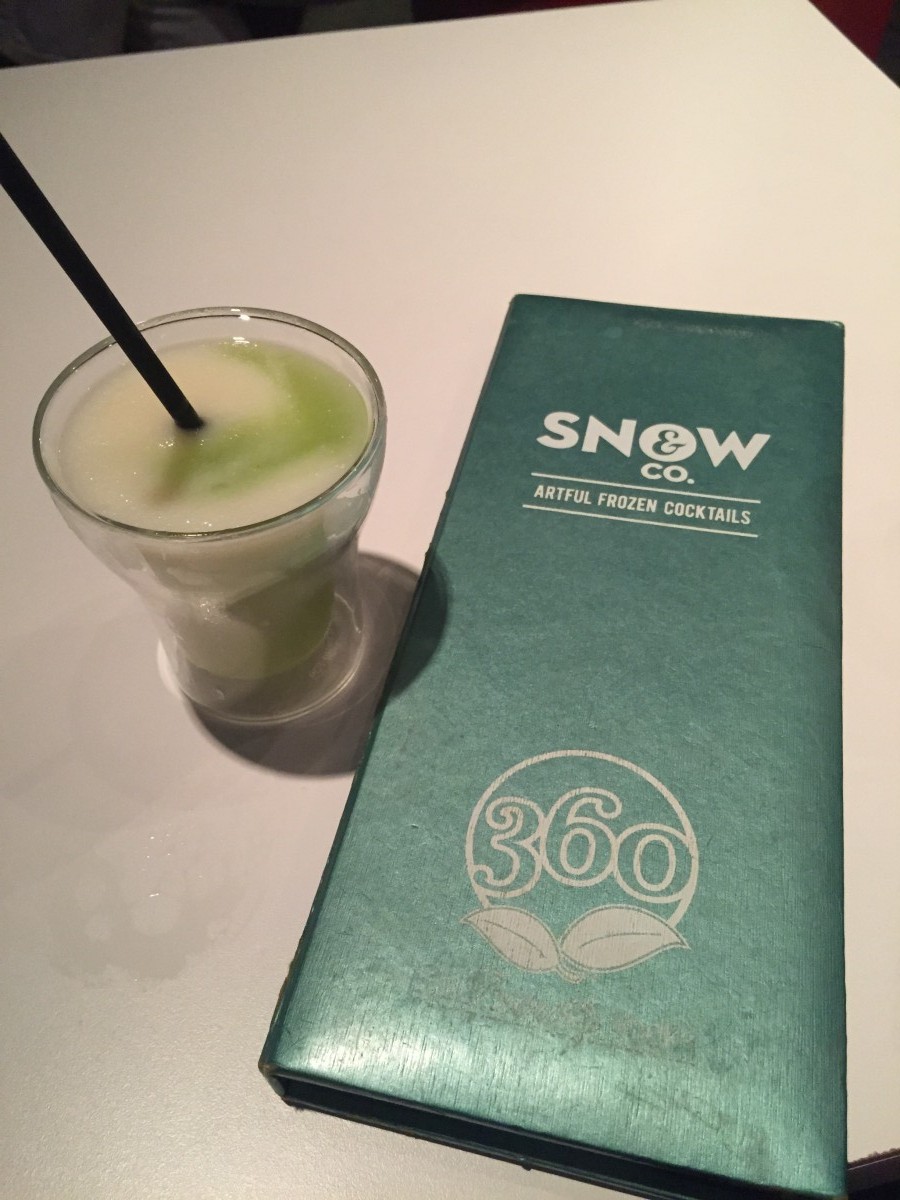 Drinks were at Snow & Company. They specialize in frozen mixed drinks and were the bomb dot com. One of these needs to come to Omaha ASAP!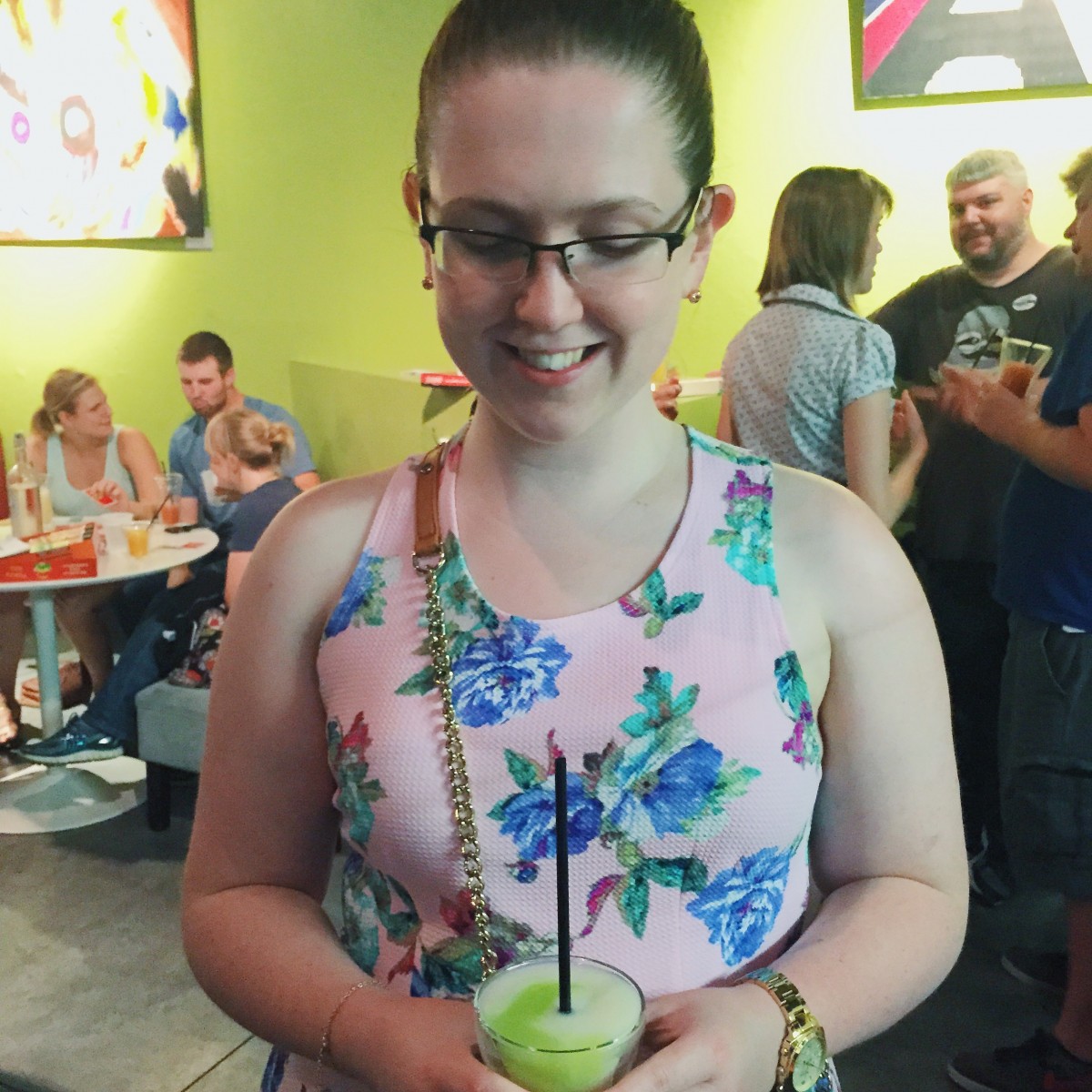 Oh wine slushy, how I love you.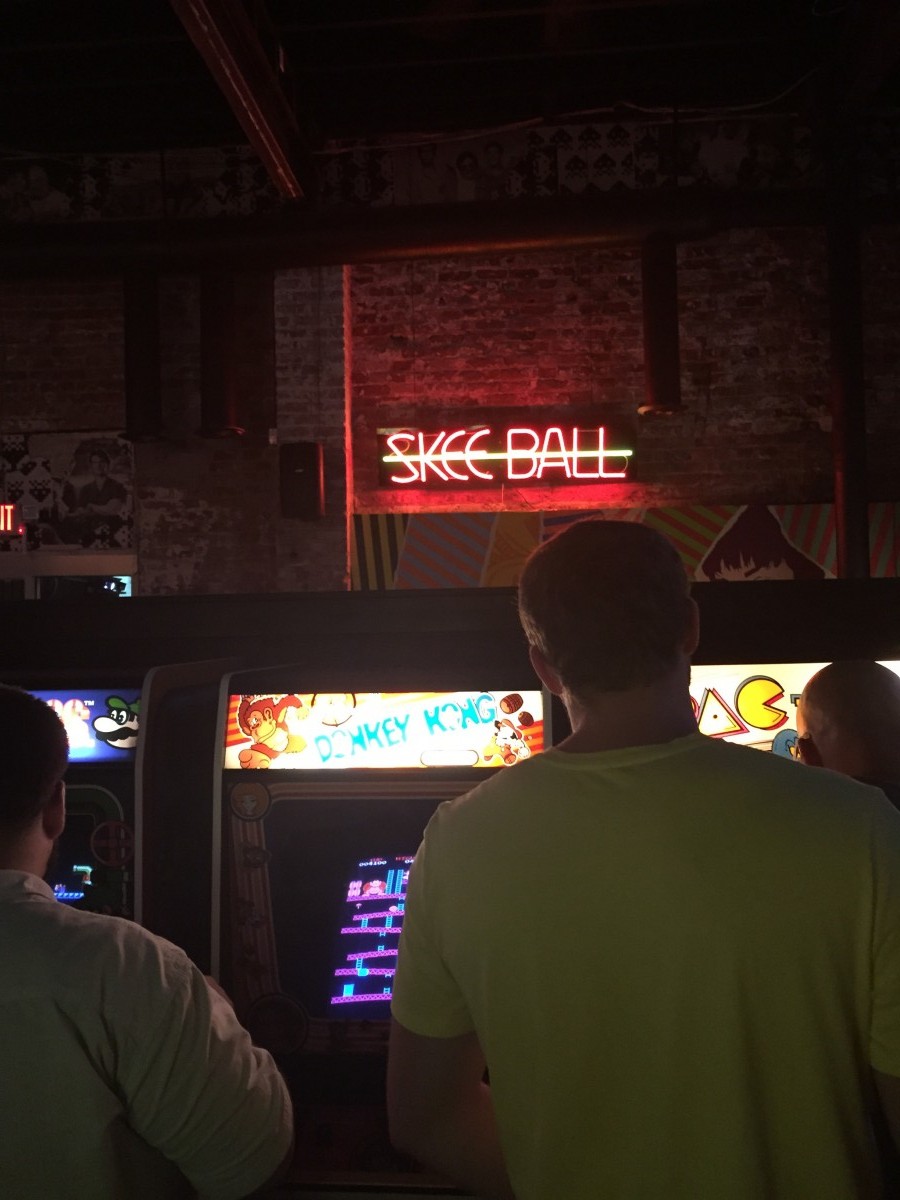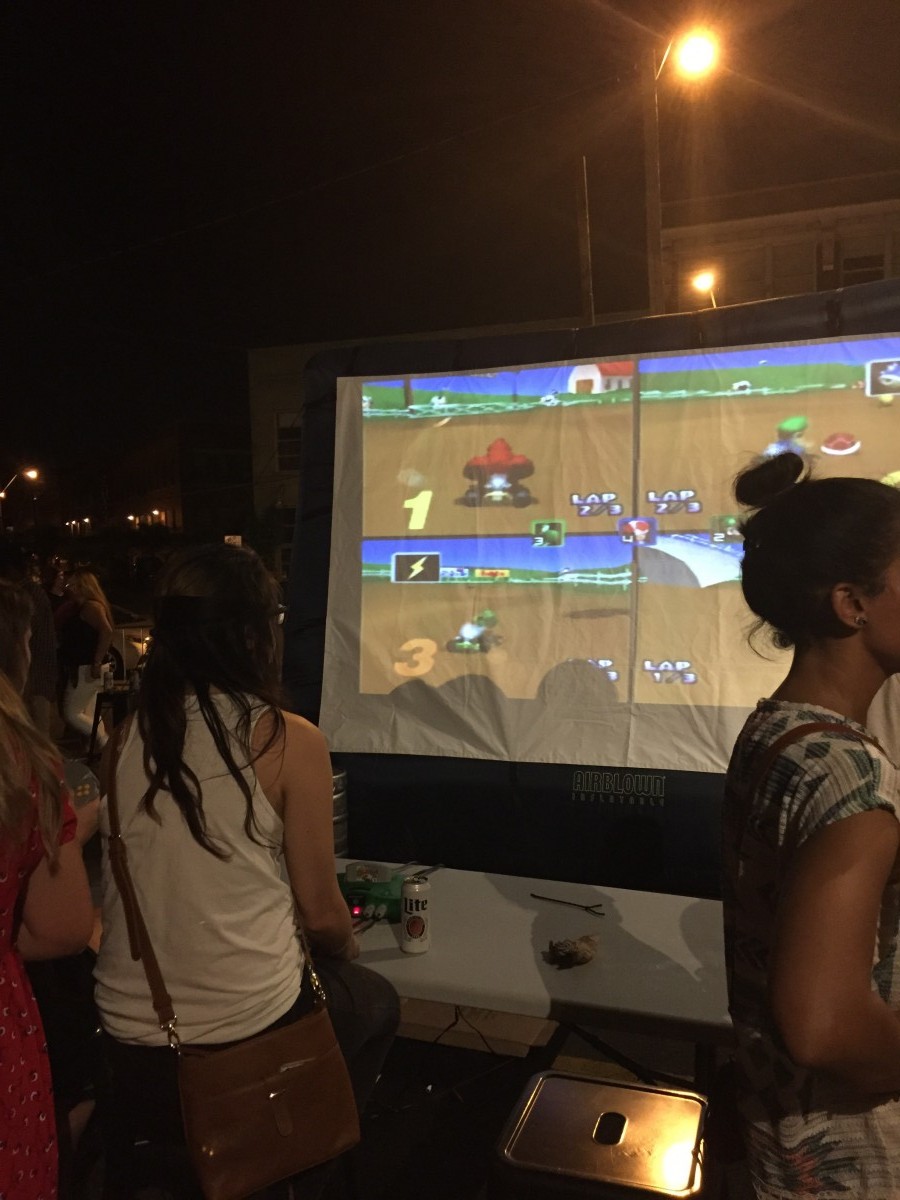 We also found a cool arcade bar while walking around on First Friday that had vintage arcade games. When talking to people in Kansas City about it, we found out there's two in the same area: Tapcade and Up-Down.
Westside
Westside has some of my favorite food in Kansas City. Because of our limited time in Kansas City we were only able to get there once, but we made the most of it.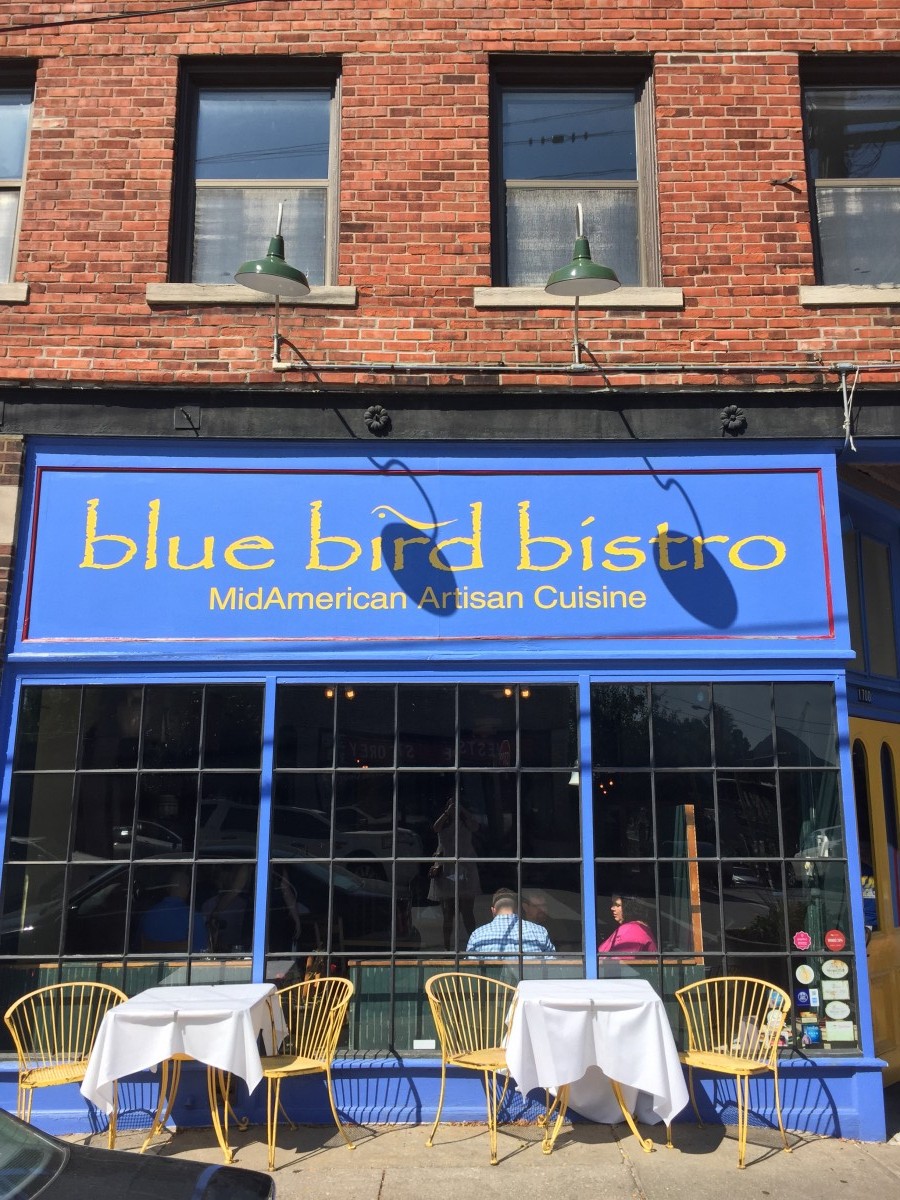 We stopped for breakfast one day at Blue Bird Bistro, a place I'd absolutely recommend to everyone visiting KC.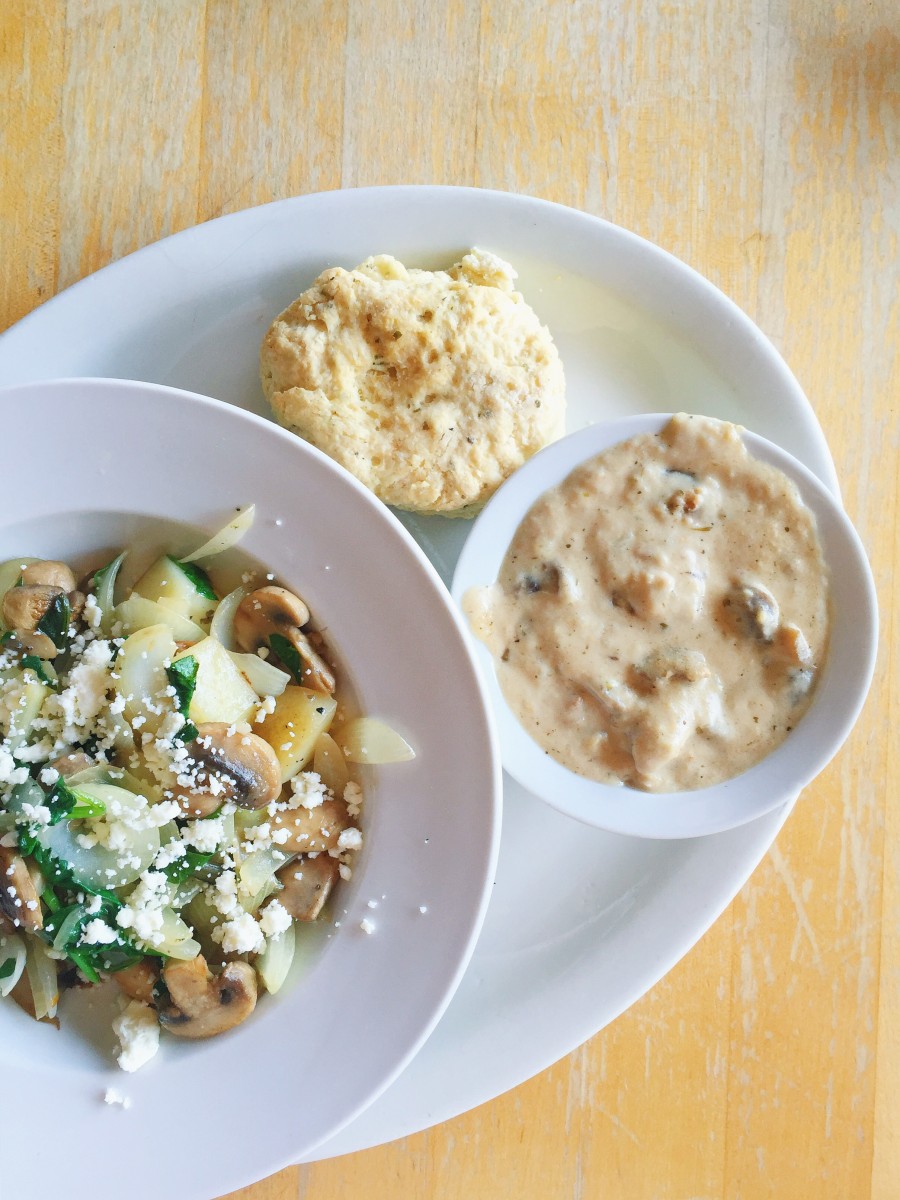 Josh and I both got their vegetarian scramble and practically licked our plates clean. Fresh biscuits, mushroom gravy, and perfectly seasoned veggies. What's not to love?
Kansas City Irish Fest
Kansas City has a HUGE population of people with Irish ancestry. For the past thirteen years, they've celebrated with the annual three-day-long Kansas City Irish Fest. As someone who is super Irish and super proud about it, I was really excited to check this out. It did not disappoint and Josh and I have talked about wanting to make attending a yearly thing!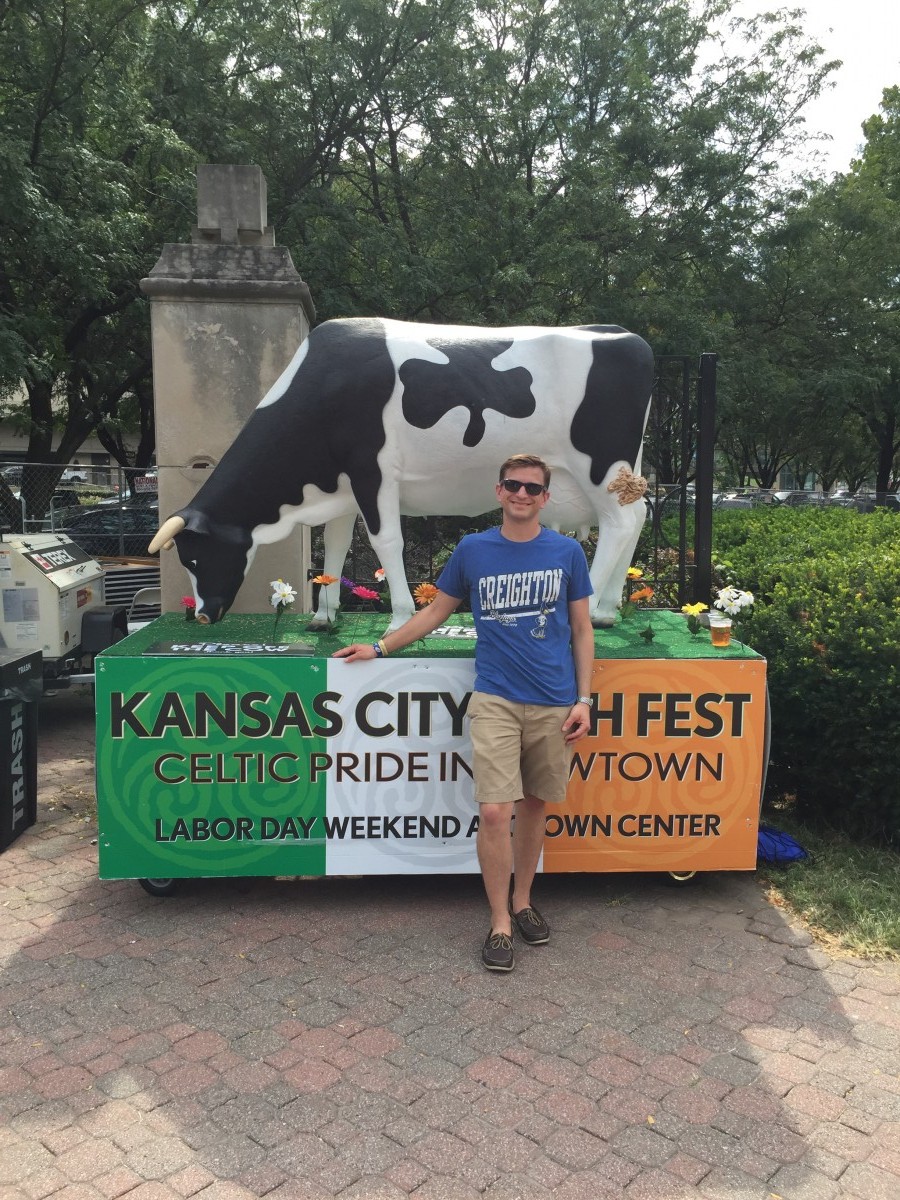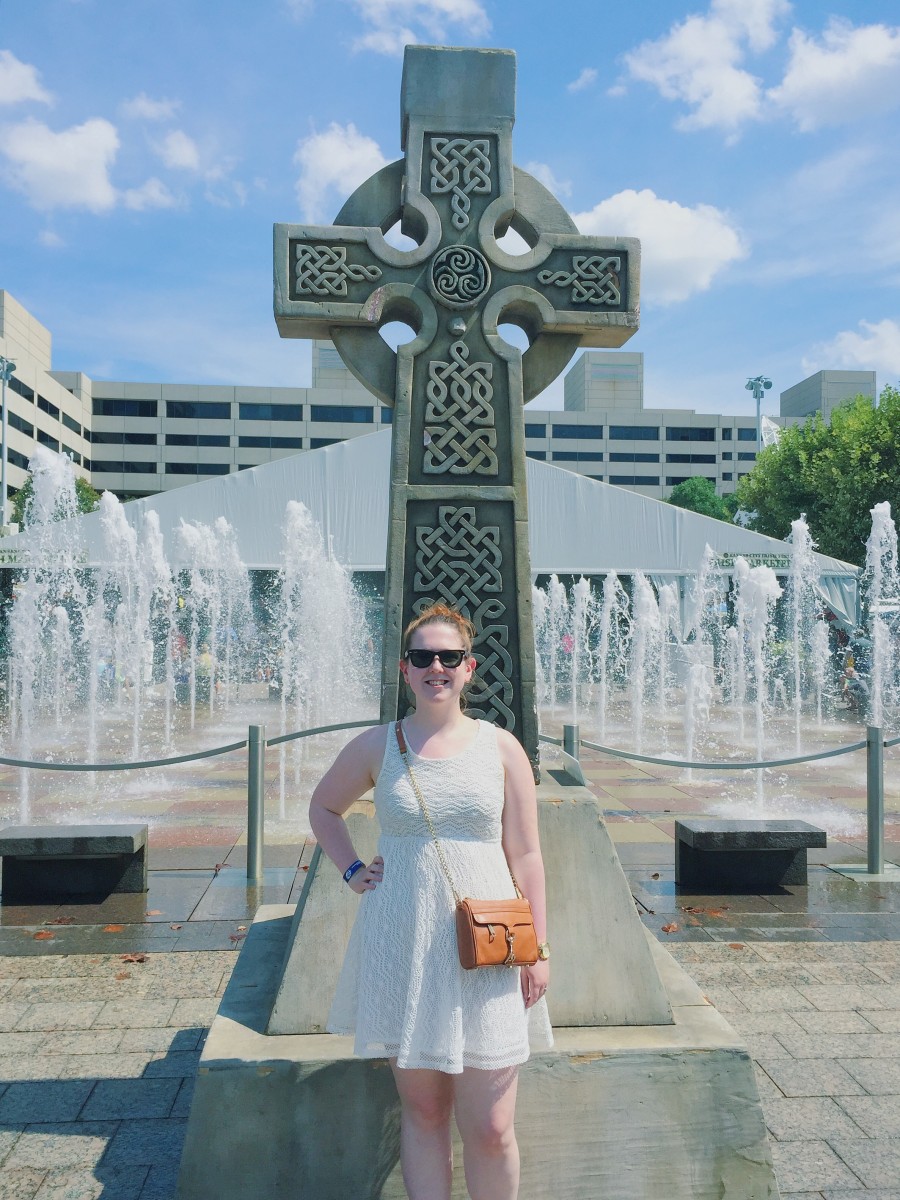 They dyed the fountains green for the occasion!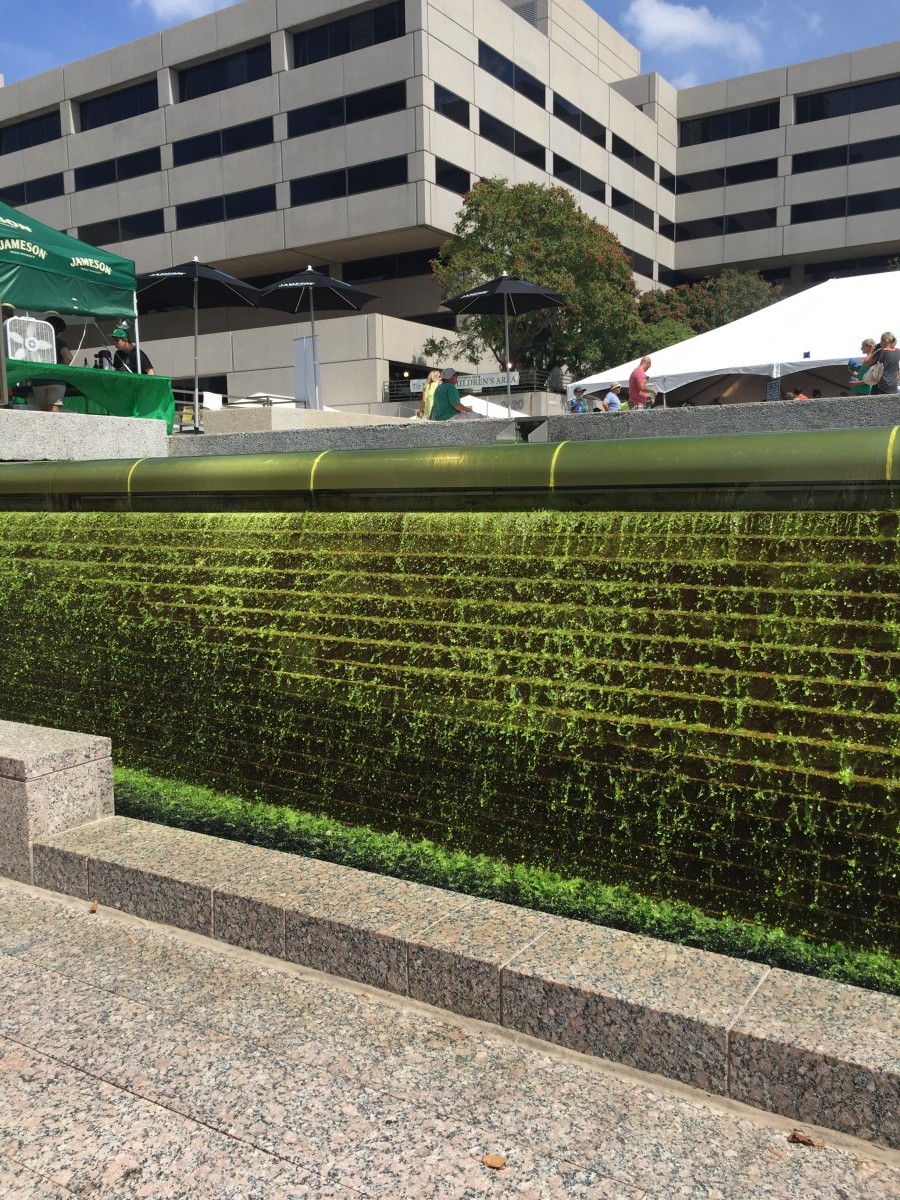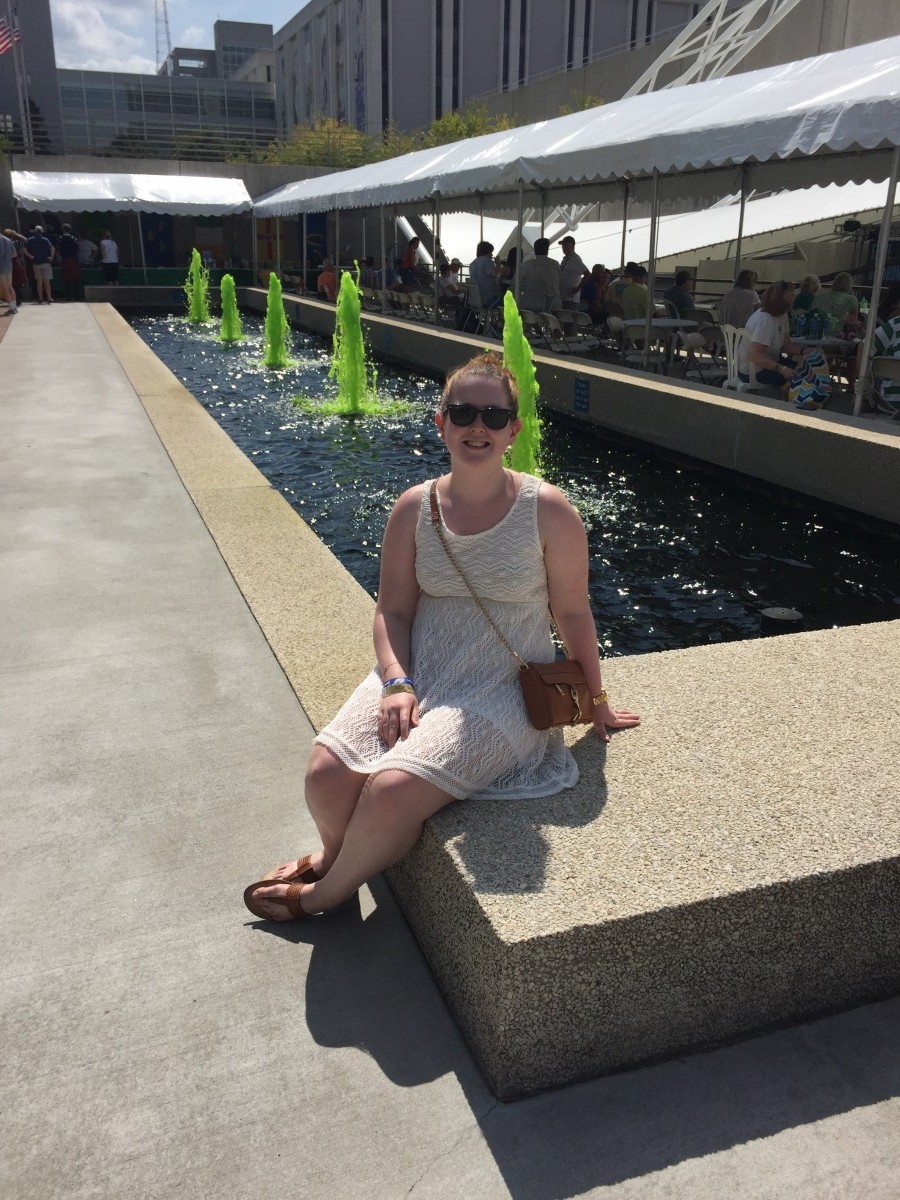 And had five different music tents going simultaneously. It was incredible.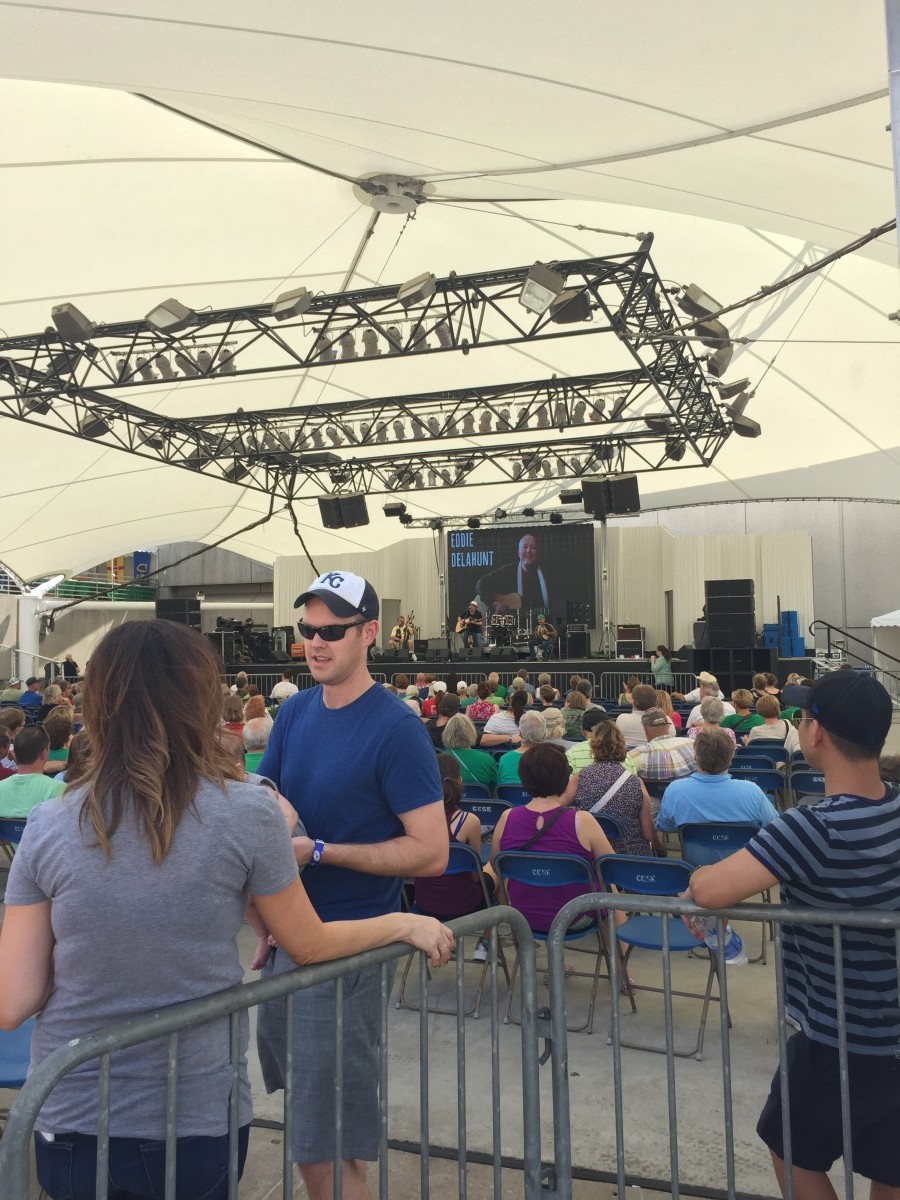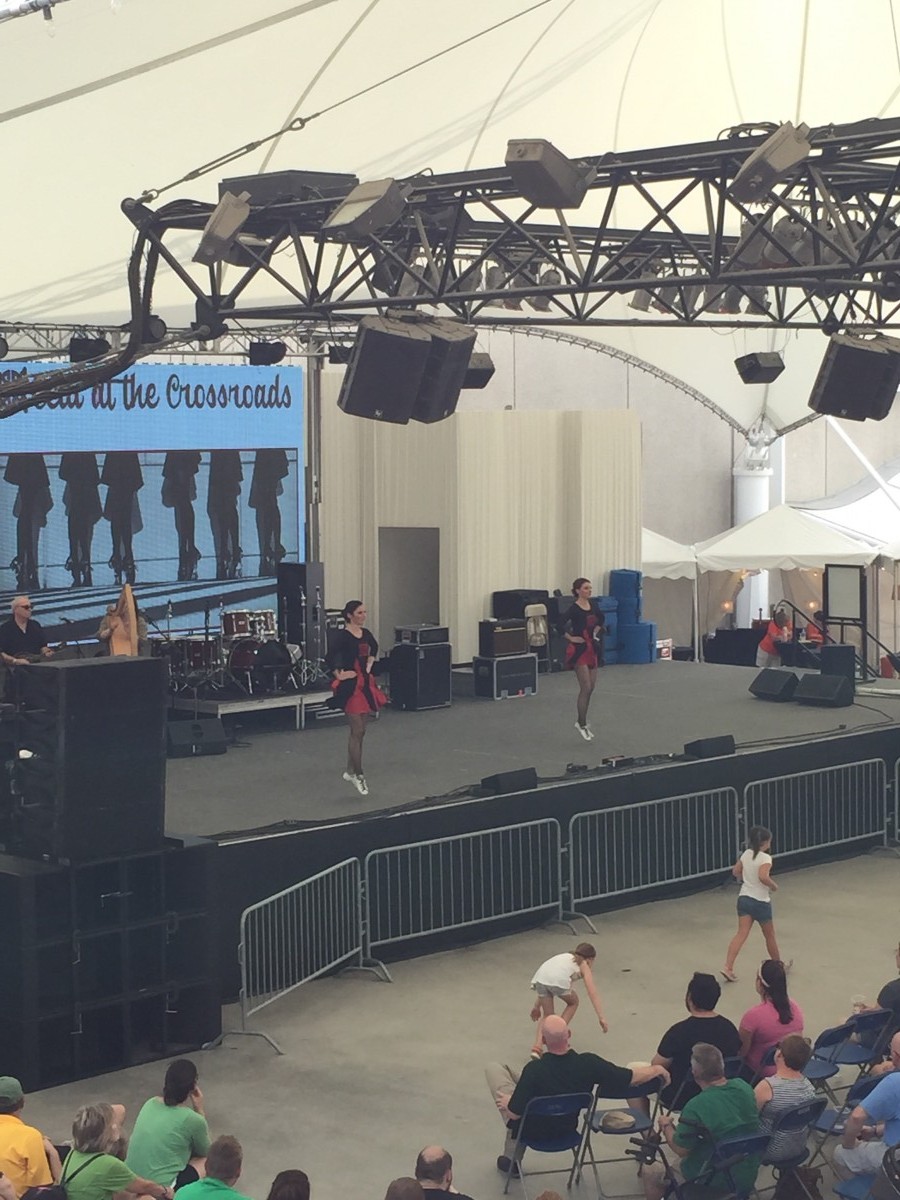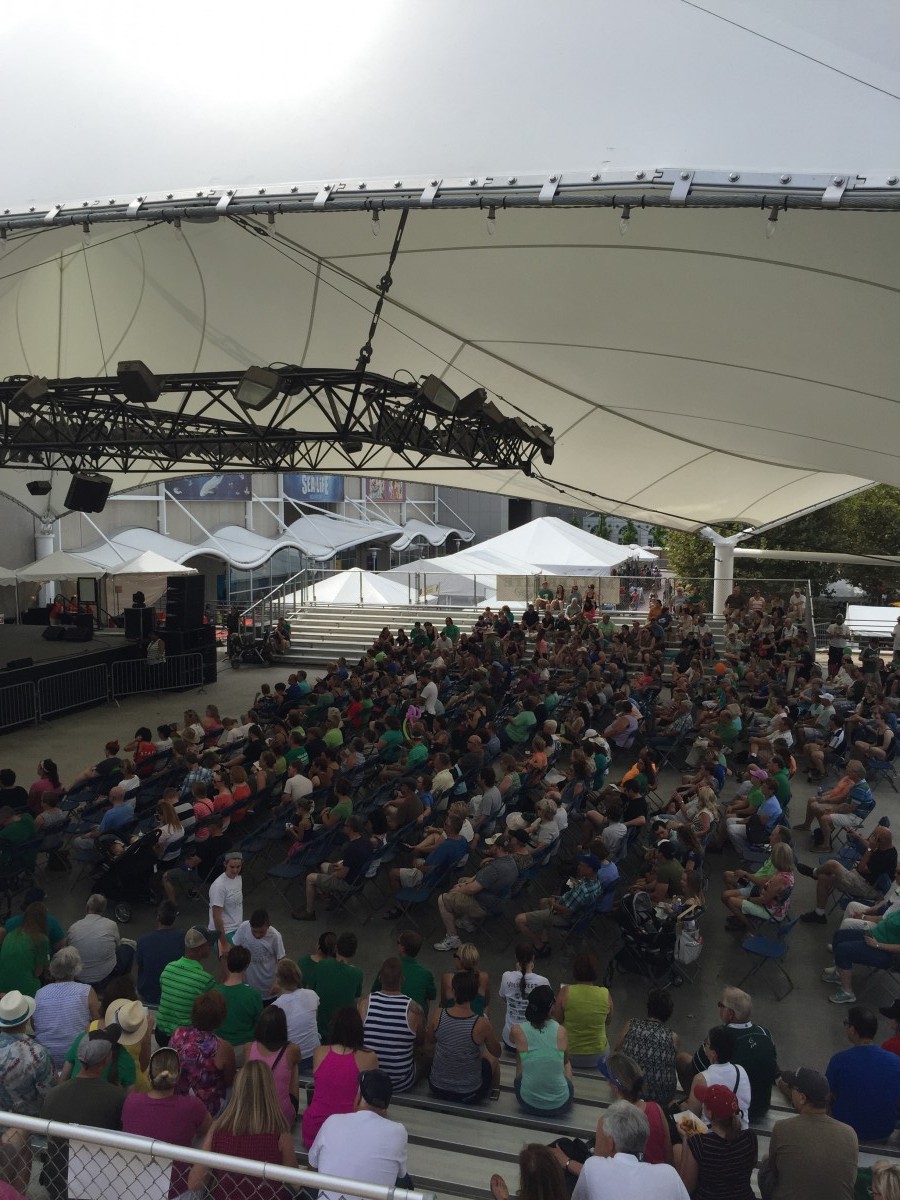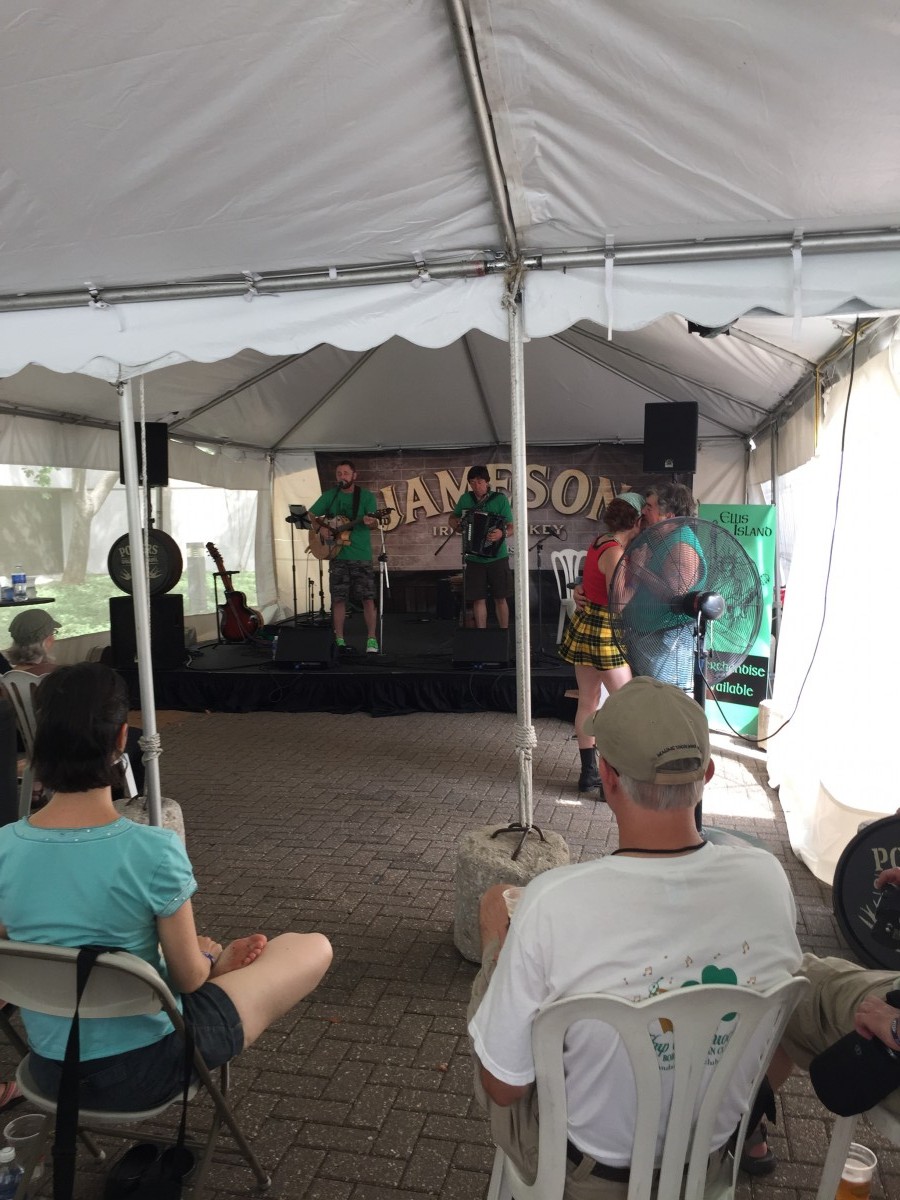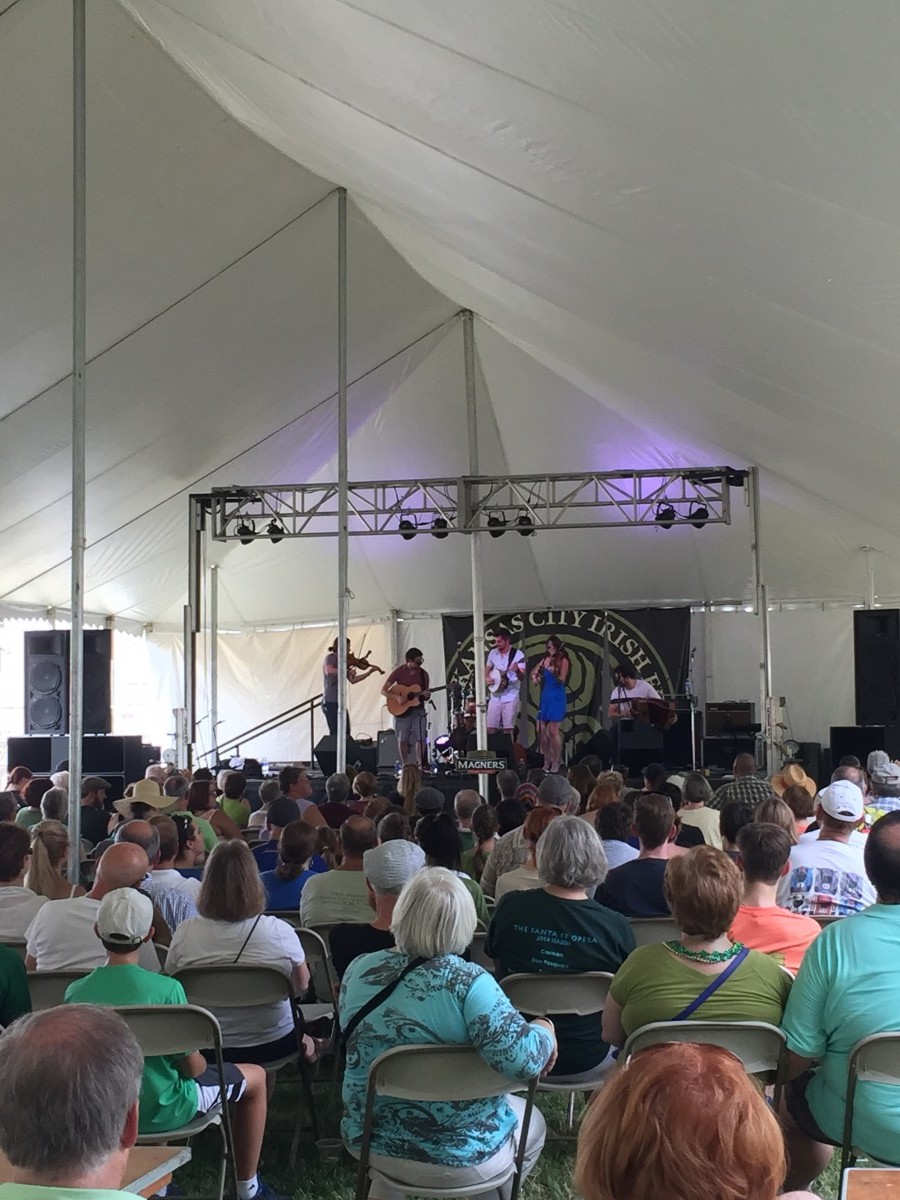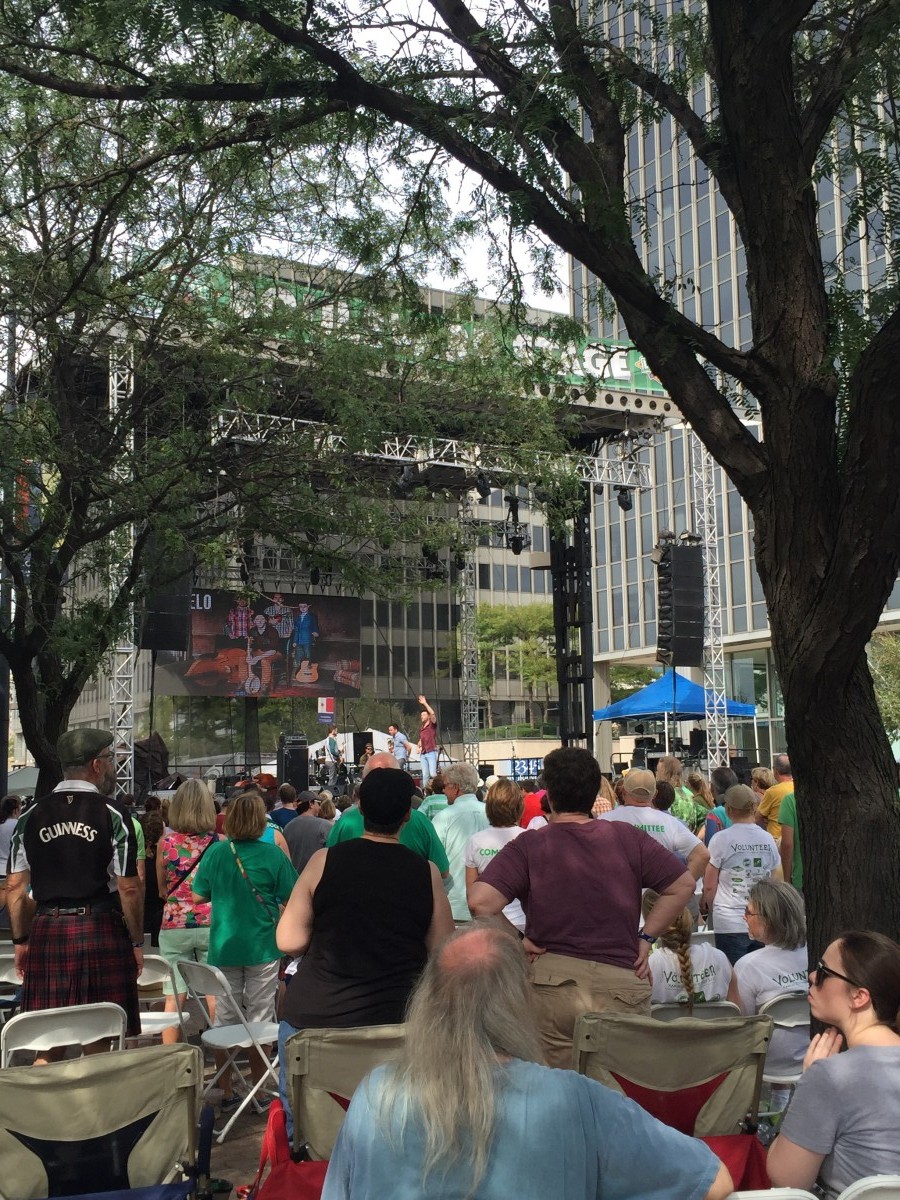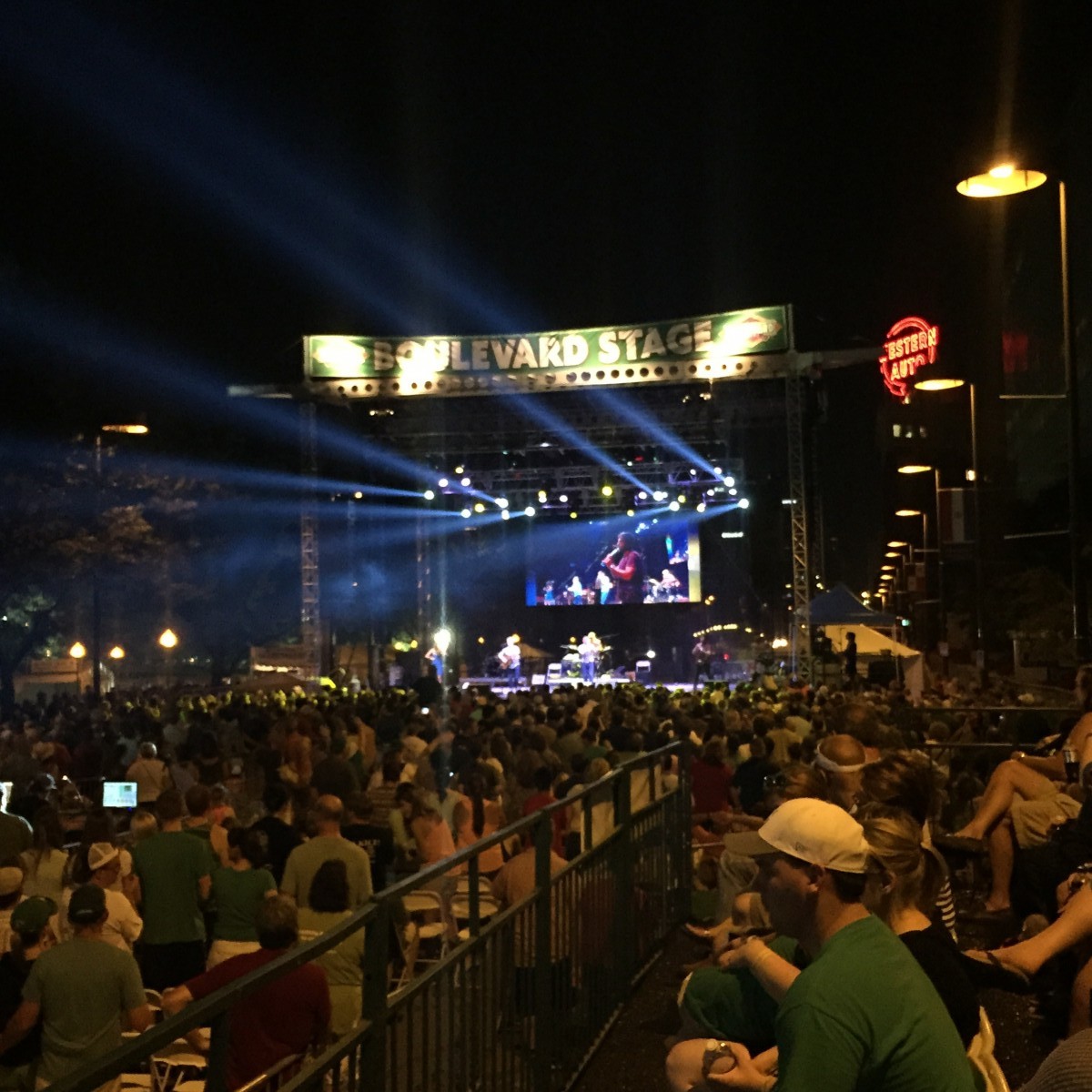 There were lots of fun hands-on events. Josh and I loved browsing the Irish merchandise tents, watching the Irish cooking demos, and taking the Irish dancing class!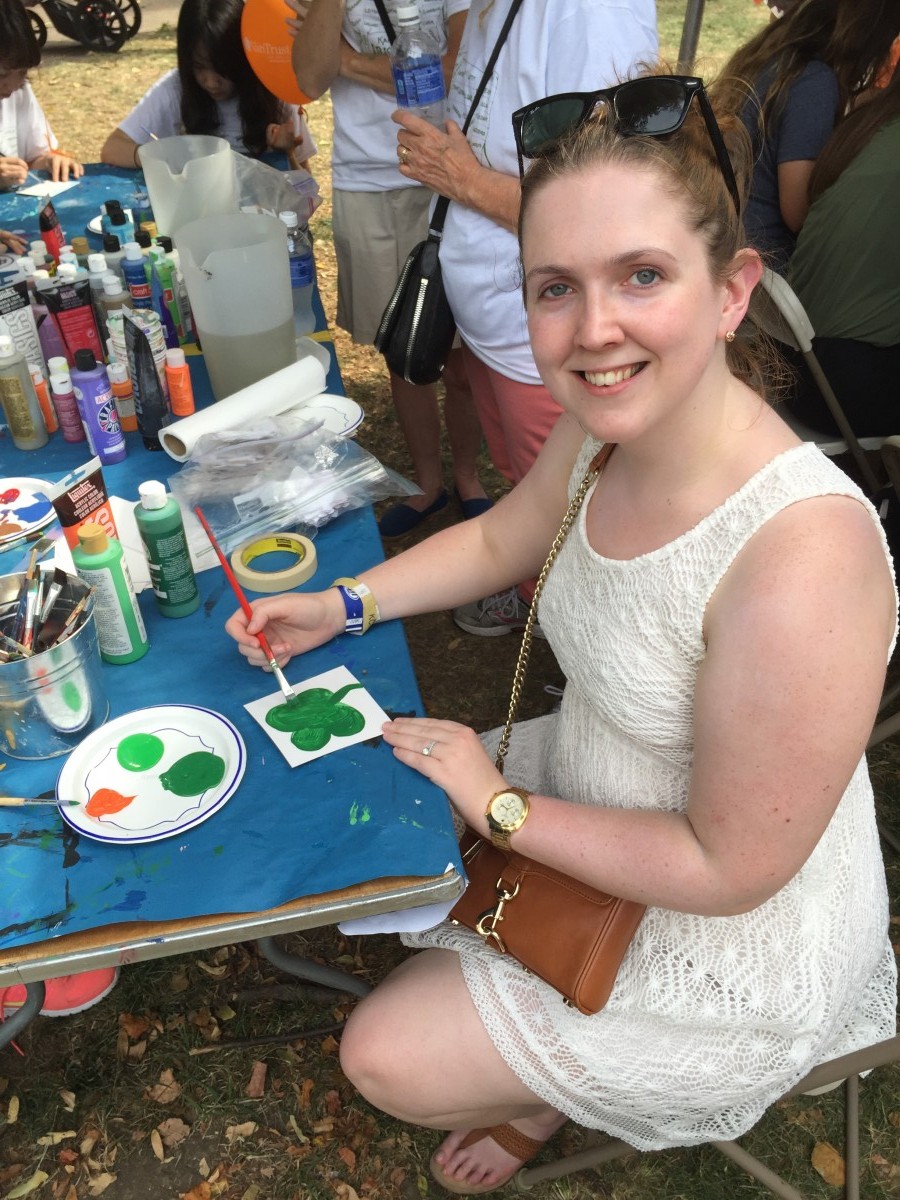 Here I am painting a very sad looking four leaf clover.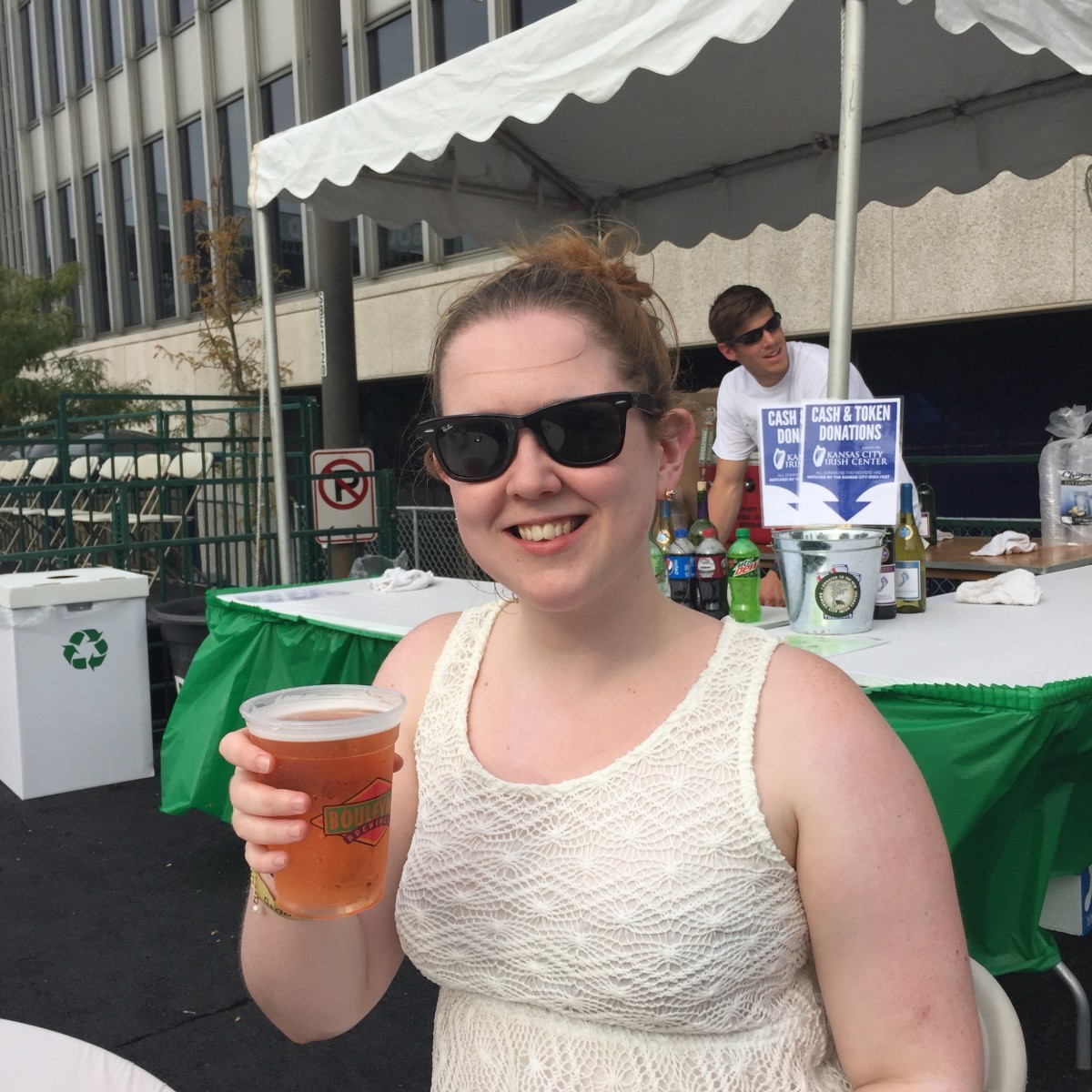 And of course there was tons of Irish food and beer! This was a Magners Irish Cider and it was so good.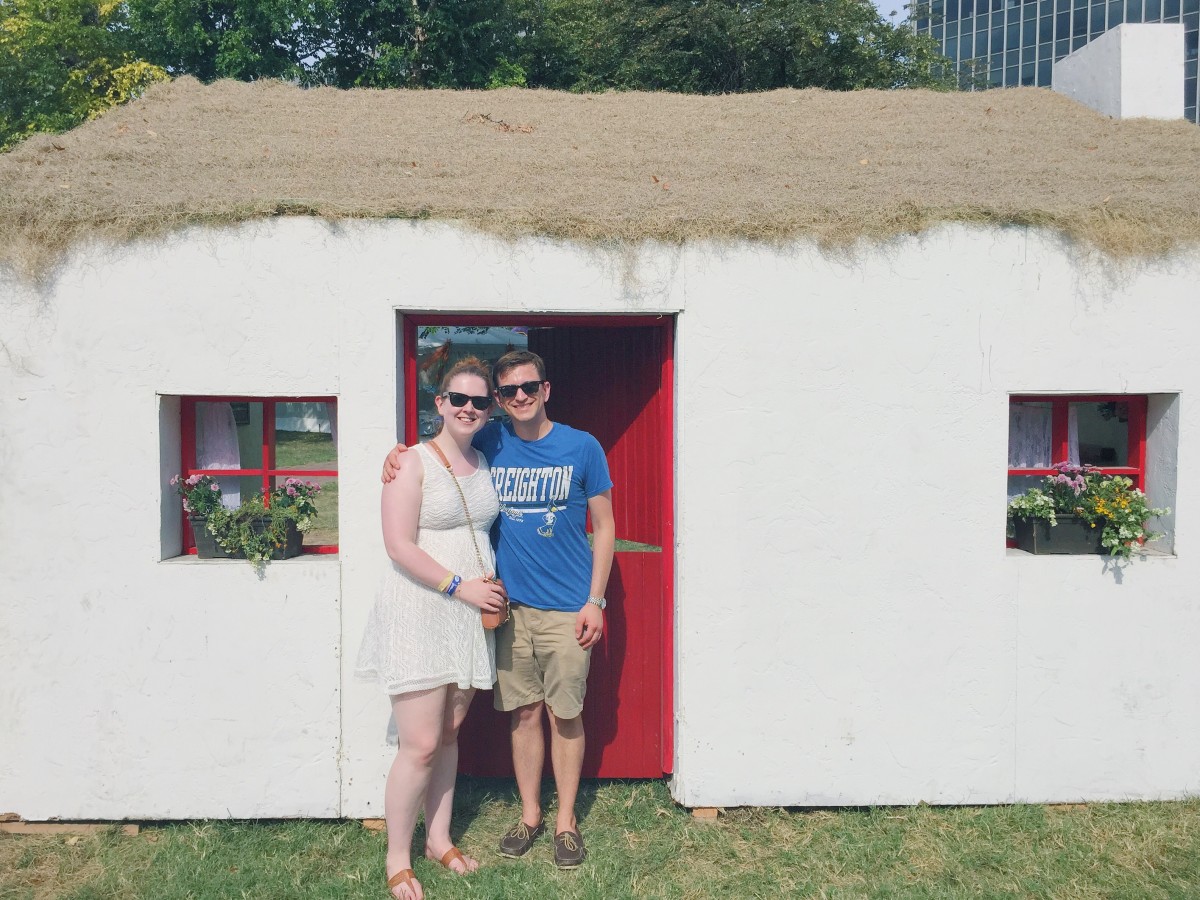 Josh and I had the best time. My favorite part of the day was taking the Irish Dancing class. I grew up Irish Dancing and taking that class made me realize how much I miss it. This event inspired me to look into taking adult classes in Omaha.
West Bottoms Antiques
The entire weekend of First Friday an area of Kansas City called West Bottoms opens up for a huge antique sale. Josh and I love checking out vintage goods and had a blast walking from old factory building to old factory building checking out the best of Kansas City's antiques.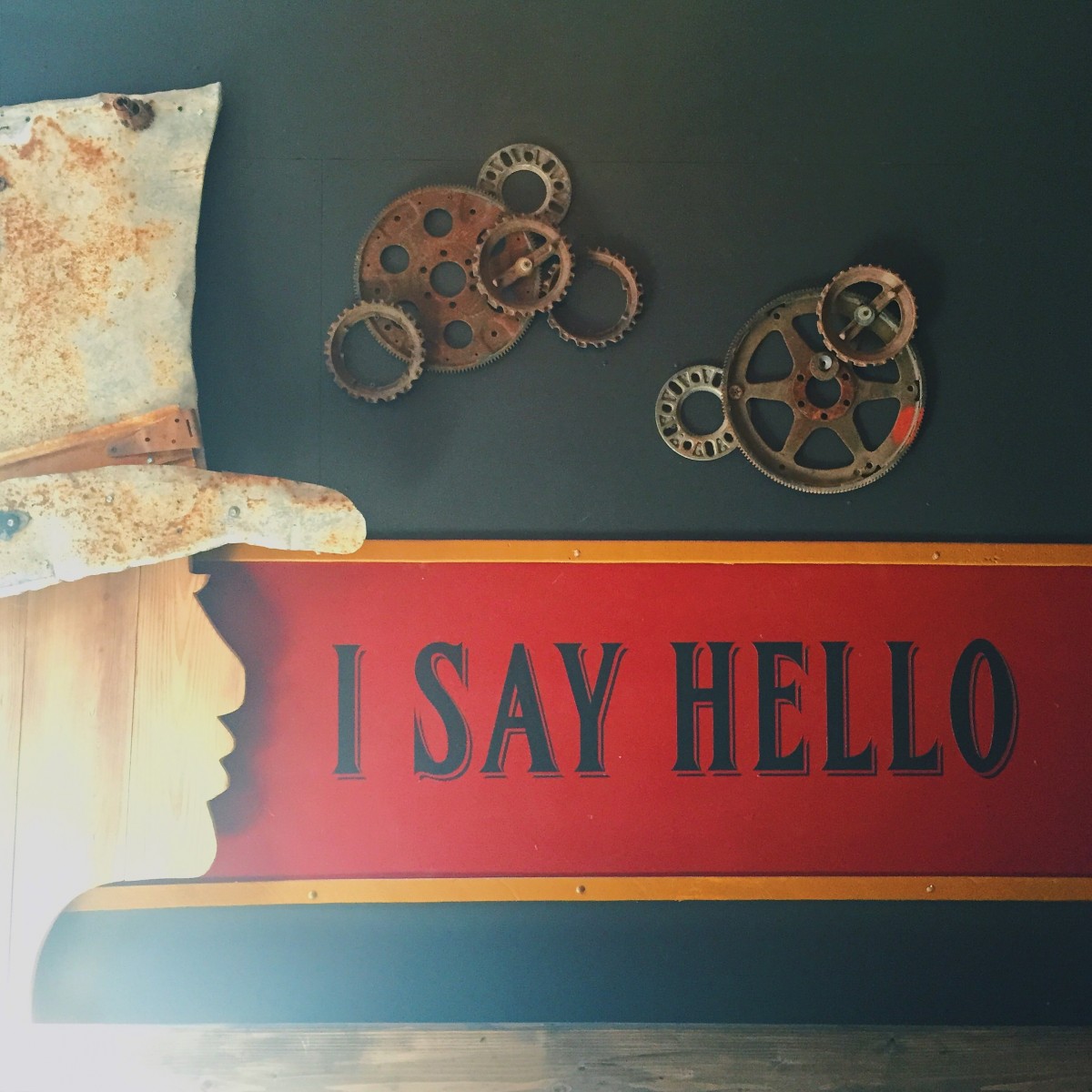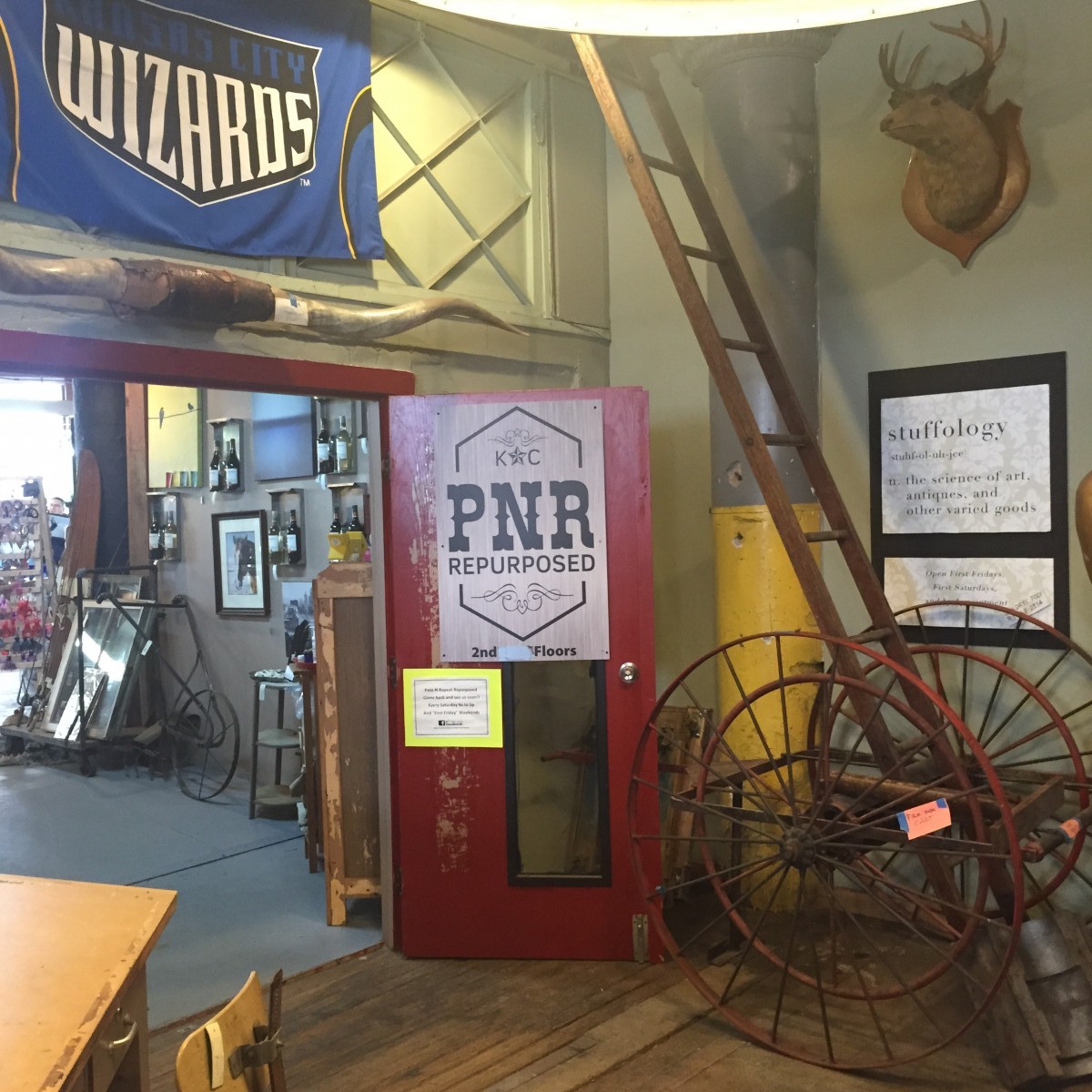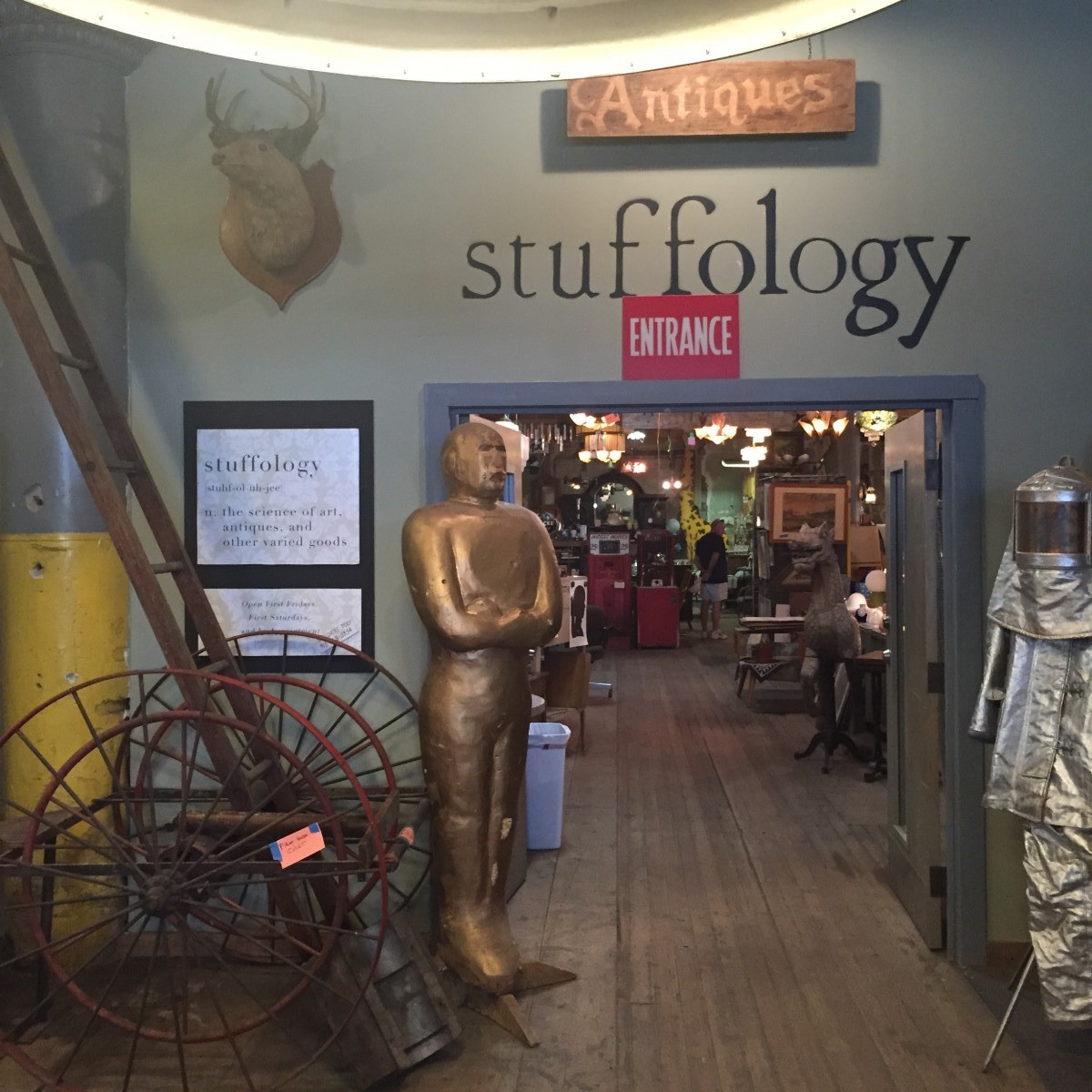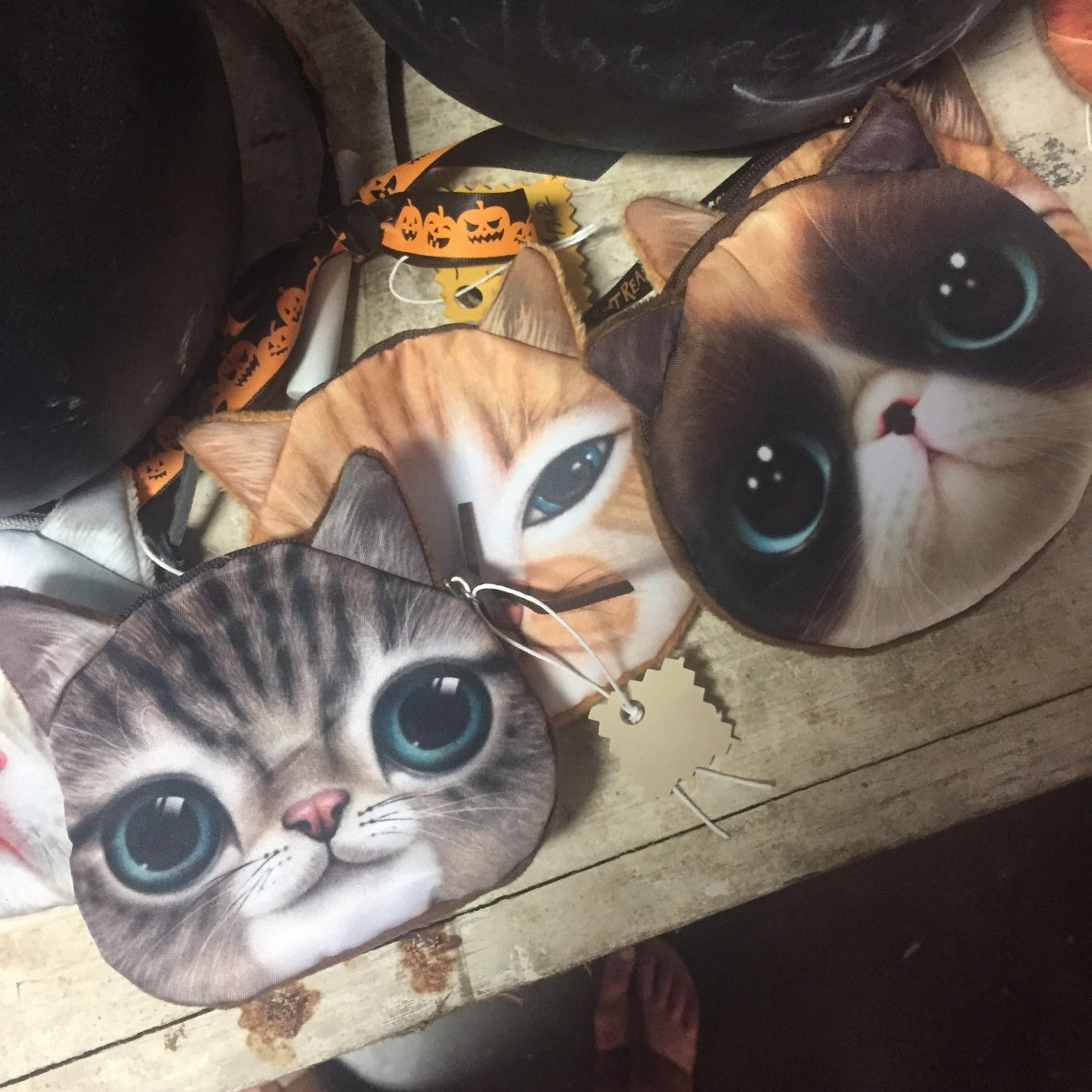 I can't even tell you the willpower it took to walk away from this table without buying one of these kitties.
Westport
Westport is the area Josh said he wants to make sure we explore more of on our next trip to Kansas City. It was in walking distance from our hotel (which I'll be blogging about next week) and is a really cool restaurant and bar area where the cops actually close down the streets at night on the weekends so visitors can walk from bar to bar and hang out in the streets without having to worry about cars.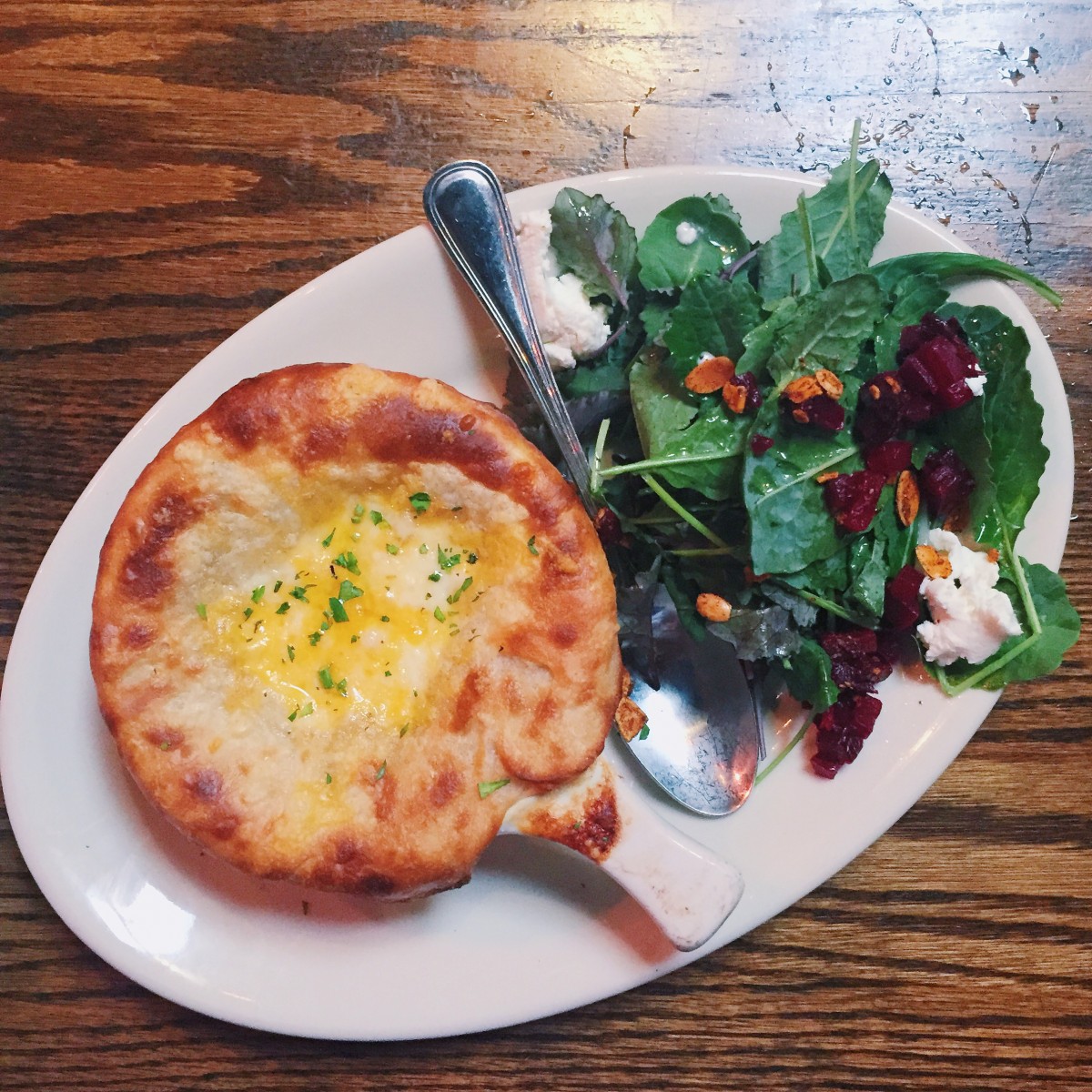 Josh and I went to McCoy's for vegetarian pot pies with beet and kale salads. This was another meal where we polished off our plates. McCoy's makes their own beer and Josh was raving about their ginger shandy.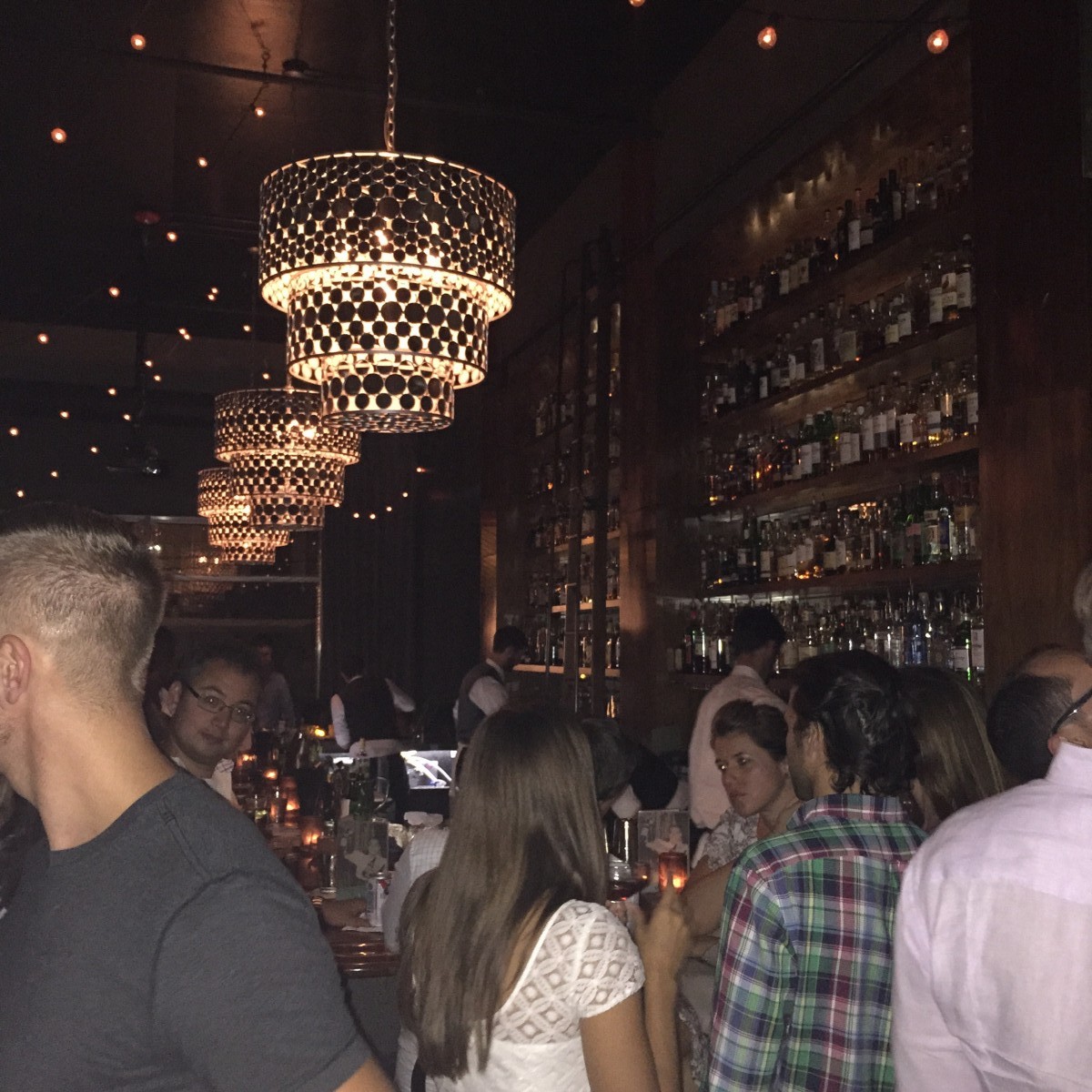 We also checked out Julep Cocktail Club and I fell in love with the atmosphere. Josh got a rare Japanese whiskey that he absolutely loved.
Kansas City Renaissance Festival
I had never been to a Renaissance Festival before and was super excited to check it out but also had no idea what to expect. All I knew was that I wanted to try a turkey leg! haha I'll be writing about our experience at the Kansas City Renaissance Festival in more detail on the VisitKC blog and will make sure to share the link to that post on here with you guys when I do.
The Kansas City Renaissance Festival is running every Saturday and Sunday now through October 18th. If you're looking to check out a Renaissance Festival I'd really recommend this one. Josh has been to them before and he said this one is huge in comparison to the ones he went to back in New England. He also said the prices are way more reasonable.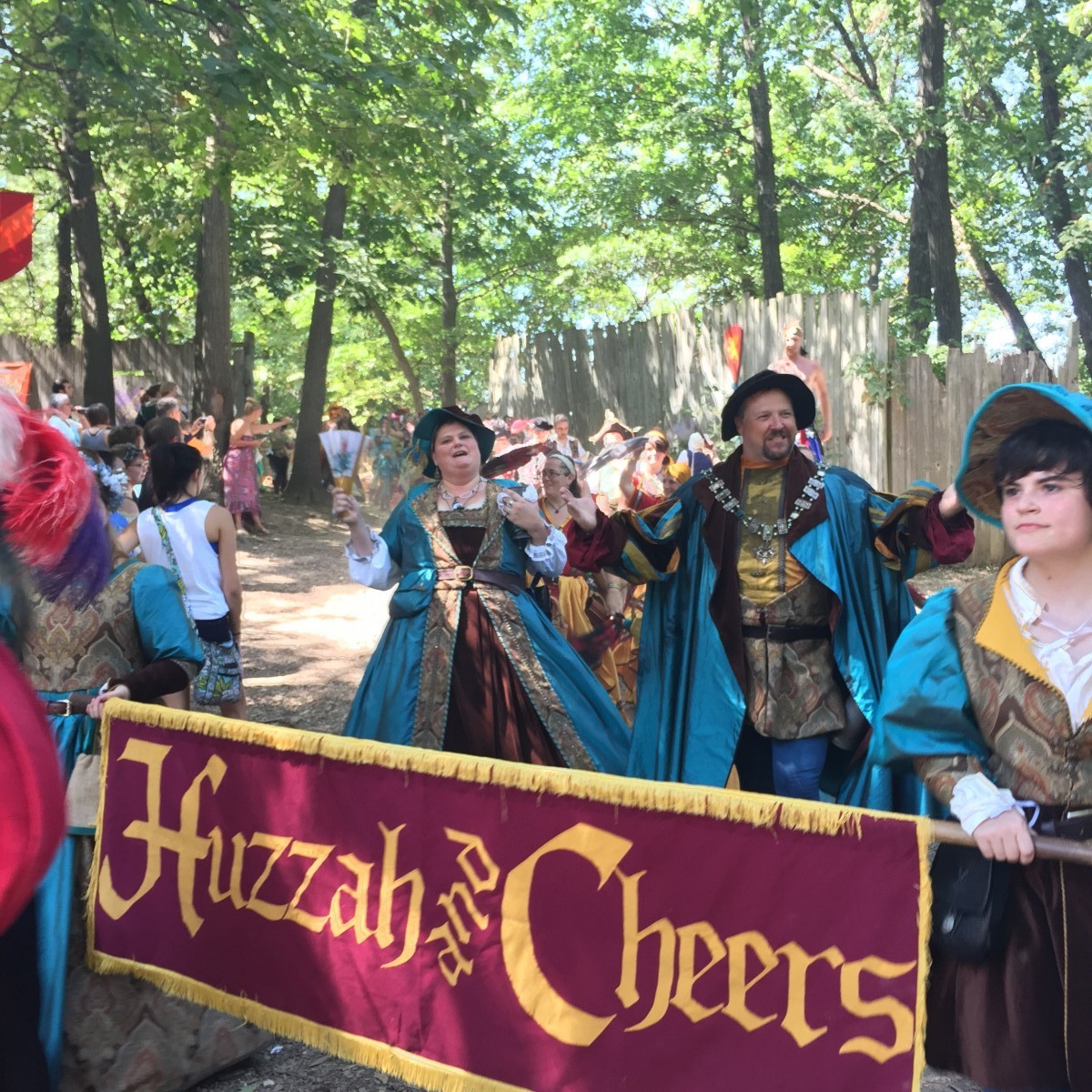 I saw lots of people in costume, although I was surprised at how many visitors were not in costume. Josh and I definitely didn't feel out of place wearing normal clothes.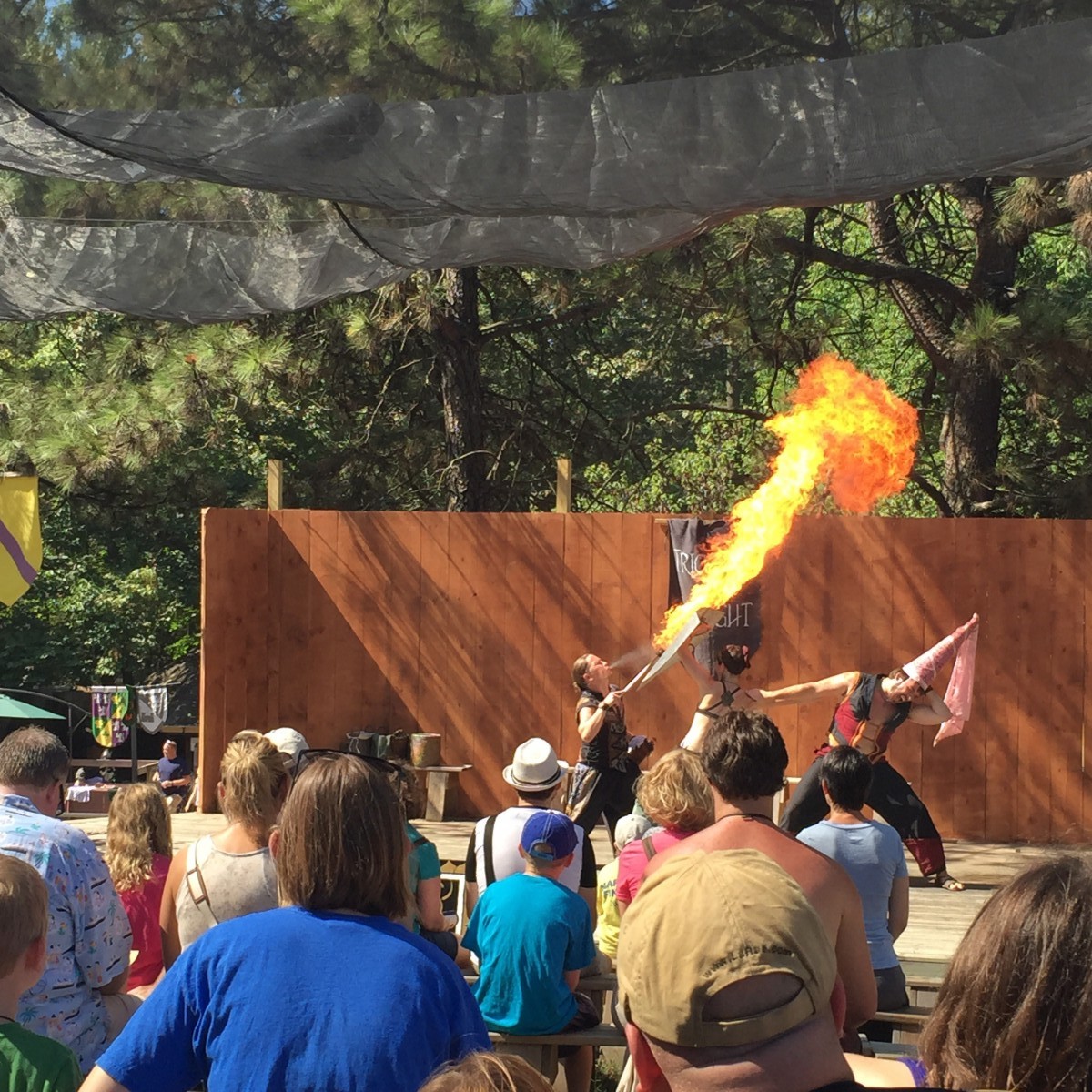 We saw a super cool and really funny fire show called Tricks of the Light.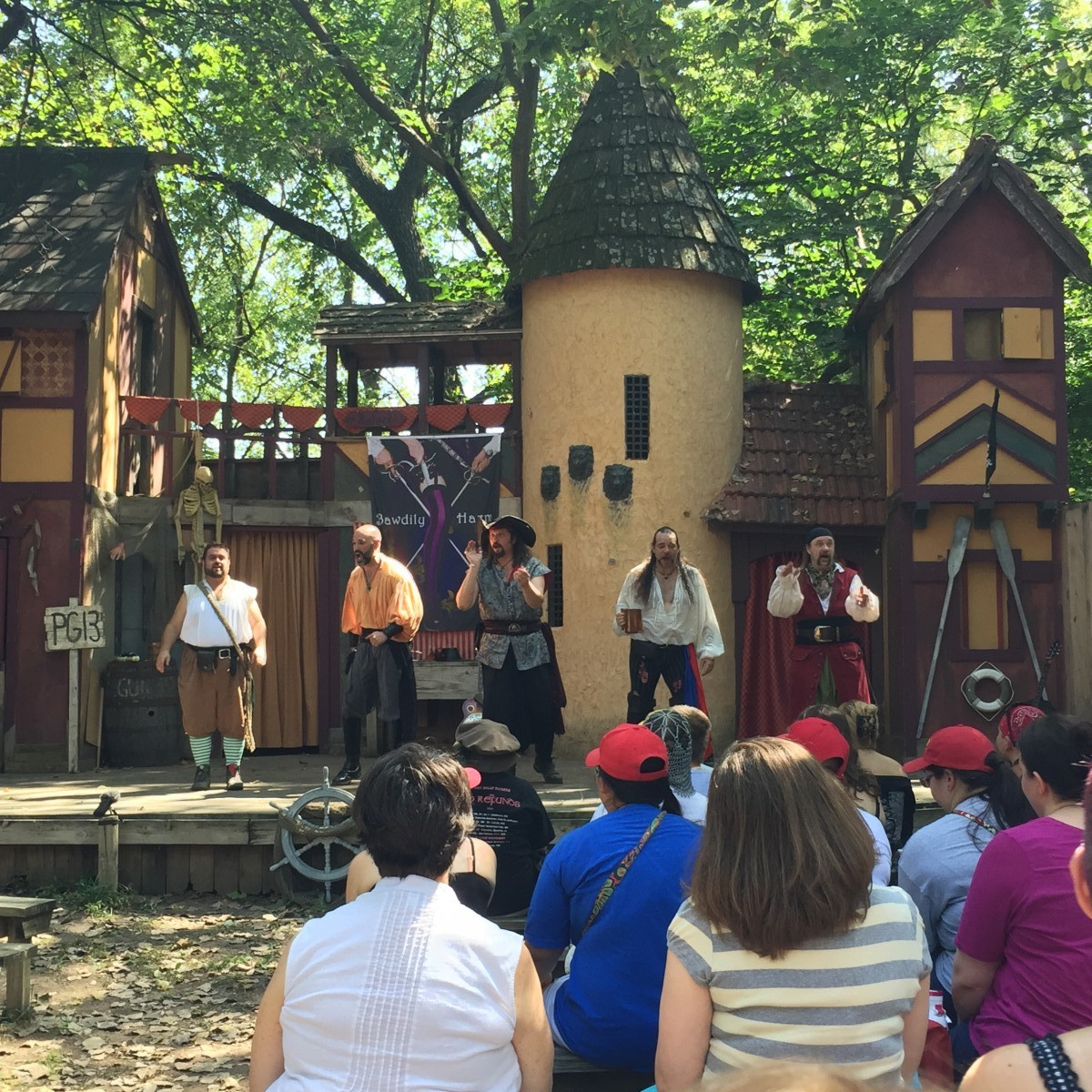 An absolutely hysterical pirate singing show called Bawdily Harm.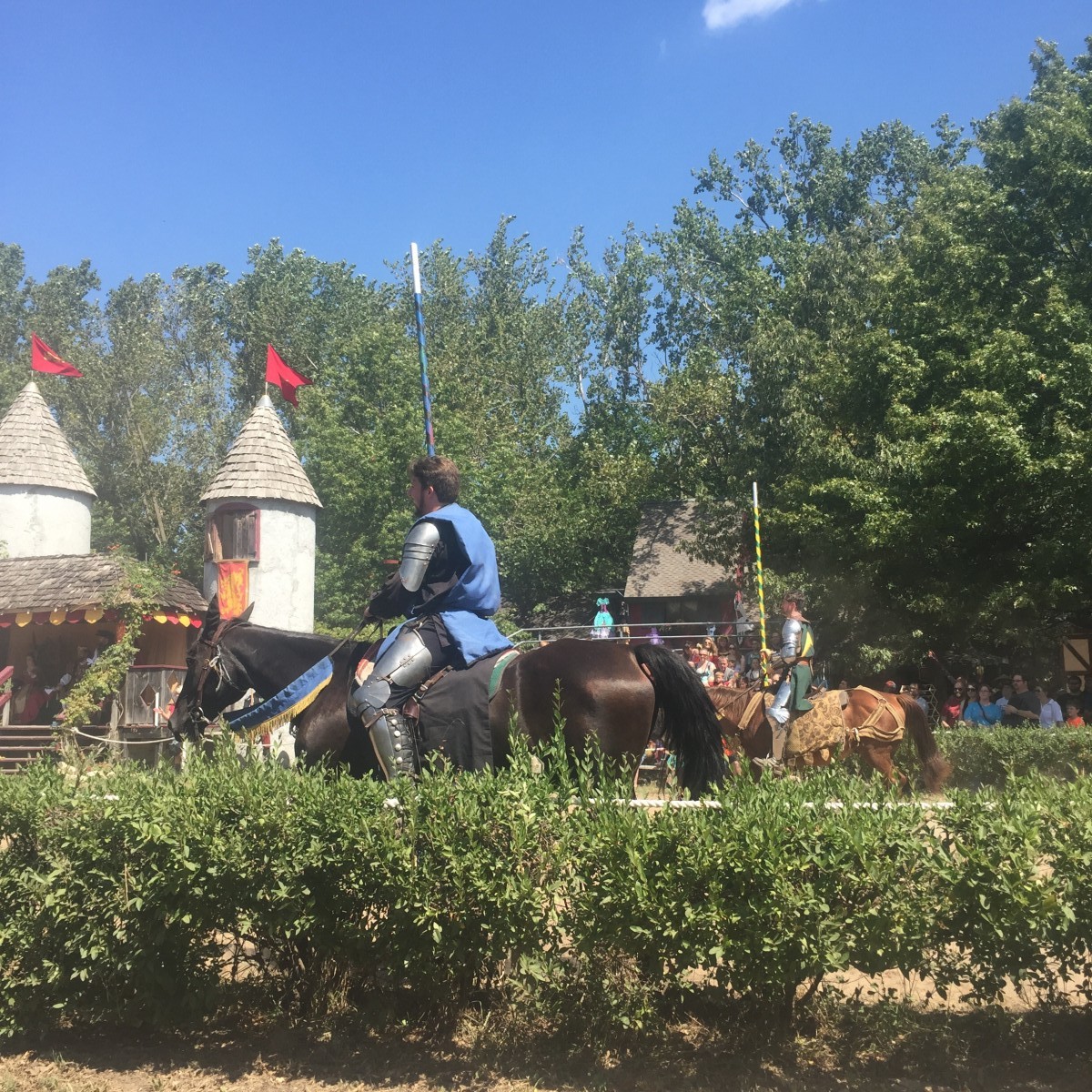 There was jousting.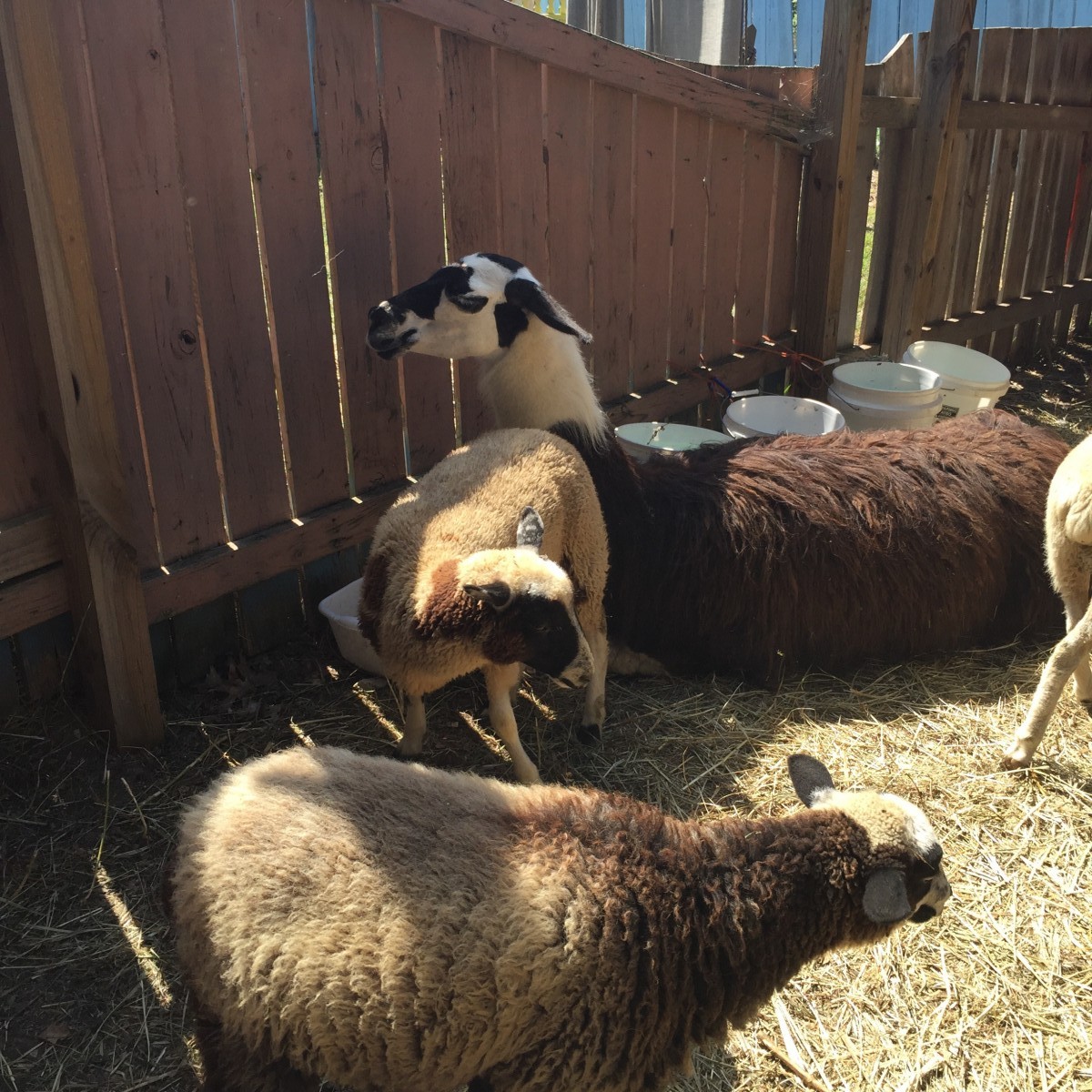 Animal petting.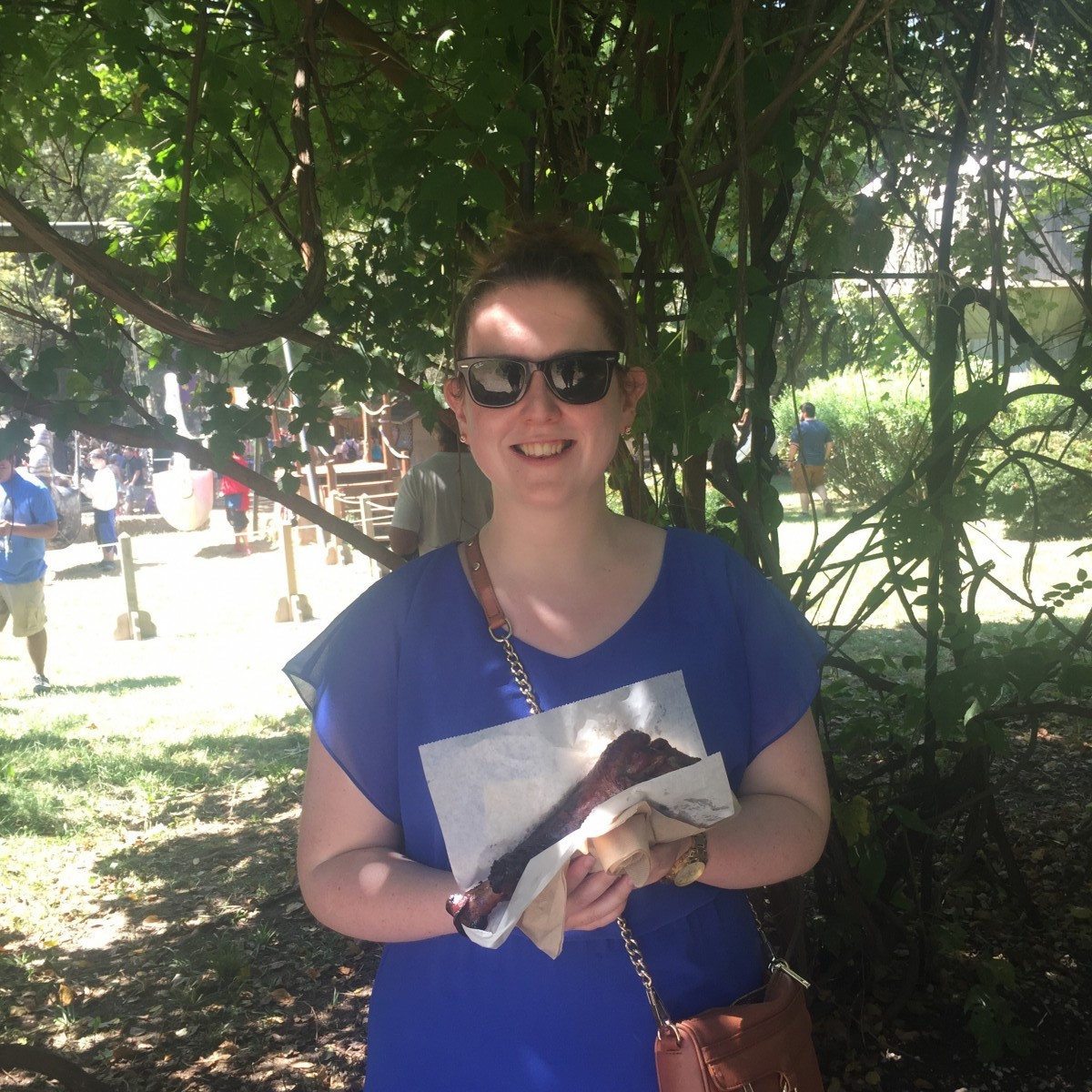 And I got my turkey leg! It was ridiculously huge and rather hard to eat around the tendons, but I'm glad I tried it and had the experience.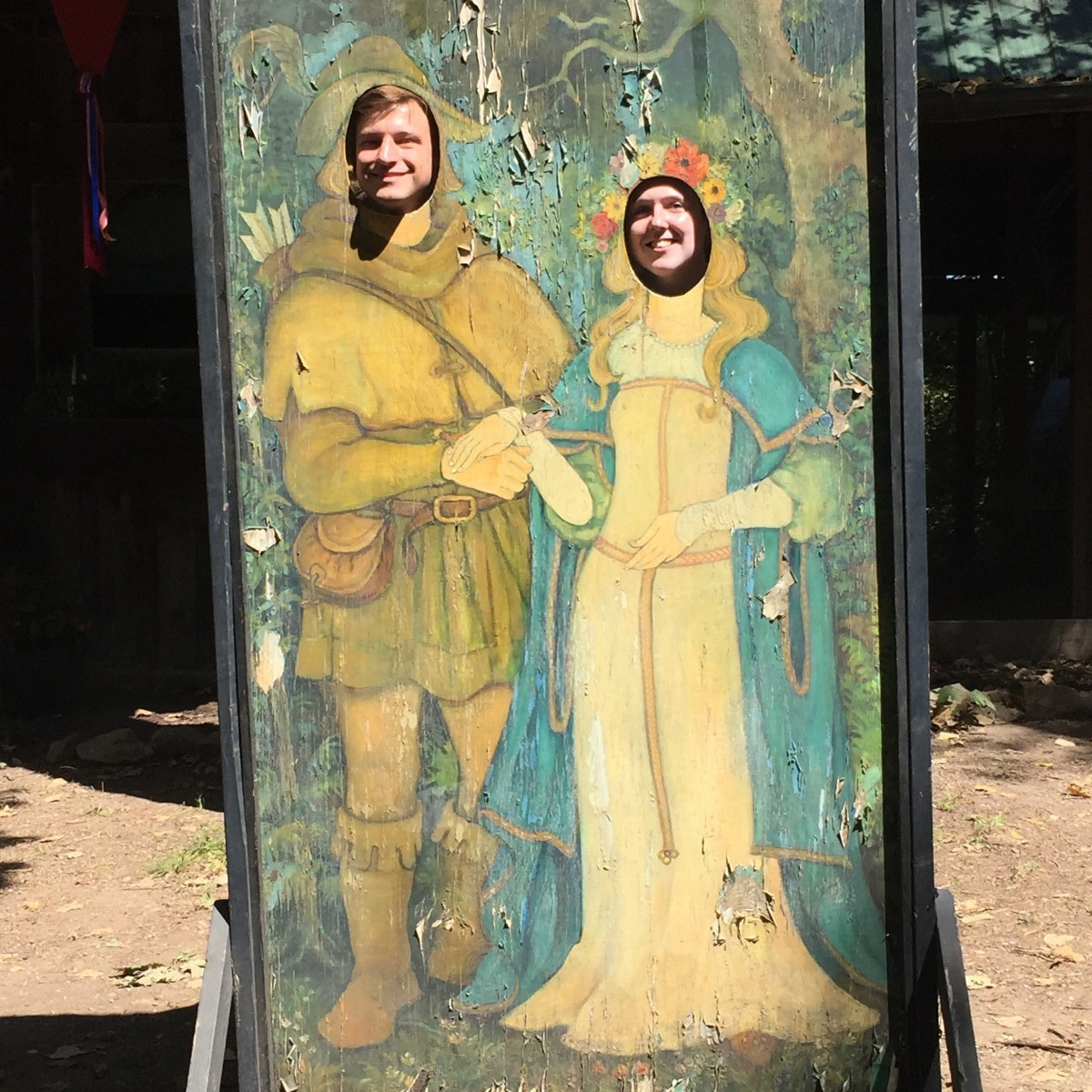 Josh and I had so much fun walking around, taking in the sights, and listening to the live music.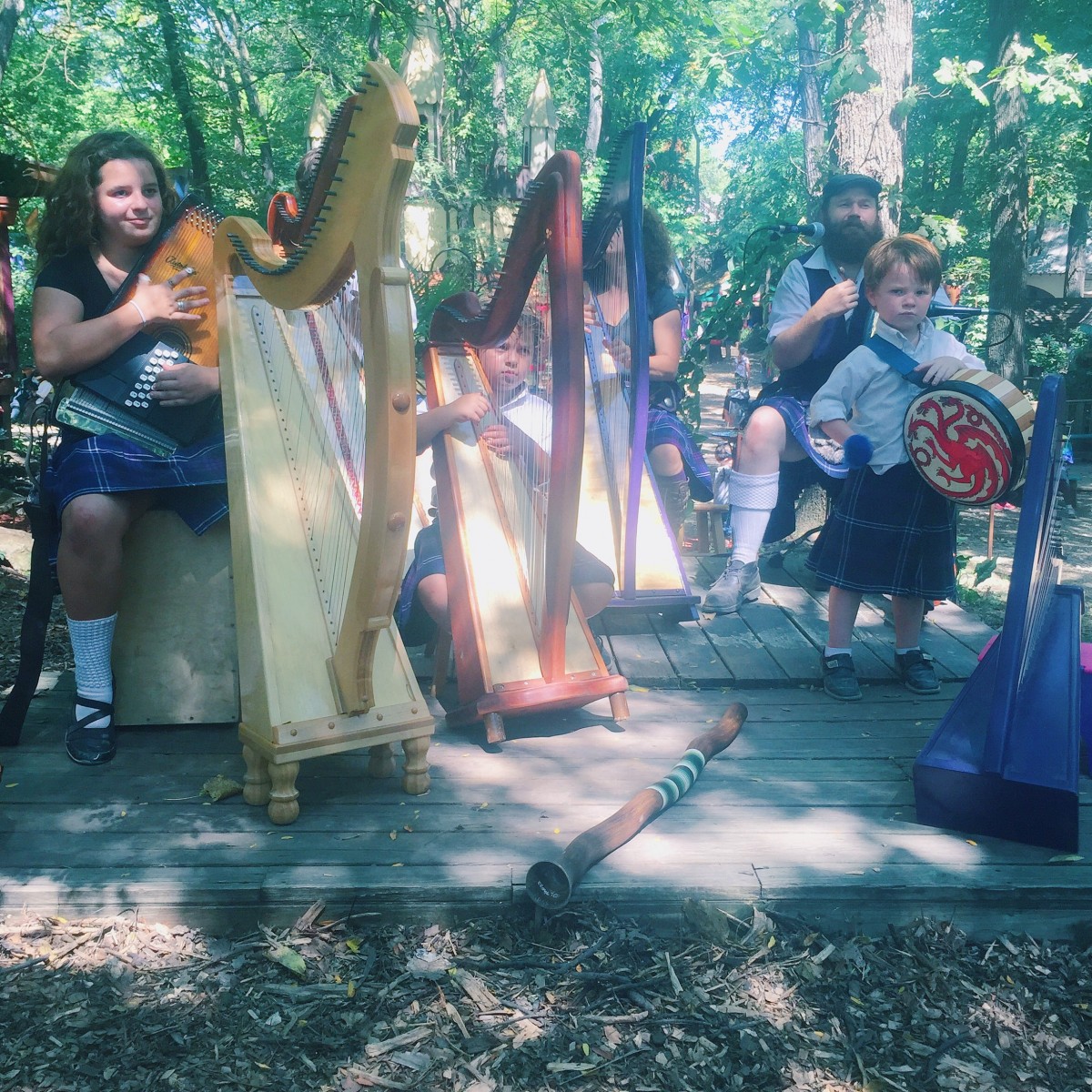 The highlight of the day came when we got a root beer float to cool off and were walking around looking for shade to eat it under. I found us some chairs, looked up, and noticed we wandered onto a harp performance. Dublin Harpers is an incredible family band that travels the world making music together. They are so talented and their youngest son was beyond adorable with his little harp and drum. At the end of the performance I turned to Josh and told him that we need to have four kids so we can travel the world and do something like this and he looked at me like I had two heads. I guess it's not in the cards for us. 😉
Power and Light District
The Power and Light District is a super fun area for nightlife in the heart of the city. It's basically a city block with a huge courtyard in the middle where all the bars and clubs meet with lots of communal space. On the weekends they have pop up bars in the courtyard as well as outdoor concerts. It is definitely a must-see in Kansas City. There's rock bars, country bars, piano bars, Irish bars, pizza bars, and every kind of bar in between.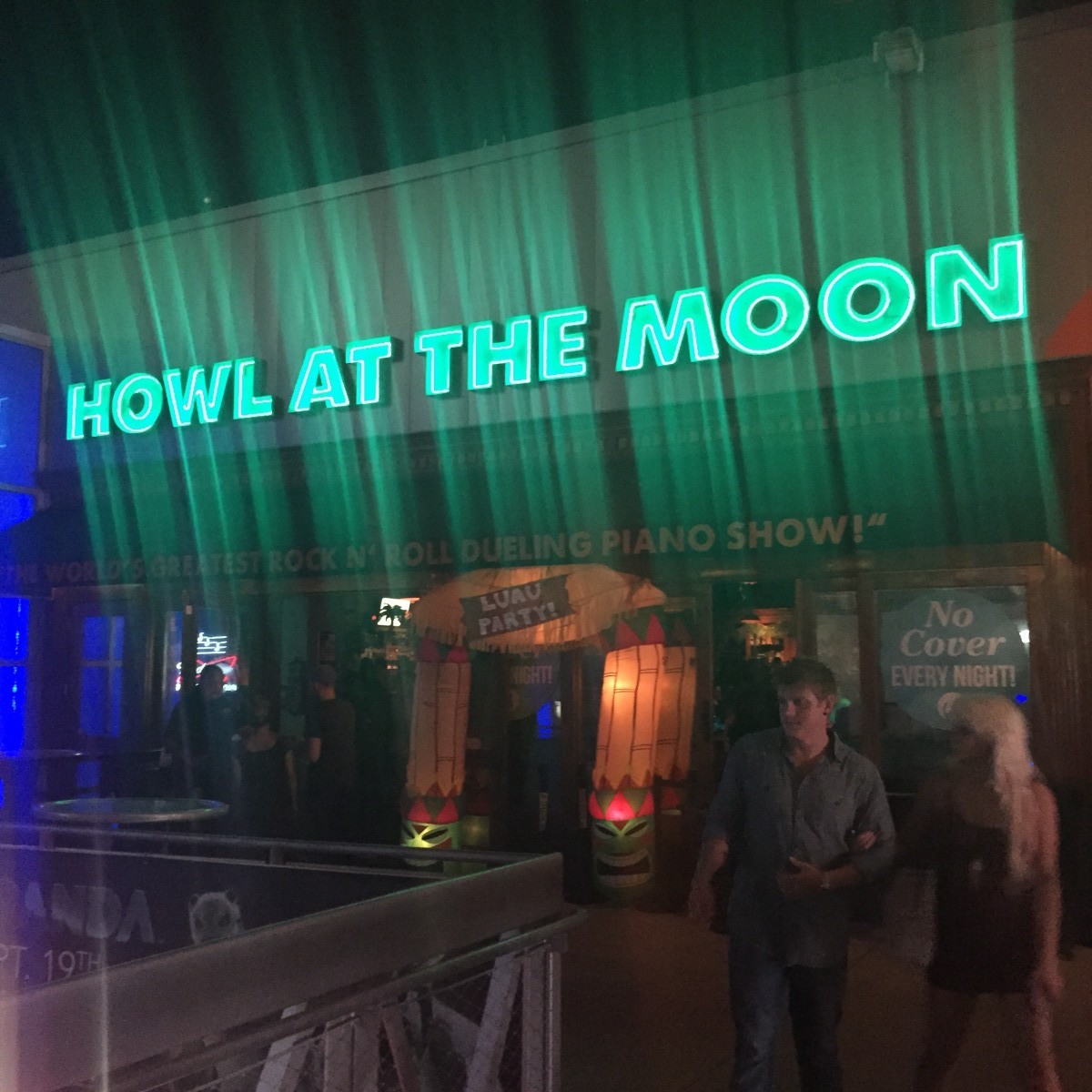 Josh and I went to Howl at the Moon and I got to experience a dueling piano bar for the first time! It was so much fun! Then we went to Angels Rock Bar and Josh got to experience dancing on a stage at a club for the first time. That was an absolute blast!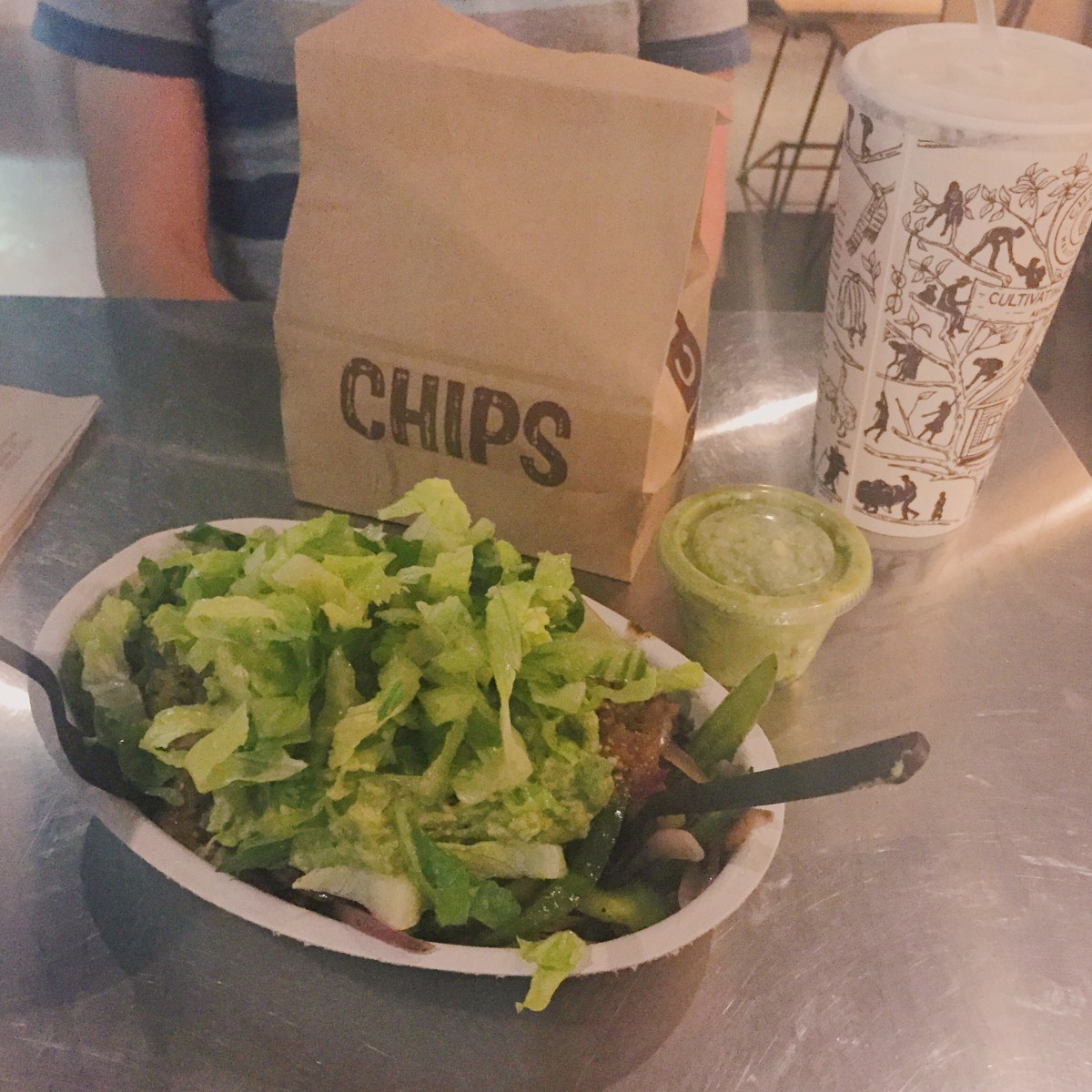 Late night Chipotle was a must that night before taking an Uber back to our hotel.
Country Club Plaza
Country Club Plaza is my favorite place to go shopping in Kansas City. It's an upscale outdoor shopping mall with lots of restaurants and some of my favorite stores. It's incredibly beautiful.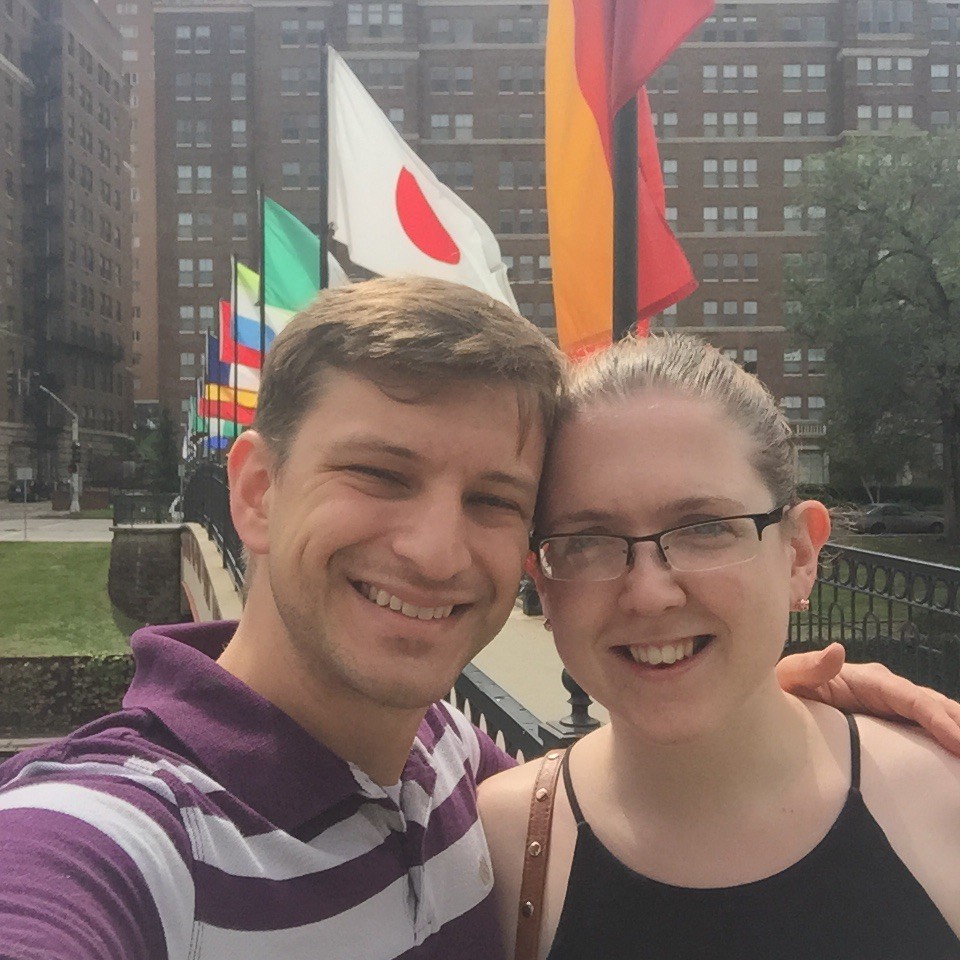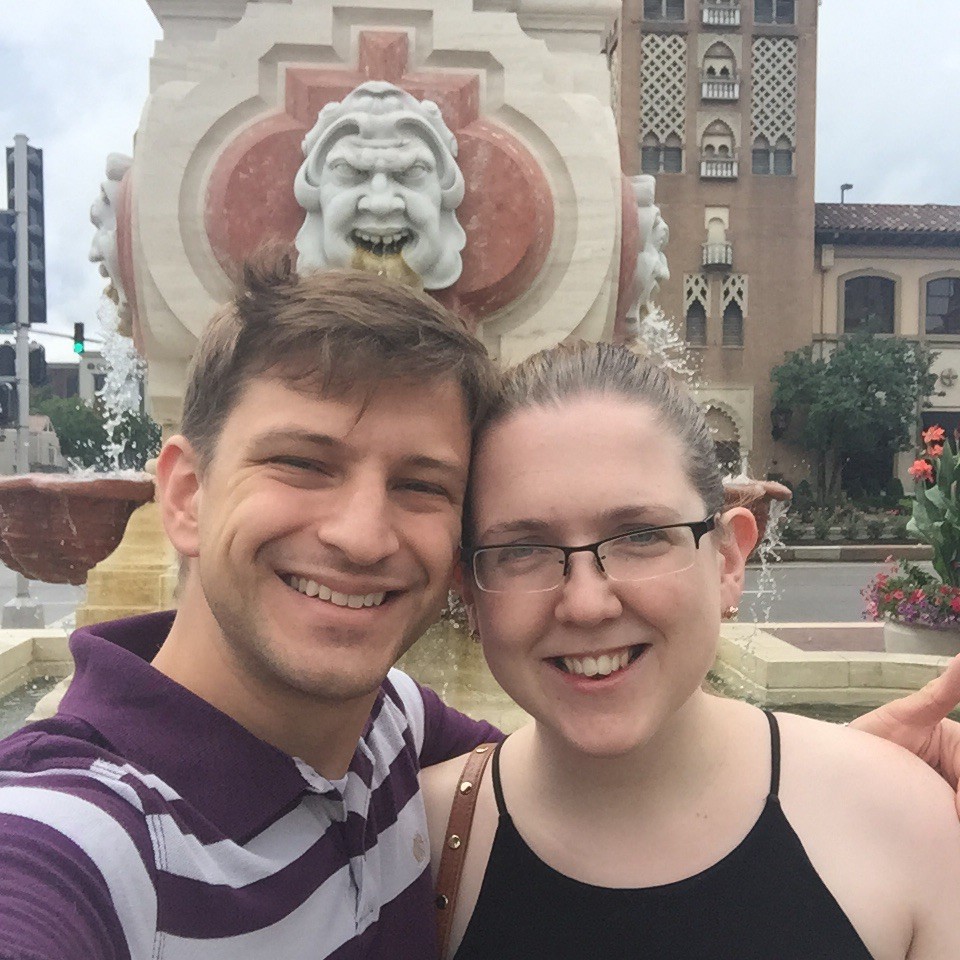 The only pictures I got of the area were when I tried to get pictures of the two of us. We weren't looking our best after a night of clubbing, so I quickly put my camera away. haha.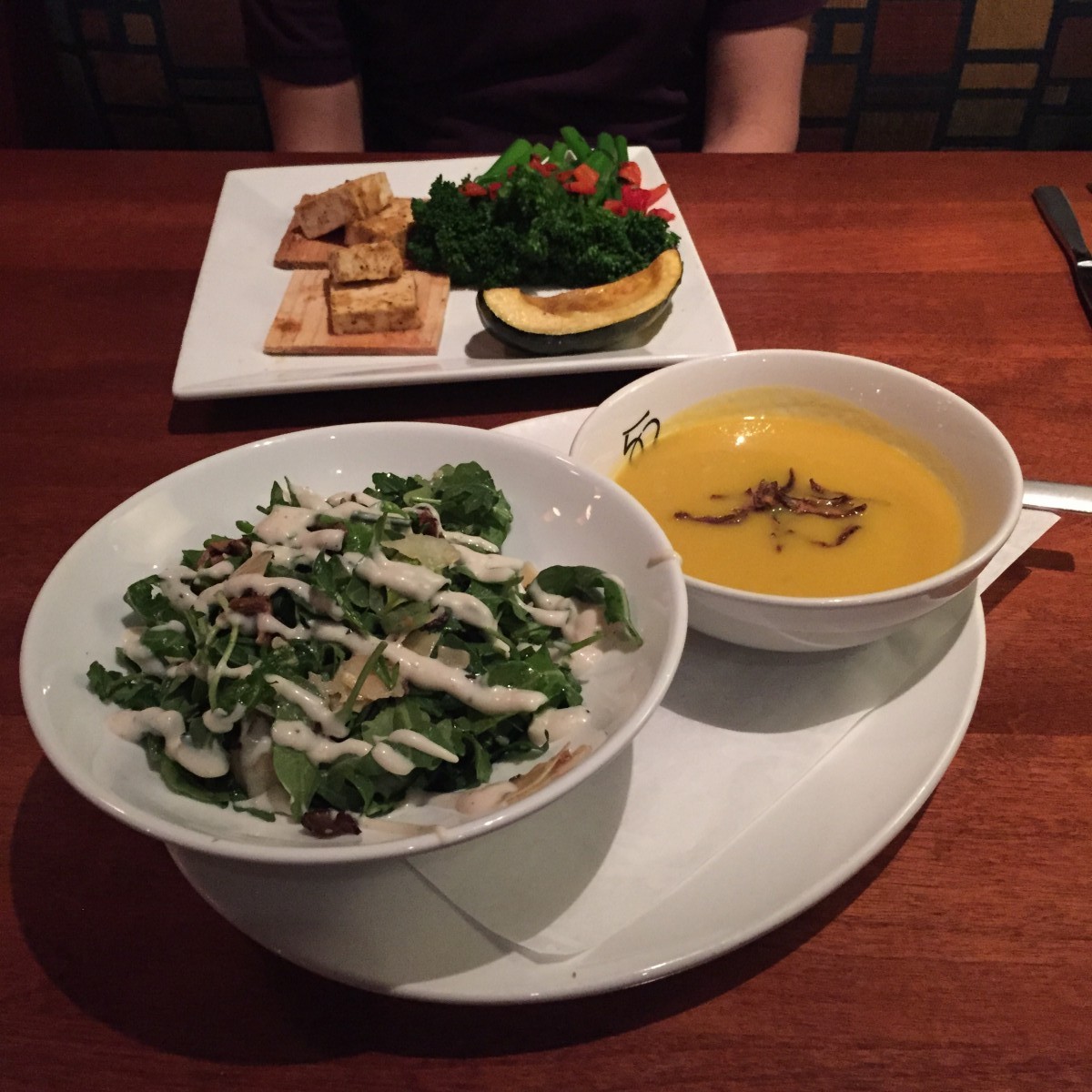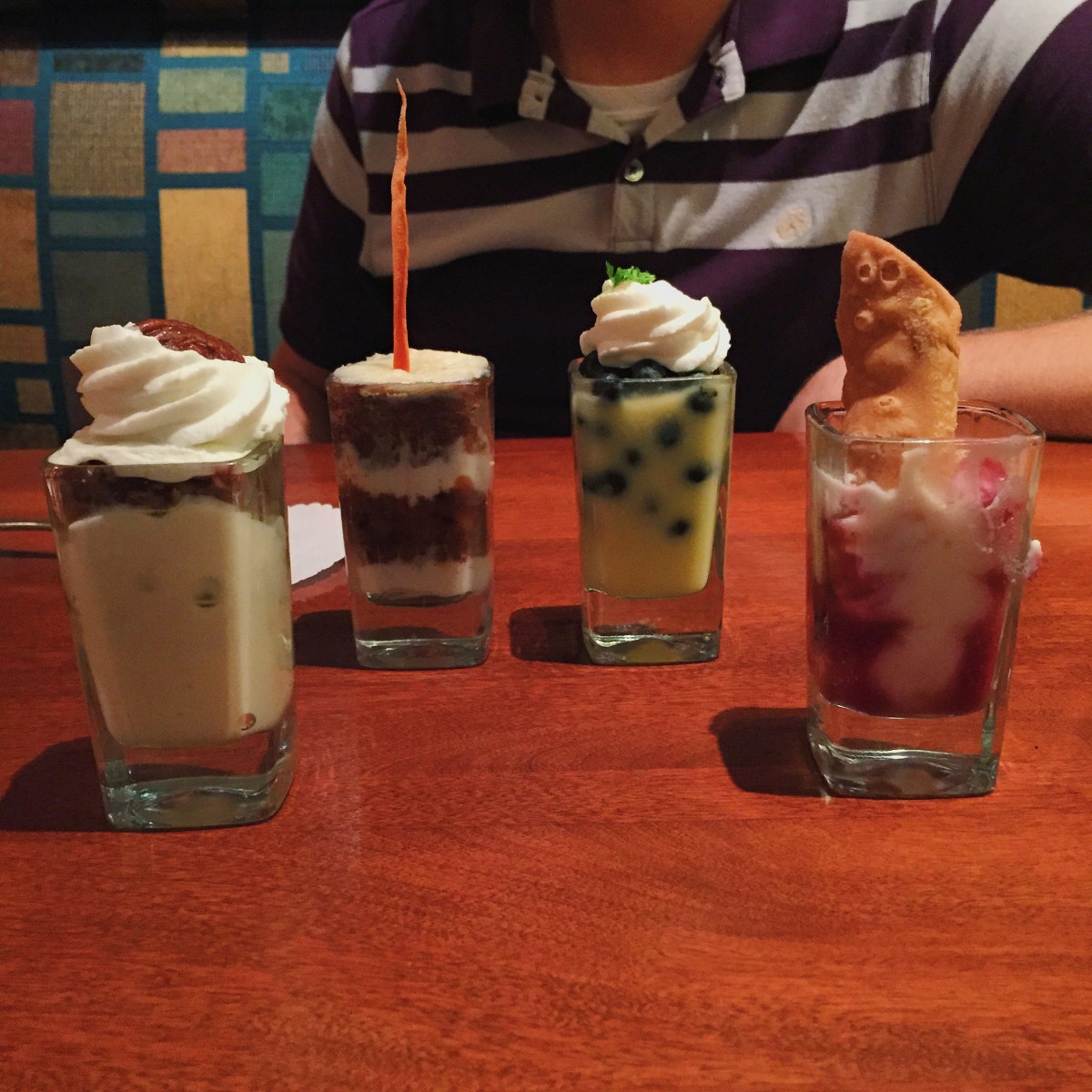 After browsing stores and picking up some odds and ends Josh and I decided to end our trip with lunch at Seasons 52. Their food is known for being in season, fresh, and under 520 calories. They had kabocha squash raviolis, truffle salad, and cannoli dessert so you know I was in heaven. We really enjoyed our meal there and already want to go back!
And that was our Kansas City trip! It was so much fun. If you can't tell we absolutely loved the city and want to make it a priority to visit on a more regular basis. Kansas City has something fun for everyone and every occasion. We loved our couples getaway!
Questions of the Day: Have you been to Kansas City before? What area do you most want to check out in Kansas City? Are you a fan of Renaissance Festivals? Have you ever eaten a turkey leg?
A big thanks to VisitKC for providing me with lodging and tickets to events for this trip!