I can't believe its been almost a week since Spring Break. I had the best time in New Haven and am so excited to get to share more of my vacation with you. I had to break my trip up into three parts so you are not looking at hundreds of photos in one post, so this is part two of three of my trip to Connecticut. Part one can be found here.
Early in the week Josh and I went to Olive Garden with his parents to meet up with their family friends Mary and Joey. Mary and Joey are so much fun to hang out with and we had a blast chatting and enjoying all the food. I was really surprised at how much I enjoyed the food. The last time I was at Olive Garden I found everything to be pretty subpar but my mushroom raviolis were absolutely delicious.
My strawberry and mango margarita was also pretty delicious.
As was the trio of petite desserts Josh and I shared. There was also tons of appetizers, bread sticks, and salad that were good. I definitely overindulged though because by the end of the night I was feeling all the food in my stomach. Lesson learned to not mix a big sugary drink with tons of food!
The next day Josh's mom took a half day at work and we spent some time exploring downtown New Haven. I was so looking forward to getting to eat at Red Lentil. Josh and I first discovered the place in January when we came to visit and it made quite the impression. We couldn't wait to go back!
I love vegetarian restaurants not only because I can eat everything on the menu but because they are so creative. How amazing does that sweet potato quesadilla sound?
It was delicious. I need to try and recreate this at home. Hands down the best quesadilla I've ever had and the homemade salsa was so good.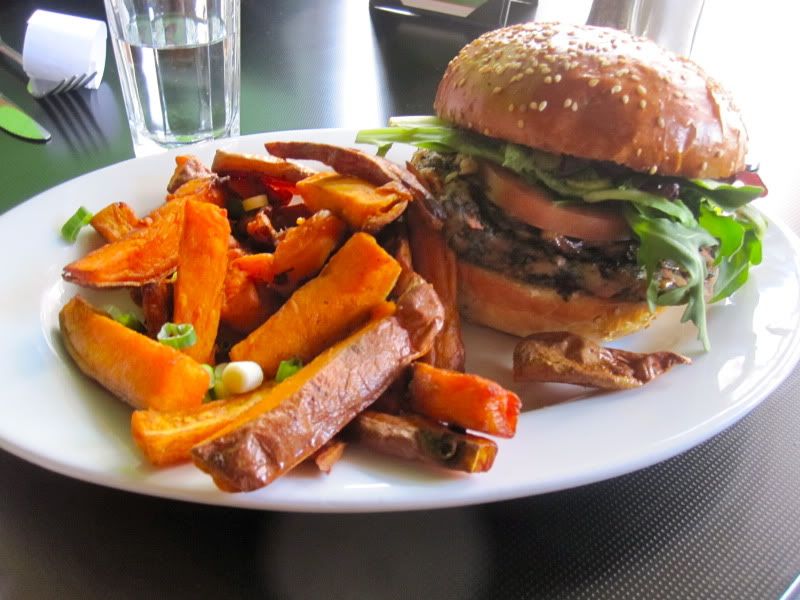 Josh ordered the veggie and lentil burger and it came with a huge side of sweet potato fries. They were heavenly.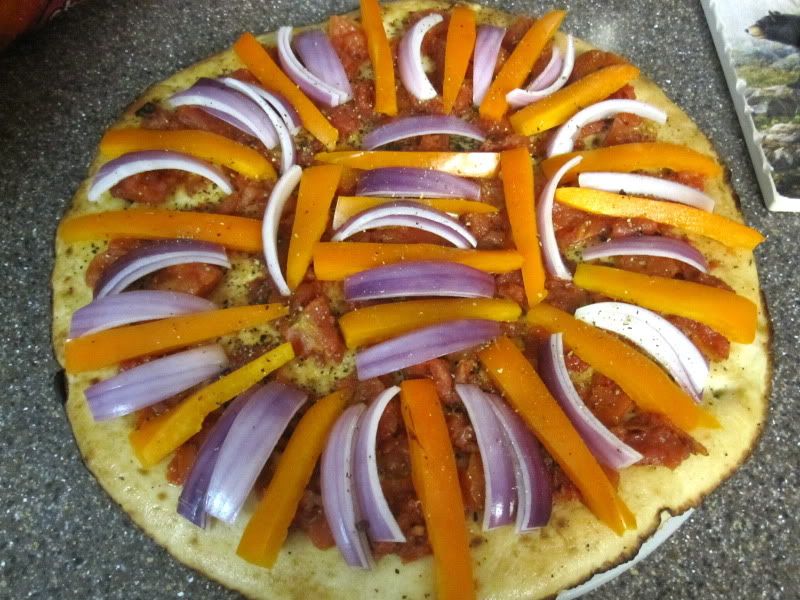 For dinner that night Josh and I decided to make dinner for his parents. Using the pizza crust we picked up from Trader Joes a few days earlier we topped it with tomatoes, onions, and peppers.
We then covered it all under a bed of spinach and slices of goat cheese.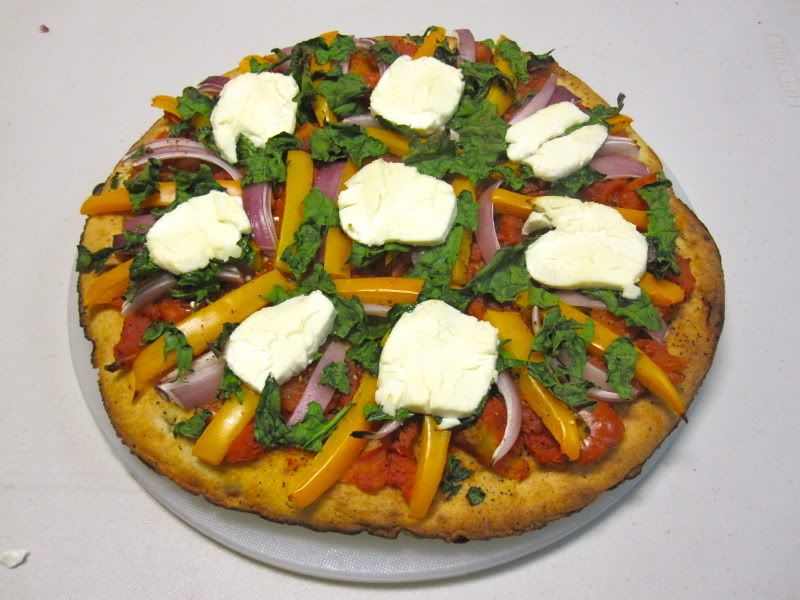 Cooked to perfection and absolutely delicious. Josh's parents are meeting my parents in three weeks and Josh and I have already decided we're going to make this for all of them. I don't know why I don't make pizzas more often, they're so easy and so delicious and so much healthier than ordering when you know everything that's going into them.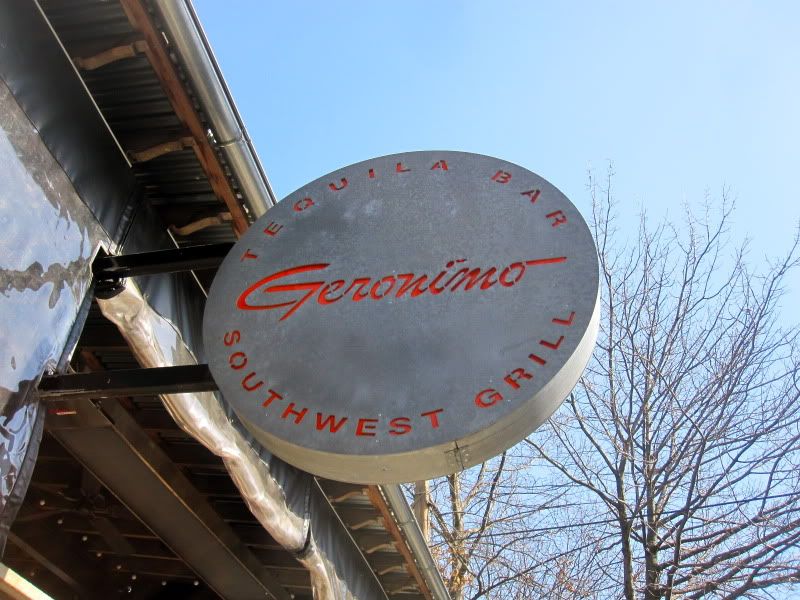 The next day Josh and I decided to head back into New Haven and explore some more. There is so much to do in the city and it was such a beautiful day. We decided to try a restaurant we wanted to try last time we were in town for lunch called Geronimo.
Its the kind of place you walk into and can tell its going to be delicious just from the awesome atmosphere. It felt so nice to sit out on the patio in the gorgeous weather and enjoy some awesome Mexican food.
I got to try tamales for the first time! When it comes to foods other than quesadillas and tacos I am such a Mexican novice, we had to Google whether or not you eat the shell. Lesson learned, you do not! The inside was stuffed with peppers and corn and cheese and was so incredibly good.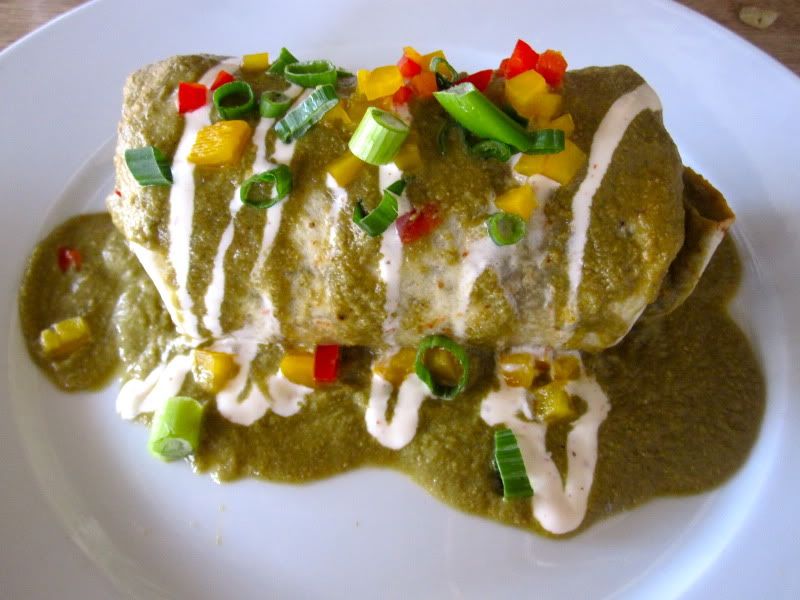 For my entree I got the black bean burrito and it was delicious. And also freaking ginormous! This was definitely a vacation of indulgences.
Josh got a vegetarian chili and it was delicious. I haven't had a lot of vegetarian chili before and I'm finding the more and more I eat it the more and more I love it.
After browsing the shops and walking around and enjoying the sunshine for a while we decided to head over to Willoughby's, a coffee shop with a few locations in the city. Josh has always liked their coffee and I was really excited when the owner sent me a Tweet when she read I was in town. I love how blogs bring people together and how friendly everyone in the blogging world is.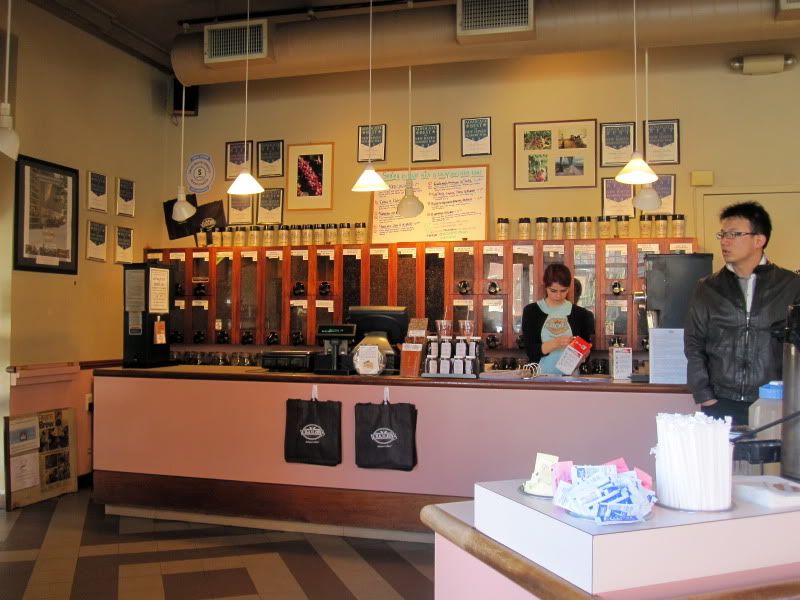 The shop was so cute. You could tell they know their coffee, there were so many varieties of beans! After we ordered we chatted with Kris for a little while and she was so nice. She's also a vegetarian! She gave me a recommendation for Mediterranean food that I will definitely be trying next time I'm in New Haven!
I got a Mexican Mocha, my first ever, and I absolutely loved it. I'm so glad Kris Tweeted me and that Josh and I added the coffee shop to our daily plans. The coffee was great!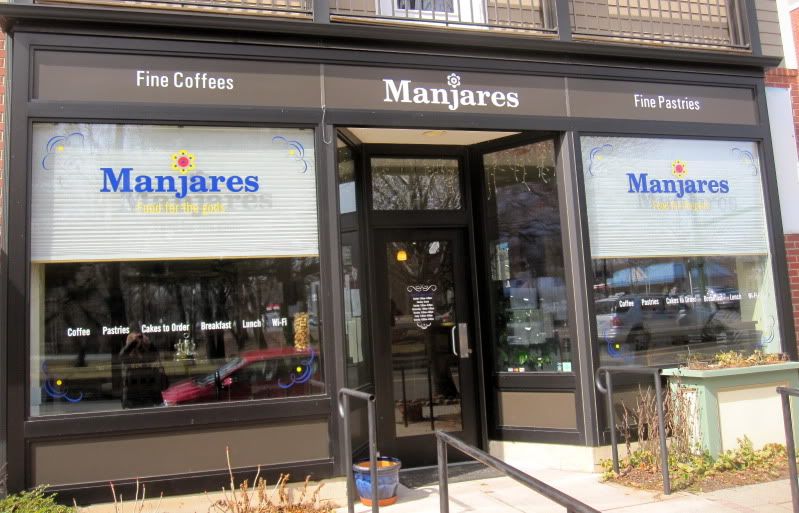 Josh and I spent the rest of the afternoon checking out his old school and visiting the Apple store so I could ask if there was any way to salvage the pictures and documents on my now dead laptop. Thankfully it should be possible! The next morning Josh, his mom, and their family friend Robin and I all went out for breakfast at Manjares. This is one of my favorite places in New Haven. The atmosphere is amazing and the food is so great.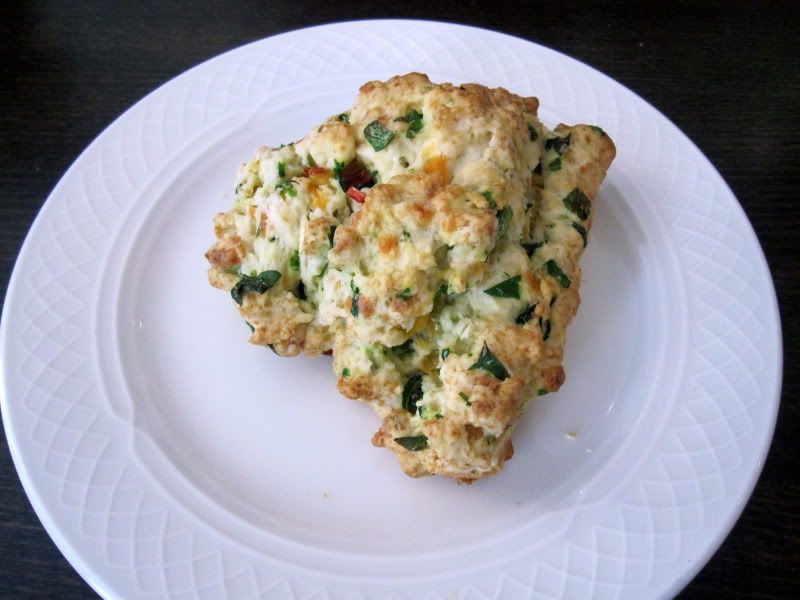 We all shared a scallion and pepper scone because we were super curious about what it would taste like. We came to the verdict that it was good but it would be great if it was heated with butter.
For breakfast I had to stick with perfection and get their French Toast. This stuff is amazing. Robin is so nice and so full of personality and excitement its always fun to get to spend time and chat with her.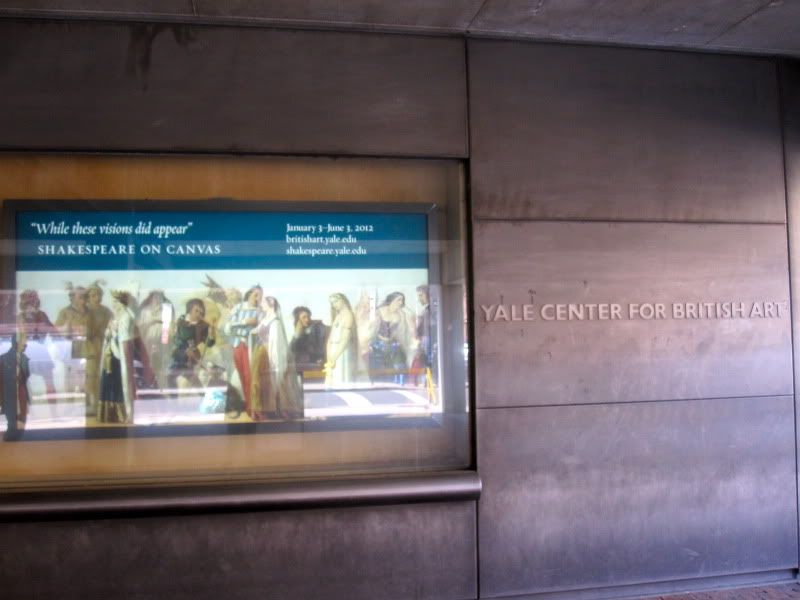 After finishing breakfast Josh and his mom and I headed over to the Yale Center for British Art. I love museums and any opportunity to visit them.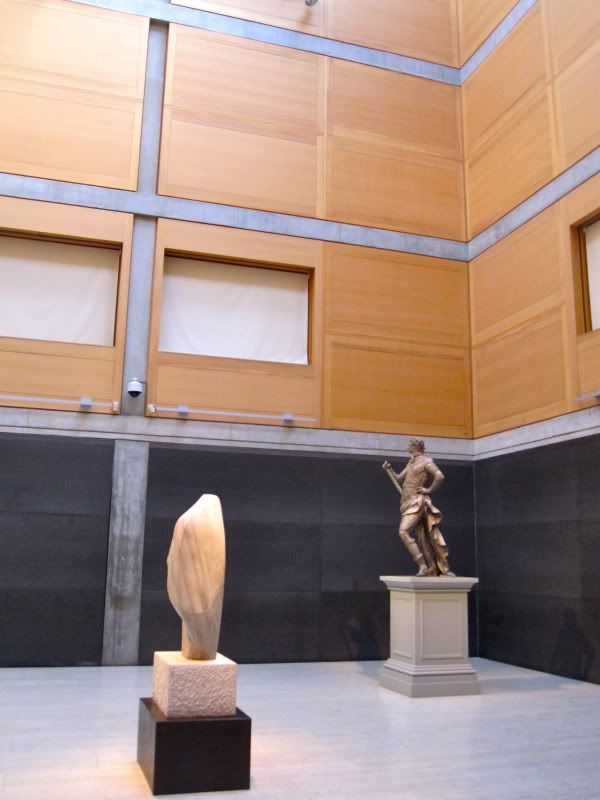 It was so big and beautiful and filled with gorgeous paintings and sculptures from hundreds and thousands of years ago. I love history and getting to look at a portrait and think that someone posed for that picture, however long ago. They were living just like we are today, in a world that is on one hand so similar to ours but so vastly different at the same time. Kind of mind blowing!
After the museum we decided to go get a snack and headed over to Chocopologie. Connecticut's tourism bureau has a Twitter account and started following me when I started tweeting about Connecticut. They recommended I check out Chocopologie, and I am not one to need a lot of convincing to check out a chocolate shop!
Josh and I ordered a strawberry banana macaroon and a caramel one. The caramel one was definitely my favorite, it was so good!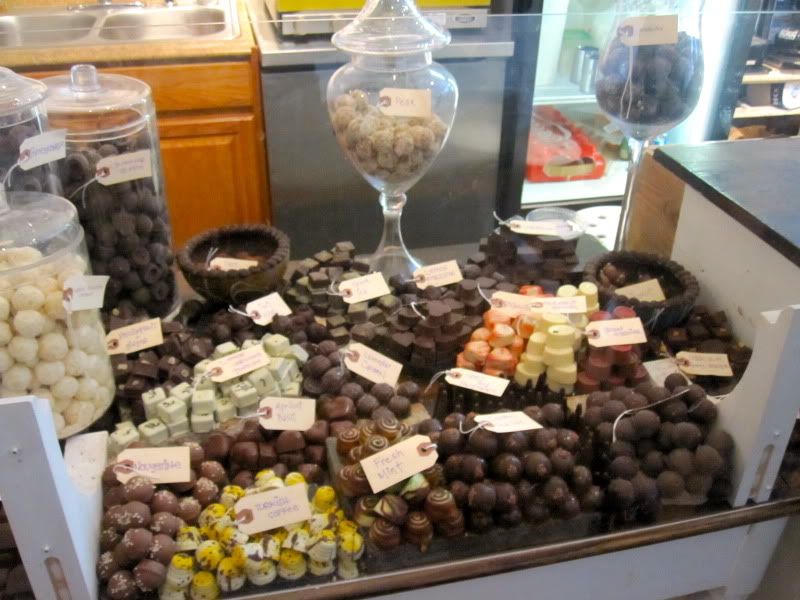 Look at all those chocolates! I didn't know this when I visited but Chocopologie's main store is in a different location, this is a little branch store. I ordered a caramel sea salt and a ginger guava. To be honest I wasn't blown away by them.
For my snack I ordered their red velvet cake. I LOVE red velvet cake and thought this one was beautiful. The plate was also adorable! Unfortunately the cake was stale. I didn't say anything because I didn't want to be rude but Josh and I hypothesized that because this is their branch store and they don't make the things here its likely they don't do a quick enough turn over and keep things on their shelves longer than they should.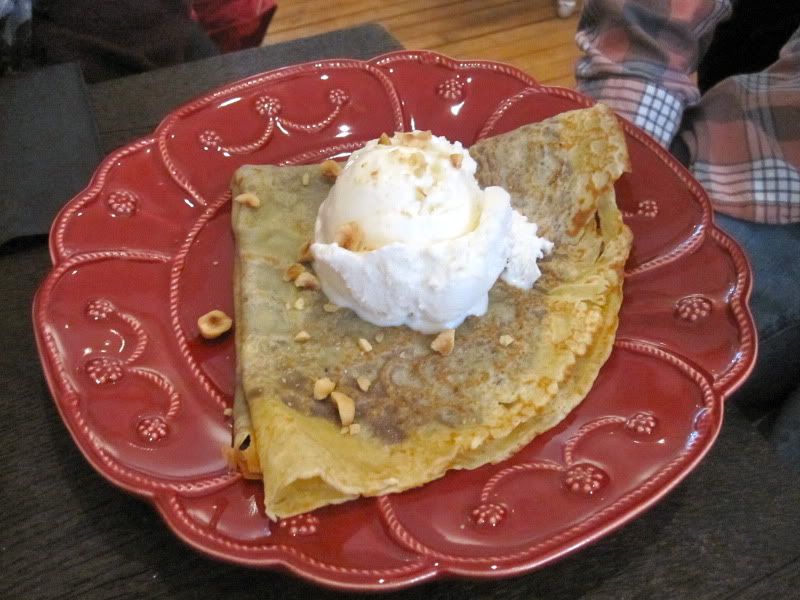 As bummed as I was about my cake Josh's crepe more than made up for it. It was filled with Nutella and topped with peach gelatto. Josh's mom also got gelatto and that was delicious.
We walked around and browsed the shops for a while until we were hungry for dinner and decided to head over to Bar. New Haven is famous for their pizza and I love Bar. Their pizza is amazing.
I love the atmosphere of Bar. They brew their own beer there!
We shared a huge plate of salad. Mixed greens, apples, candied walnuts, and cheese is my favorite salad combo.
We ordered a lot of pizza so we'd have leftovers. Josh loves cold pizza as much as I do! We got a large pie with half spinach and garlic and half red pepper and onion.
My favorite pizza at Bar is the potato pizza. I could eat this all day. It sounds so weird but I promise its amazing and totally worth getting if you're ever at Bar!
With full bellies we headed home after a wonderful day. We had a lot more adventures over Spring Break but I'll have to save sharing them for tomorrow's post as this is already an incredibly long post! I hope you're having a great day!