An easy and simple DIY picture ledge tutorial. Help give some life to your walls and show off your favorite memories.
This past weekend, Josh and I tackled something that has been on our to-do list for over four years: finishing our picture ledges!
As much as I love documenting our life here on this blog, I'm horrible about taking photos from the digital world to the real world and actually printing out photos and displaying them.
Our apartment has big beautiful ceilings that I really want to take advantage of while we're living here. What better way to do so than by displaying some of our most precious memories for us to see every day? As much as I love technology, I hate that that we relegate most of our memories to Facebook photo albums, iPhone storage, and USB drives.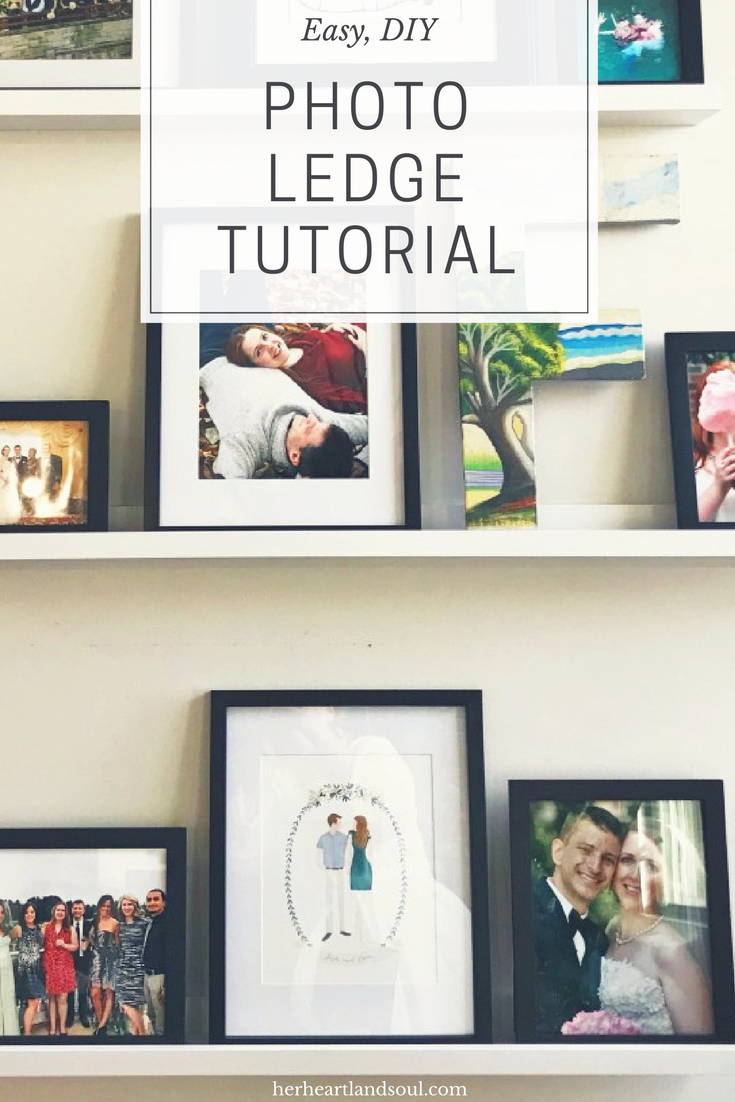 A DIY Picture Ledge Tutorial
The great thing about DIY picture ledges is that they are really simple to put together. Once you have the materials, set-up only takes a few hours.
So you might be wondering, "Erin, if it's so easy to do, why did it take you four years to do it?" You guys, I'm not even kidding: the frames. Picking out the size, color, and styles of the frames seemed like such a huge ordeal, and one that if I did wrong would make the whole wall look horrible.
That's why for four years our wall looked like this: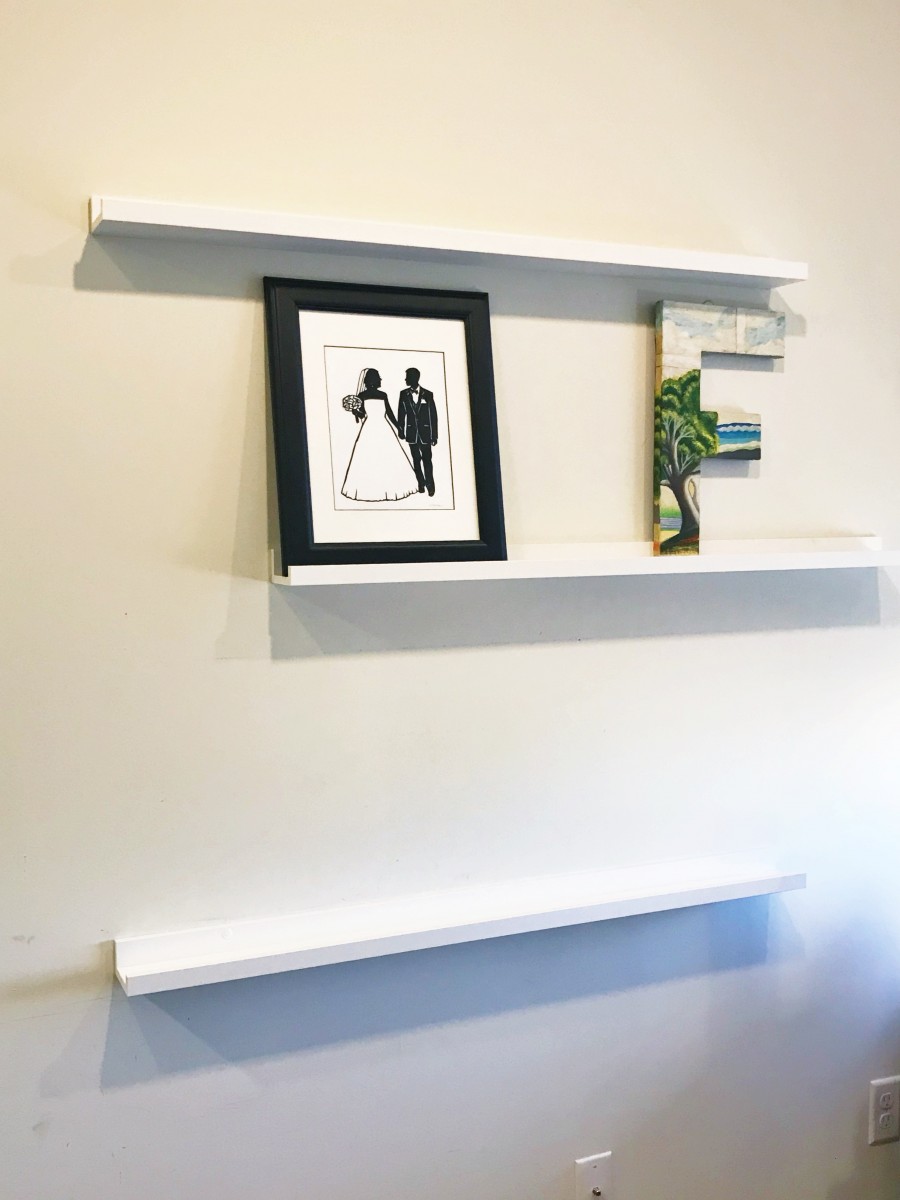 So embarrassing. Can you tell I'm a perfectionist? But by being so afraid to mess up, I made our apartment look horrible and unfinished for so long.
Two morals to this story: 1. done is better than perfect (because nothing can ever be perfect) and 2: seize the day.
When Gordmans reached out to ask if we could partner up on some upcoming posts for my blog, I knew that day to seize was today. Because Gordmans just so happens to have a fabulous home decor section and sells quality frames for prices that can't be beat.
I don't think Josh thought I was serious about finishing this photo wall until we were walking up and down the frame aisles at Gordmans looking at frames and laying out options in the middle of the aisle.
I ended up going with black matte frames (some matted, some not) in a mix of 4×6, 5×7, and 8×10 sizes. I wanted a simple, clean look that would really let the photos shine.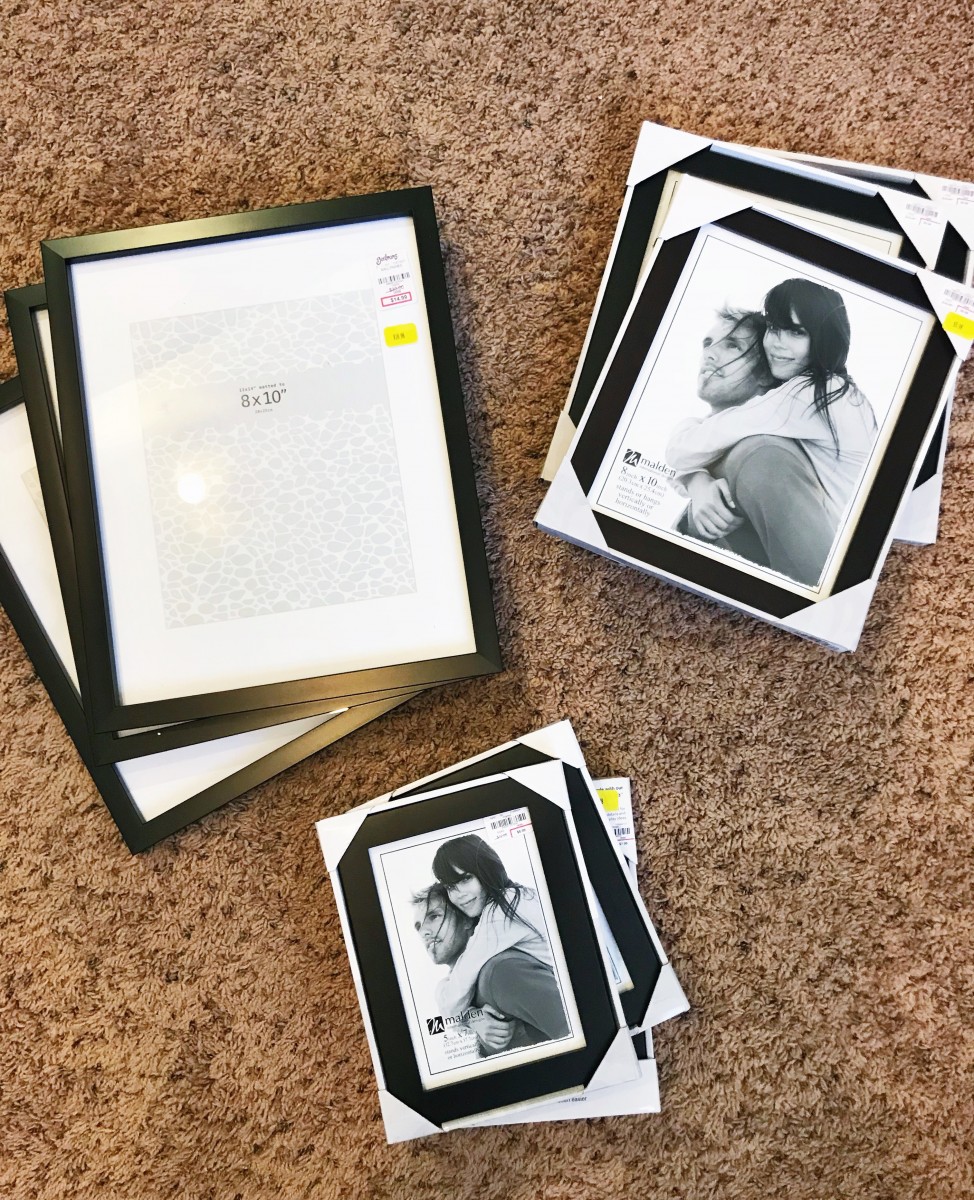 Would you believe I got all 10 frames for less than $100? I couldn't even believe it.
After picking the frames it was time to get the layout on the wall right. My goal was to a have a mix of horizontal and vertical photos that played nicely with the artwork we already had picked out for the wall.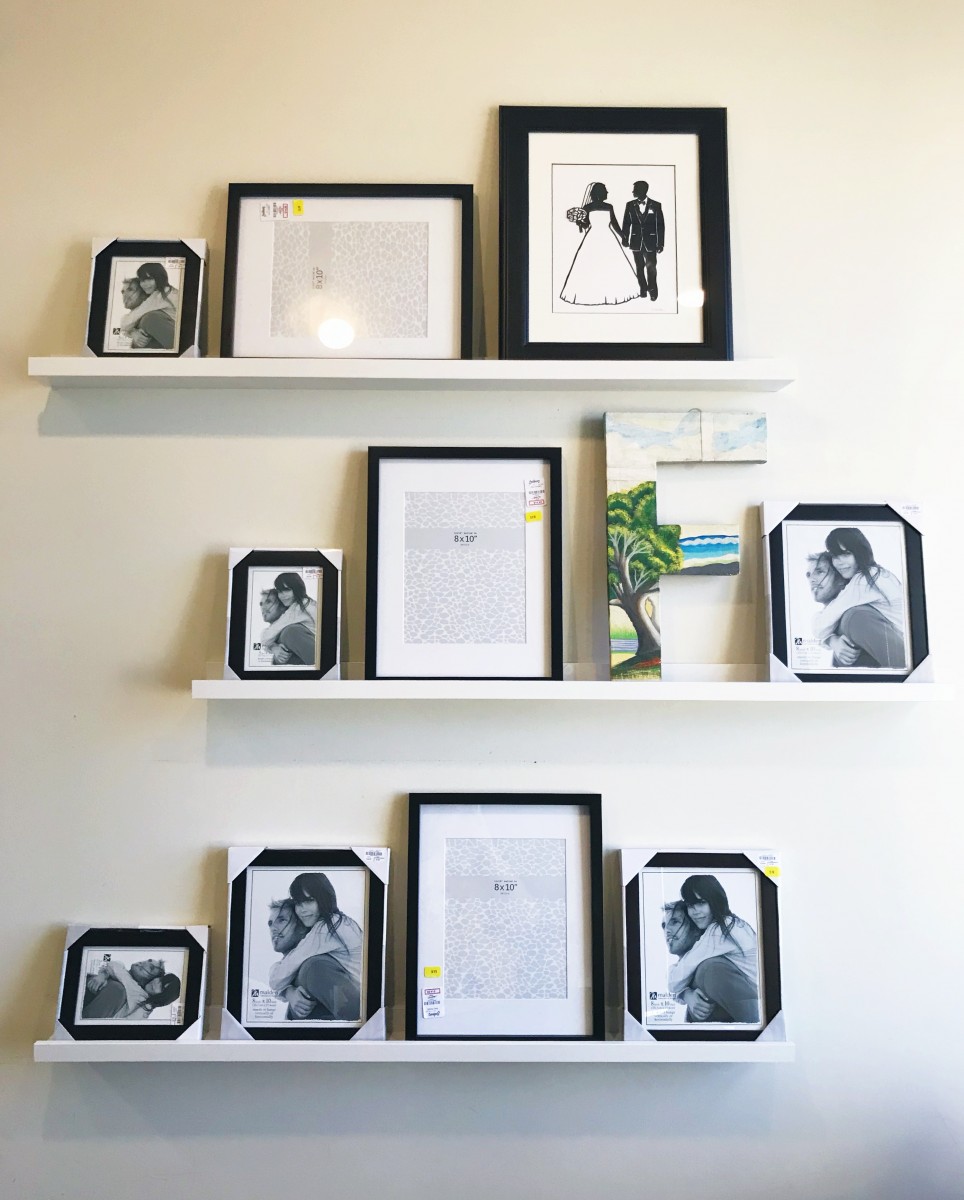 Once we had the frames everything fell into place. I learned quickly by playing around with layout options that the photos looks best when they're arranged in the shape of a bell curve. Your eye is drawn to the largest frames so they should always be in the center of the ledge with the smallest photos on the edges.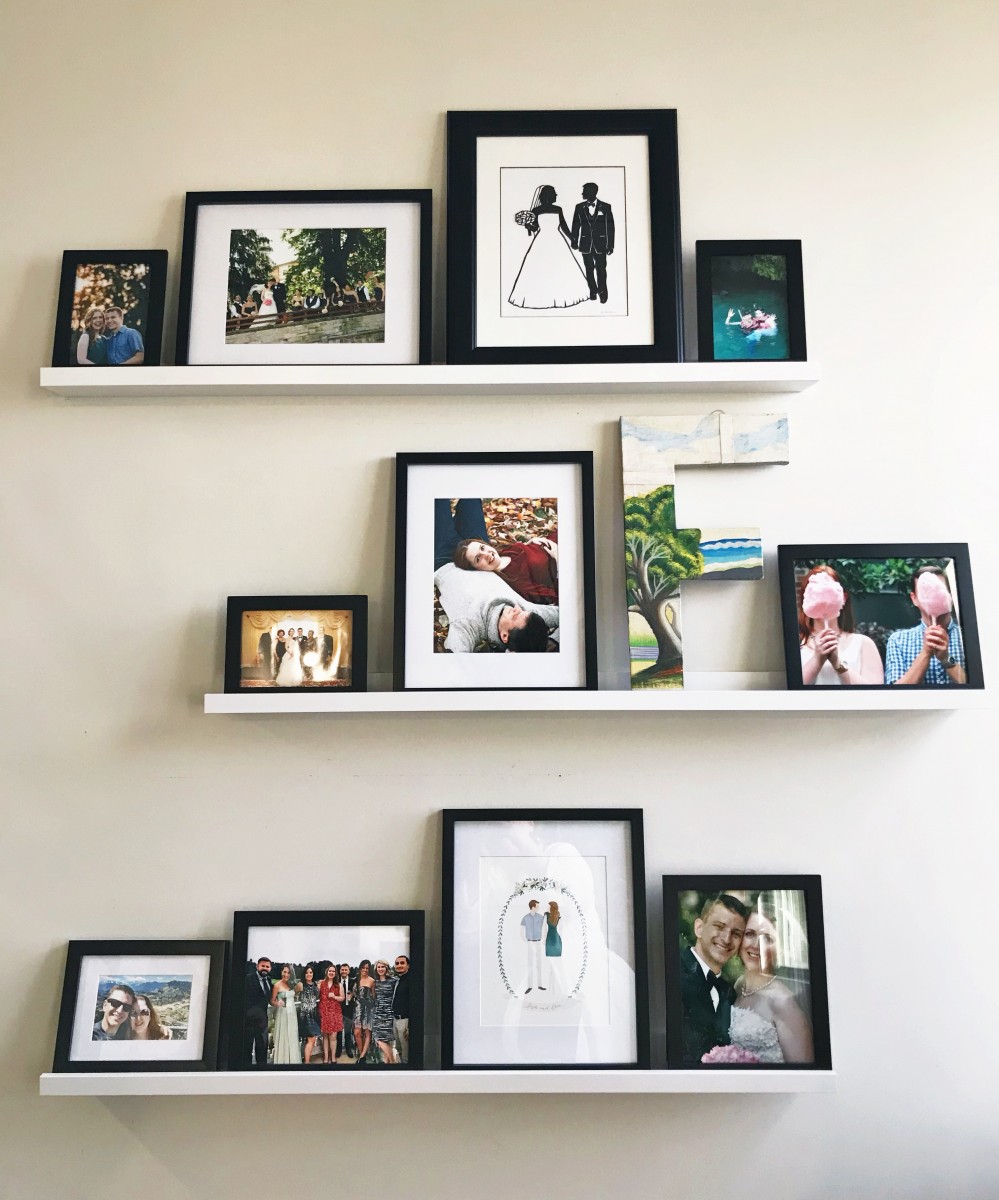 While I worked on laying out the frames, Josh worked on printing out our photos. It was a walk down memory lane to see some of these pictures. I absolutely love how they look in the frames.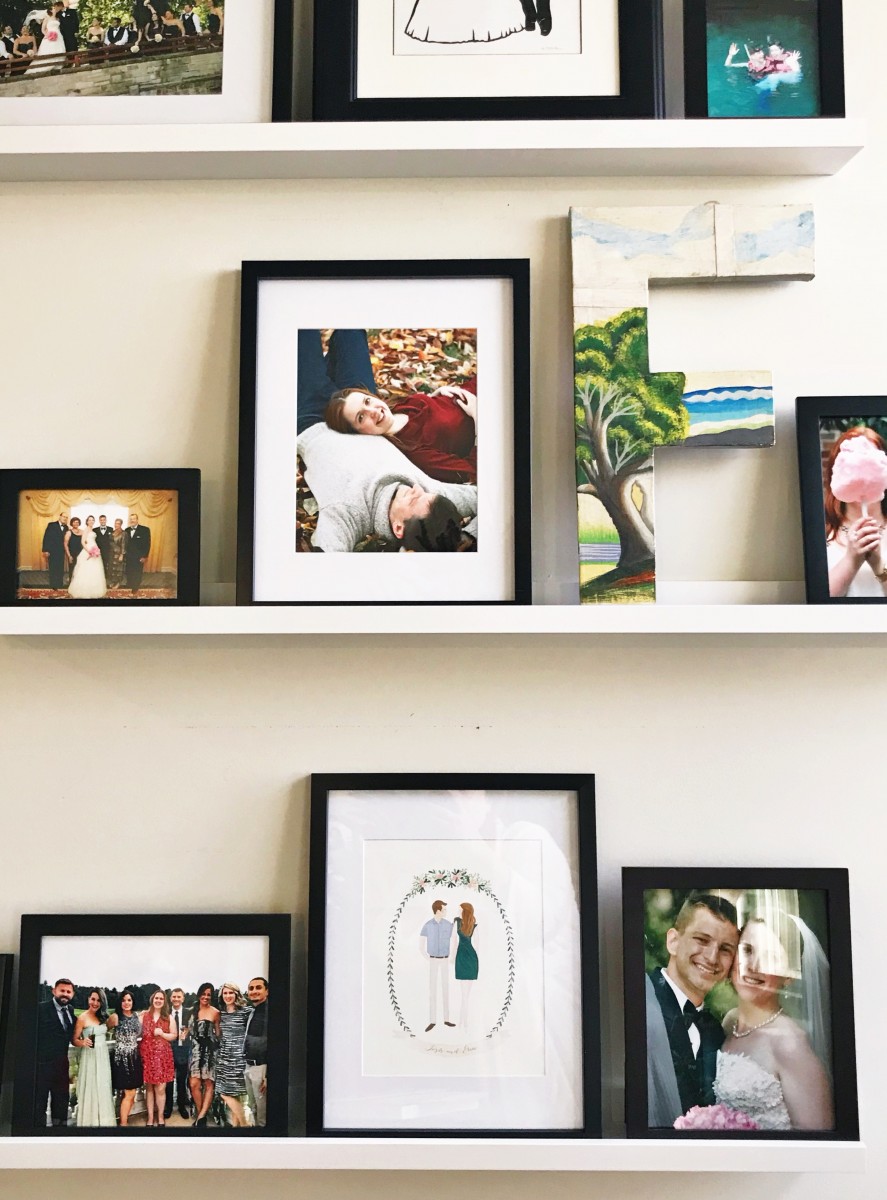 What a gift, to have designed something that makes you so happy to see, and to know it's the life you're living that's making you smile.
I can safely say we will always have photo ledges from this point forward. I can't wait to see what special memories we add to these in the future.
Questions of the Day: Do you display photos in your house? Have you ever created a photo ledge or picture wall? Anyone else fear starting something if they worry it won't be perfect?
Thanks to Gordmans for sponsoring this post. Find a store near you to check out these fantastic frame deals for yourself!
SaveSaveSaveSave
SaveSave
SaveSave
SaveSave