It's football season! And that means house parties, tailgates, and lots of fun get-togethers as everyone gathers around the TV to cheer on their favorite team. We're in Husker country over here, so come game day we're rooting for Big Red.
No matter your team, one of the best parts of football is the food! I love the opportunity to share a favorite dish of mine with friends and discover something new and tasty from them.
For a recent football party, I made these 3 protein-packed veggie dips. They're vegetarian, delicious, and a nice option for when you need a break from all the queso. We swapped carrot chips for potato chips and loved the result. They had the ideal crunch and the flavors went together perfectly. Not to mention, they're a lot more healthy!
We picked up all the ingredients for these dips at our neighborhood Baker's. The have stores all over Omaha (and beyond!) and one is only a few blocks from our home. They have a great selection and make it easy to get in, get out, and get cooking!
3 Protein-Packed Veggie Dip Recipes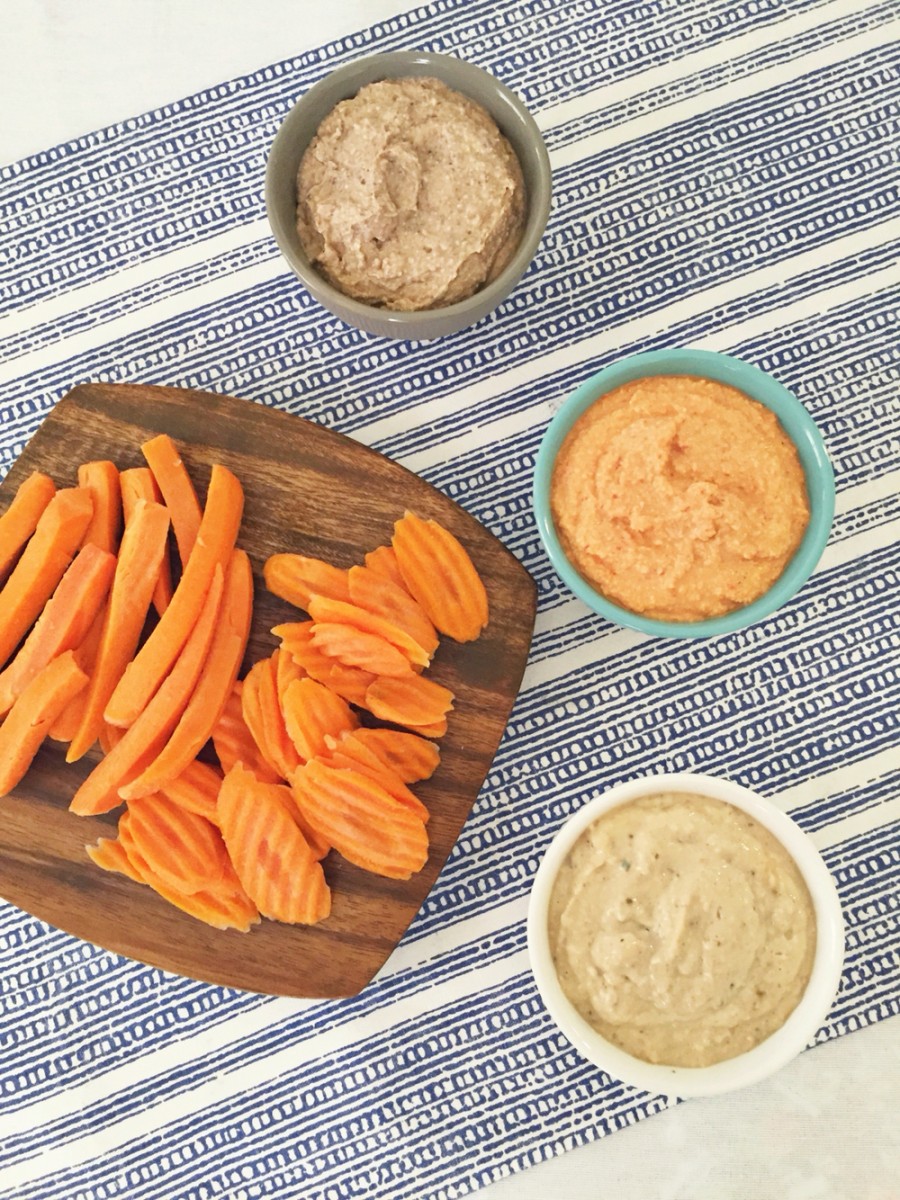 Black Bean Pecan Dip

Ingredients
1 (15oz) can black beans, drained and rinsed
¼ Cup nonfat Greek yogurt
1 clove garlic, peeled
¼ Cup pecan halves
2 Oz Extra Virgin Olive Oil
½ Tsp smoked paprika
½ Tsp Cumin
Salt and Pepper (to taste)
Directions
Add the beans and garlic clove to the bowl of your food processor and pulse several times until beans are roughly chopped
Add the smoked paprika, cumin, salt and pepper as desired, then, while the food processor is running, slowly pour in olive oil until the dip reaches a relatively smooth (but not thin) consistency
Add the Greek yogurt and process until smooth
Transfer to a small dip bowl and serve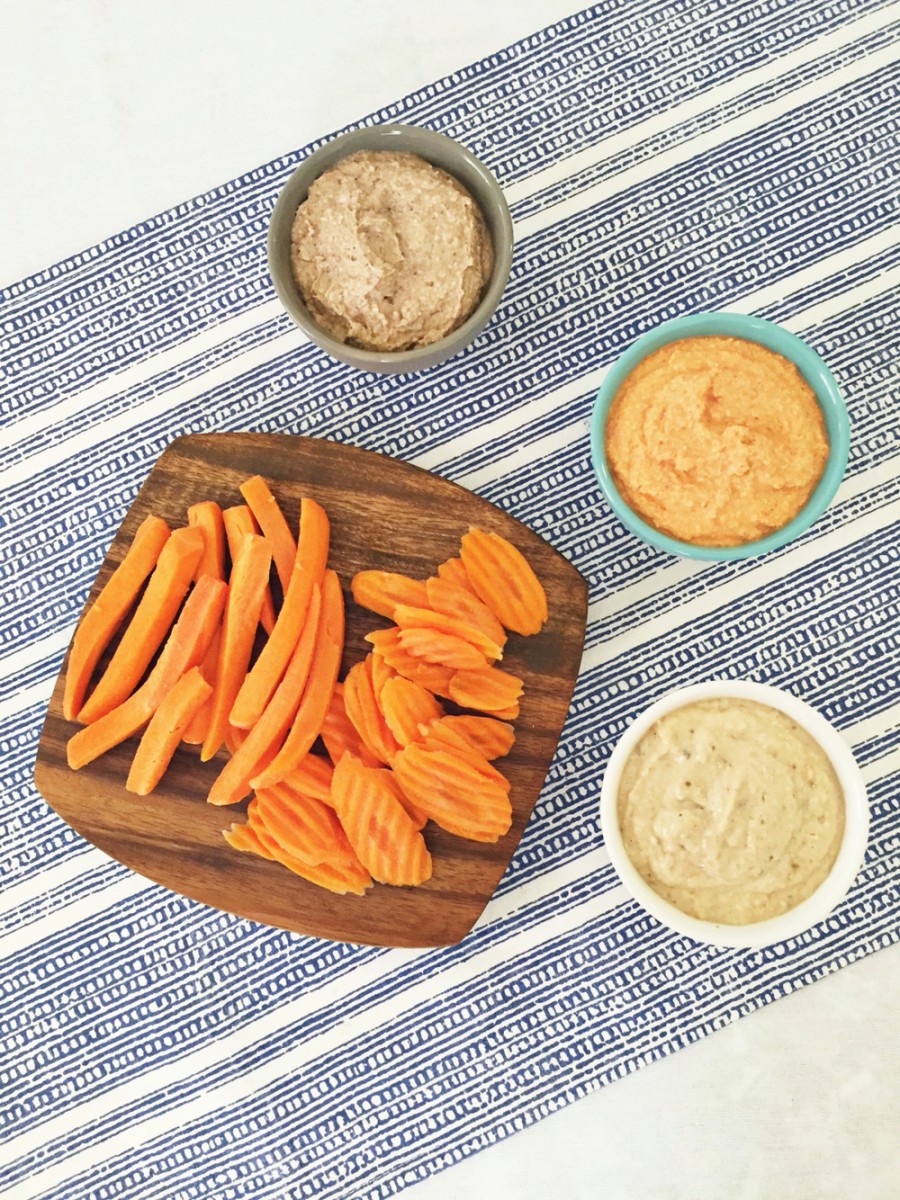 Tangy Roasted Garlic and Onion Dip

Ingredients
12 Oz Silken Tofu
3 Tbsp Nonfat Greek Yogurt
½ Medium red onion, cut into wedges
1 Head Garlic
1 1/2 Oz Extra Virgin Olive Oil
Salt and pepper (to taste)
Directions
Preheat oven to 375 Degrees
Chop the top end off of the head of garlic and place it on a large sheet of aluminum foil. Drizzle the cut end with ½ Oz olive oil and then wrap it tightly in foil
Gently toss the onion wedges with the remaining olive oil, salt, and pepper, and lay them out in a single layer on a lined baking sheet
Place the wrapped bulb of garlic in the over on the bottom rack, and the baking sheet with the onions on the top rack
When the onions begin to brown and get crispy at the edges (about 20-30 minutes), remove from the oven, toss gently, and return to the oven for another 20 minutes
Next, remove both the onions and garlic from the oven and set aside to cool to room temperature
Once the garlic and onions are cool, transfer them to the bowl of your food processor
Add the tofu and Greek yogurt, then process until the mixture is smooth
Transfer to a bowl and serve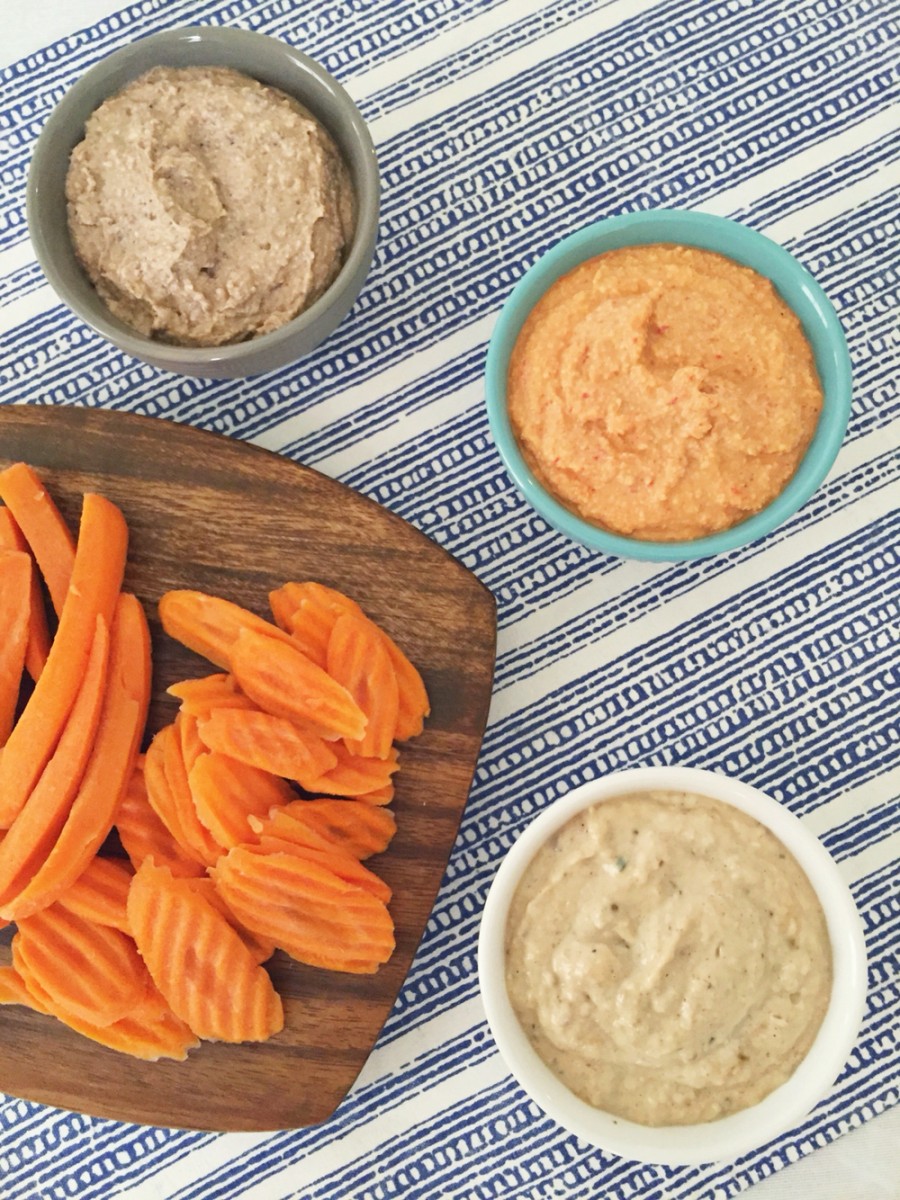 Cashew and Sweet Roasted Pepper Dip
Ingredients
8 Oz whole unsalted raw cashews
½ C Cold Water
¼ Cup Nonfat Greek yogurt
½ Cup roasted peppers, roughly diced
½ Tsp Garlic powder
Salt and Pepper (to taste)
Directions
Pour the cashews into the bowl of your food processor, cover, and process until roughly chopped
With the food processor running, gradually pour in the water until the chopped cashews form a thick paste. You may need to periodically stop to scrape down the sides of the food processor
Season with salt, pepper, and paprika
Add the diced pepper and Greek yogurt and process until creamy
Transfer to a small bowl and serve
Questions of the Day: Are you a football fan? Who are you rooting for this season? What's your favorite food to bring to football parties? Have you been to a Baker's before?
Thanks to Baker's for sponsoring this post!